Weird combination of topics for this final Berlin dispatch. Want to show a bunch of photos at the end of the lovely bike lanes that are normal parts of the streets here in Berlin. Some are side-paths and some are pink marked lanes in the streets. So those photos come up at the end.
First, today we went off to see the Sachsenhausen Concentration Camp, thanks to Jessica Loof, our co-host here, who is just learning how to conduct the tour of the place. It's unrelentingly bleak, even though we had the strange juxtaposition of visiting the sprawling site where the Nazis really figured out how to industrialize their death camps during a very warm, summer day among chirping birds and calm 21st century tourists. The fear of course is that people visit a place like this and leave comforted that "this will never happen again," but of course it is. Though not under the rigid German organization of the Nazis, there have been slave labor camps continuously since the days of WWII.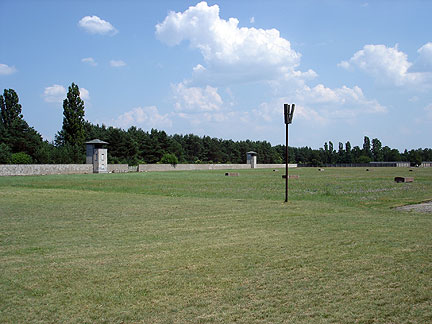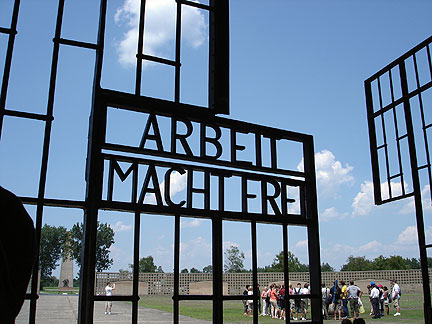 While this place in Orianenberg just north of Berlin was in the hands of the Soviet Union, and then the German Democratic Republic, they emphasized the role of this camp in imprisoning and liquidating German communists. There are many explanatory displays and memorials around the huge facility, many quite interesting and informative. But towering over the whole place is this ridiculous monument, which has a statue at the bottom with a Red Army soldier and a Communist partisan freeing an altogether too healthy looking communist prisoner. Apparently the sculptor had to re-do it several times to beef up the characters and make the powerful socialist men look more socialist-realist and awe-inspiring than historic truth might have allowed for…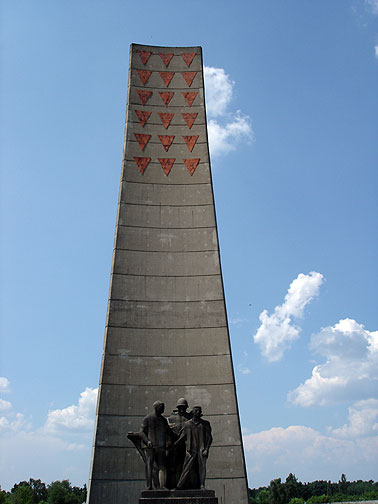 The tour mostly focuses on the facts and figures, the panopticon design of the place, and the episodes surrounding its expansion in 1938, its fall in 1945 to the Soviets, and then its use by them into the early 1950s with the additional death and starvation that happened under their control… I wanted more stories about moments of solidarity and resistance, but they are hard to get to. Here's Jessica in mid-explanation with Francesca and an Aussie, Beth, who was learning the tour too…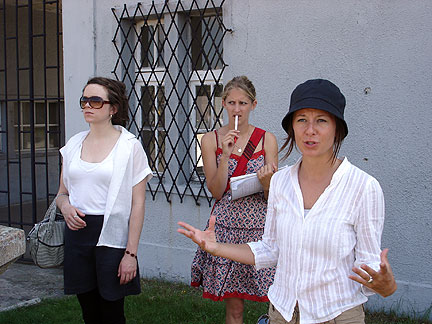 One of the Nazi "innovations" designed to reduce the connection between the executioners and the murdered was this shooting trench. The rest of the horrific techniques of mass murder I will leave you to discover on your own visit.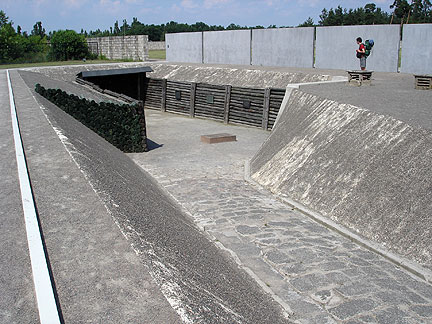 On our way out of Orianenberg we came up on this bike parking lot at the train station… not a particularly remarkable site here in Northern Europe.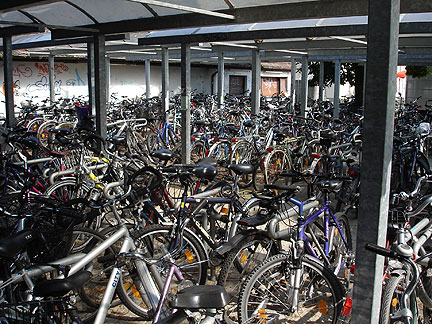 In fact, bikes are well integrated into the train system here. You can bring your bike on any train or subway anytime. While I was in the new main train station in Berlin yesterday (Hauptbahnhof) I saw these four folks in their fifties coming down an escalator with their bikes and given the stupid BART policy on bikes I had to try to shoot them… but only got this shot from behind: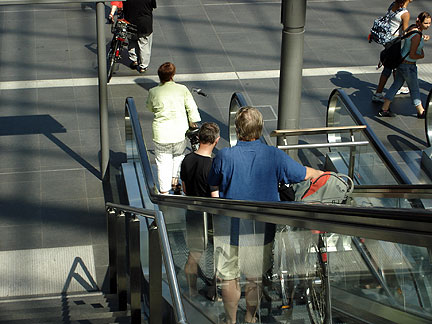 In the big transparent building with a half dozen floors and soaring escalators and air shafts everywhere I had a glimpse of a woman waiting for a train upstairs with her bike: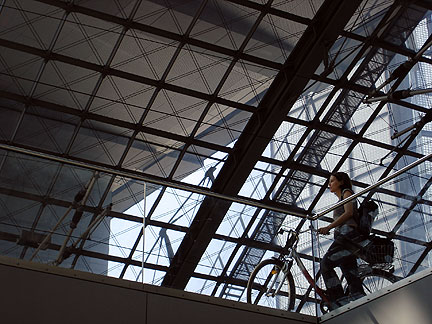 and here's a sequence of pictures showing various pink, marked bike lane intersections, plus a couple of shots from our window on Brunnenstrasse: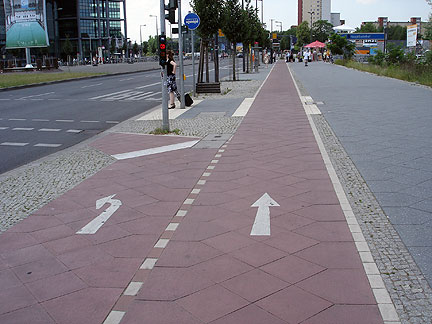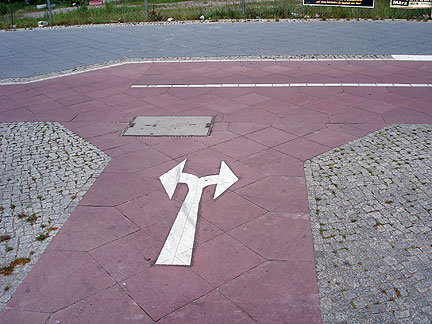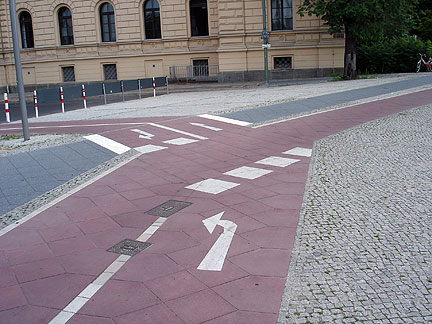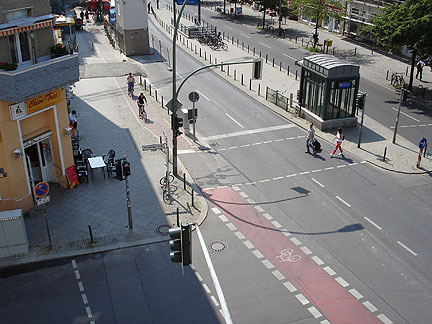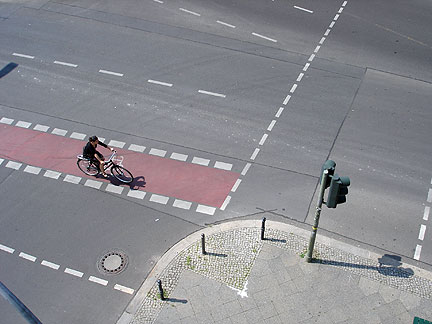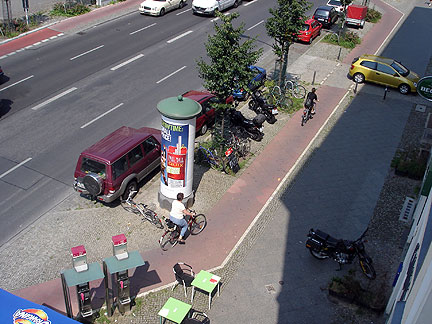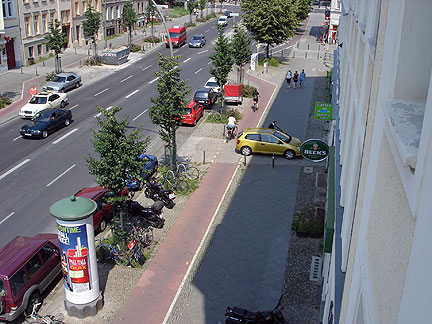 Since they're once again re-designing Valencia Street I am really frustrated that they're not taking the opportunity to implement some version of these kinds of bike lanes. We are long overdue for this in San Francisco, and if we had such side paths, I am sure bicycling would triple in six months! Dammit!