As we've noted for some time in San Francisco, without cheap rent it's hard to sustain a thriving art (or dance, or music, or political) scene… Berlin, full of ghosts, is also full of amazing amounts of space, both in terms of its lovely parklands, its still empty swaths of former Wall zones, and the apartments all over the city that are just huge, airy, sunny, warm, cozy…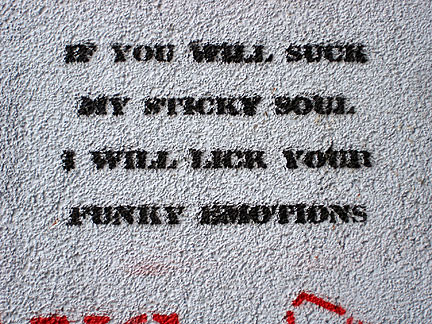 "If you will suck my sticky soul, I will lick your funky emotions"… words to live by!
When I was here 17 years ago the eastern part of Berlin was full of squatted buildings and there were early efforts to create cafes and bars in the bleak, decrepit East. Some of what we've been doing is revisiting those same buildings, now refurbished and prosperous, which is ironic of course, but the neighborhoods are really fantastic (it doesn't hurt that it's glorious summer!) and extremely livable. Yesterday we went to this place, KA86, to the cafe just below and to the right of this photo, where they have a really great Sunday morning all you can eat brunch with great northern European cheeses, jams, spreads, and especially the BREADS! Yum!
Today we hung out with our host Jess C., and he took us by Ka77, one of the many squatted buildings on Kastianenalle just a few blocks away. Jess was around back in the early 1990s when the building was first squatted (it's also the oldest building in the area, and actually consists of 4 separate structures going back in a row from the street front, separated by lovely courtyards). Hundreds of people helped make it an amazing place, and it's still home to 25 adults and about 10 children, who still live collectively, have shared meals 6 nights a week, and are encouraged to bathe together in a big bathroom with two bathtubs and two showers all adjacent… The culture of collective living is considerably healthier here than in the U.S. as far as I can tell after a very cursory visit. Collective spaces still exist and actually seem to be thriving. They contribute a lot to what's left of the radical political culture, though it's far from what it was during the street-fighting times before the Wall fell. Rather, following the "natural" life-cycle of urban environments, Berlin was animated by the squatter scene and its attendant radical politics two and three decades ago. Following the fall of the Wall and German reunification, the next phase of city life ensues when the artists pour in and find lots of cheap space and easy living without huge incomes.
Here's me and Jess enjoying a leisurely Monday afternoon in summertime Berlin: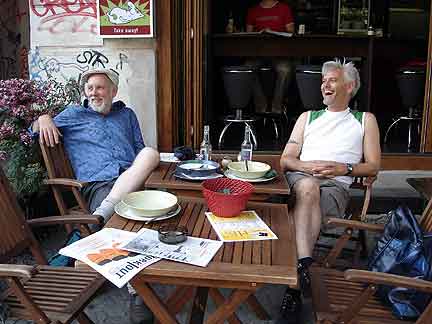 As we've enjoyed staying at Jess's place on Brunnenstrasse just in the eastern sector near where the Wall was, we're close to Mitte (the center) and the place is chock full of art spaces! Galleries and buildings, cafes and bars, outdoors in balmy June Berlin… just fantastic place to be without cares or responsibilities. On Sunday Francesca and I re-found the place I visited in 1990, now known as Tacheles. Here's some photos of it: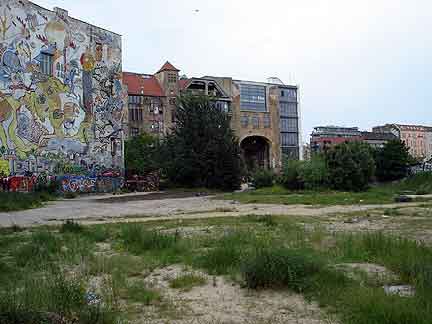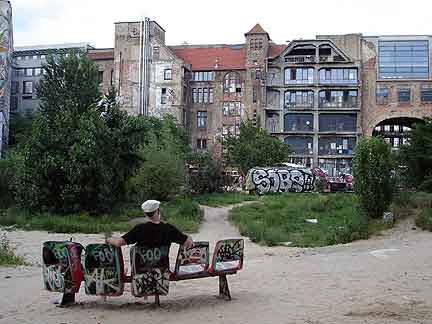 You can see already around Tacheles on Friedrichstrasse and Orianenbergstrasse the booming rise of commercial gentrification. The other neighborhoods nearby, currently home to many art galleries, will likely succumb to boutiquization as things proceed, assuming the pattern holds. Here are some more Tacheles shots: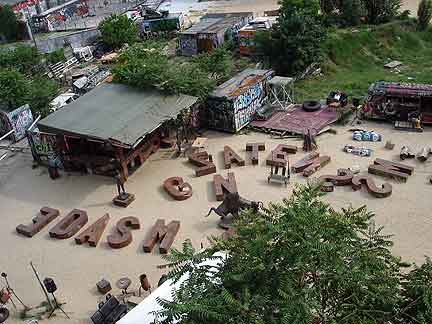 This window is where the previous picture is taken from: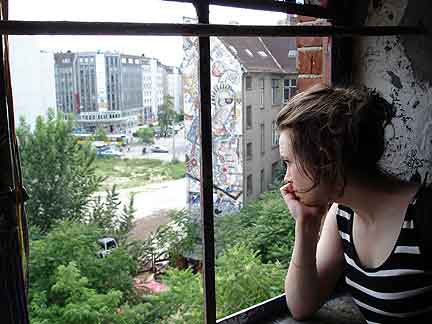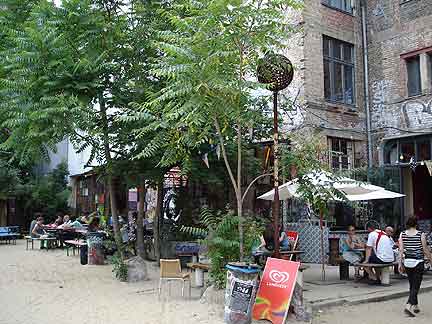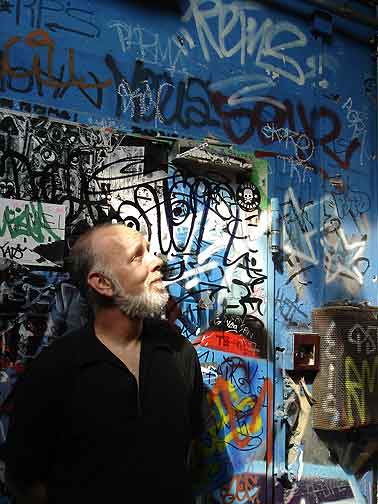 Tomorrow our new pal Jessica is going to give us a private tour of the prison camp Sachsenhausen. At the door is the famous maxim "Arbeit Macht Frei" (Works Makes You Free)… right around the corner from Tacheles I found this poster, with the additional ironic aside "Vive la bourgeoisie!"…
In general the art culture is moving to a gallery world here, but there are some places that straddle between street and gallery. One of them is the place Tina took me to on my first day in Berlin, Bethanienhaus. The huge part of the building is art galleries and workshops, but one corner of the one wing housed one of the Convergence Centers for the anti-G8 protests. Apparently the artists who occupy the bulk of the place would like to see the last bit of anarchist culture evicted from their place… sad. Anyway, Francesca and I went back to see some art there over the weekend and this photo was taken in one of the more entertaining modern art installations there: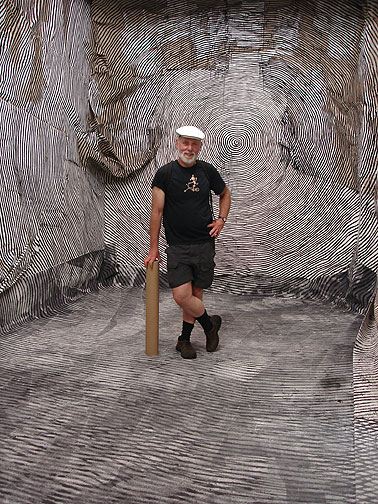 There is a lot of graffiti and stenciling here too. Here are some murals we found in a squatted courtyard, rather clean and modern compared to what I was used to in the past…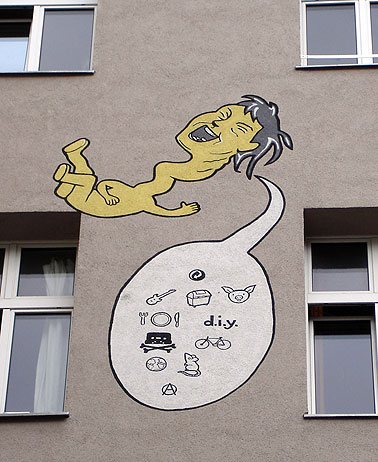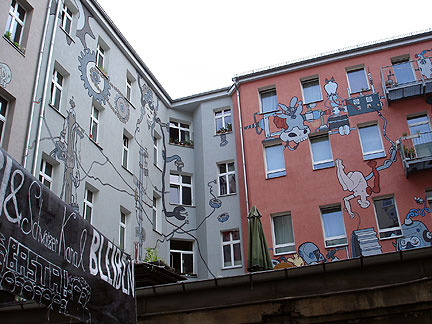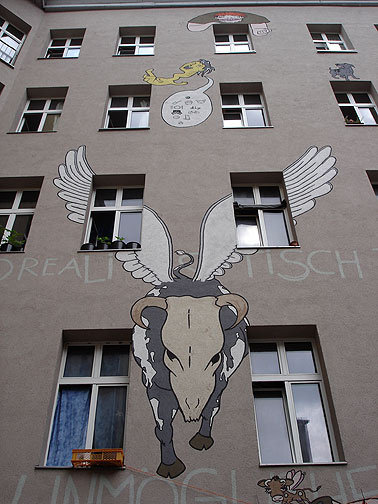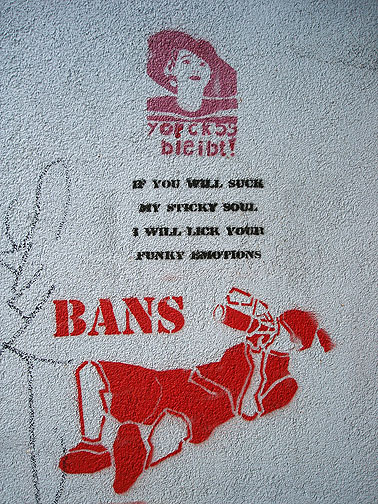 I like to end with a nice picture of me and Francesca so here's one of my recent favorites… we'll be leaving for Budapest on Wednesday and stay there until late Friday night… not sure if there'll be another Berlin entry but probably. Ought to post a bunch of pictures of how a civilized city accommodates bicycles!