Got in to NY the past Monday night. A ridiculous flight plan through Phoenix and Chicago finally got me to Newark at 11:30. Waited a while for a bus and rode in to midtown Manhattan with a Chinese fellow who regaled me with tales of his family's financial deals at home. He's here to study business at NYU for a year and a half and then go back and join the ascendent Chinese bourgeoisie who are rapaciously exploiting every contract and development they can insert themselves into…
News from Mexico continues to keep us all breathless with curiosity and hope. Just got sent a link to a very impressive website in Oaxaca. Here, for those of you who have visited Oaxaca as a tourist, is a shot that you may recognize, just to the side of the Zocalo, littered with the camping gear of the occupying teachers after they were attacked in July by police and troops.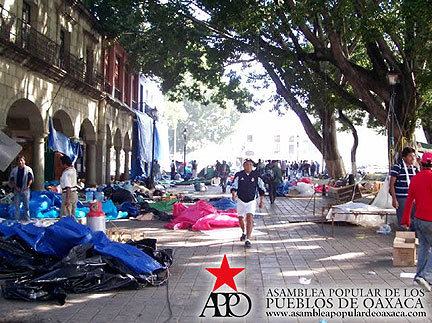 For fans of historic photos of Mexican revolutionaries this pic will resonate too: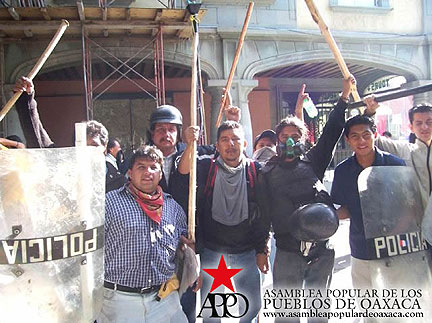 Visiting New York for a week is always a blast, even if it means bleeding money everywhere you go. I'm staying with Chris W., one of my oldest friends, and it's been sweet to hang out and talk late into the night, drinking and commiserating over the craziness of our respective lives and the larger world we're still kicking in… here we are last night in a bar in the lower East Side after the talk I gave at Bluestockings on my forthcoming book: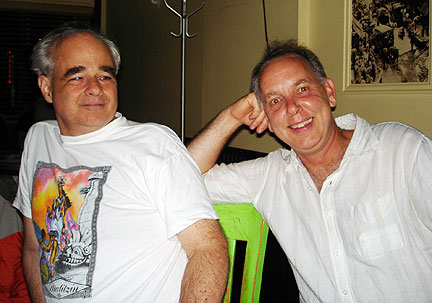 I had a chance to visit Times Up! and Bill D. filled me in on the crazy politics they've been enduring ever since the Republican Convention in August 2004. The cops have been using Critical Mass as something to experiment on, using all kinds of ridiculously overheated and heavy-handed repressive tactics. Just a couple of weeks ago, after losing badly in court over their ongoing criminalization of CM, they took the judge's admonition about the vagueness of their policies to try to invent new rules that if implemented, would blatantly jettison the right to assemble. They proposed rules that would make it possible for any clot of bicyclists riding on the street to be declared an illegal assembly and arrested. They also had some draconian ideas about how many people could walk together on the sidewalk without the police department's explicit permission. A serious resistance was quickly organized by dozens of people and groups and they held a public forum on the proposals last week. The next day the cops withdrew their plans, claiming they realized on their own that they needed to be reworked. What a coincidence!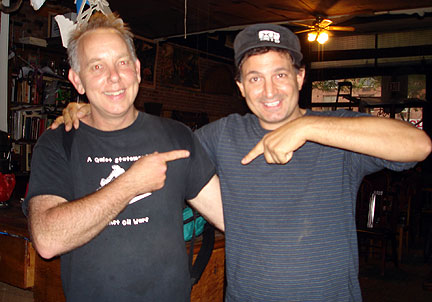 Here's Bill and I, each blaming the other for all the "troubles caused by Critical Mass" in New York!
I borrowed a lovely folding bike from Times Up! to bomb up the center of Manhattan at rush hour (always an exhilarating thrill, dodging in and out of the crazy NY traffic and peds) before turning west to the great bikeway they've got now along the Hudson River. Along Houston near the Times Up! HQ, in Brooklyn around 5th and Park, and this spot on the Westside bikeway I came up on these memorial installations. Very arresting and effective monuments to the otherwise ignored deaths and mayhem suffered by bicyclists in urban traffic all the time.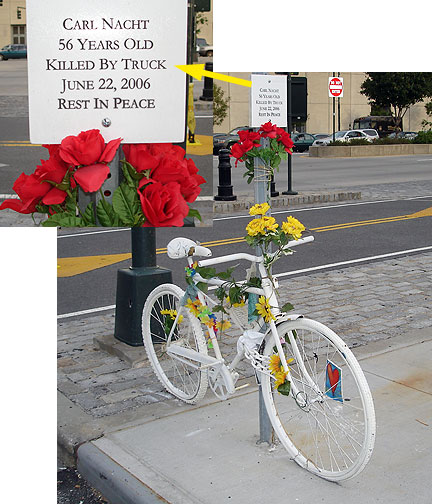 It was a gorgeous ride south along the Hudson. Here's the view from one of the new piers they've put in for public use.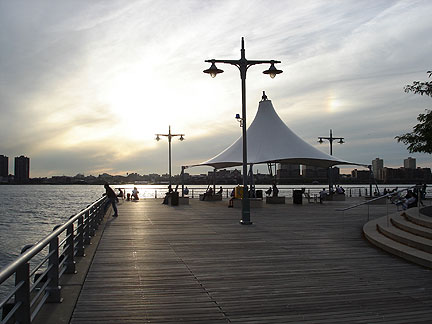 Of course I had to bring along some blue tape and stickers to leave my mark on Manhattan. Here's one of the installations I implanted while riding around, on 12th and Broadway: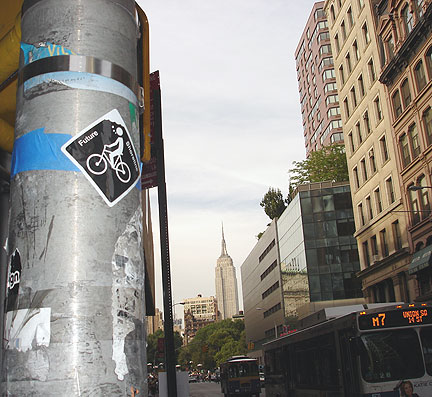 Yesterday we went off to the new expanded MOMA (just like every other museum I've been in lately–sterile, white, boring, huge) to see the fantastic DADA exhibit. Incredible to see so many important works together. I liked how they organized it by city, so there are rooms for Zurich, Cologne, Berlin, Hannover (mostly Kurt Schwitters in this part, whose works I'd seen a lot of a couple of years ago in Basel, Switzerland), Paris, and New York. Many striking images, from a super delicate airbrush painting by Man Ray to a whole wall of wild Max Ernst, great pieces by George Grosz, and much more. Having been around a great deal of collage work, as well as a lot of typographic play and experimentation over the years, it's fascinating to see how much is derivative of the Dadaists… most of the handbills and posters that we've put together over the years owe a great deal to the aesthetics and techniques they pioneered.
Tomorrow morning I am on the train north along the Hudson, enroute to Blue Mountain Center. Will post some purty pictures from there before too long, and maybe share some stories from the exciting synergies sure to erupt among the 14 attendees at the next session there.