My last entry from Blue Mountain Center… we are all scrambling to finish whatever we set out to do (I think I will have a full first draft by the time I'm leaving on Sunday! yeehah!)… and laundry, and last chances to see each other's work, etc. Tomorrow night we're going to be treated to a closing ceremony dubbed "Burning Loon" by the inimitable Pat Oleszko… she's an amazing creator, just cranking out one hilarious thing after another the whole month. Here's the stunning theatrical performance of "Hamlet of Blue Mountain Lake" or "Shakespeare in the Bark" which was a most odd collaborative rendition of random lines from Hamlet as directed by various Blue Mountaineers taking turns…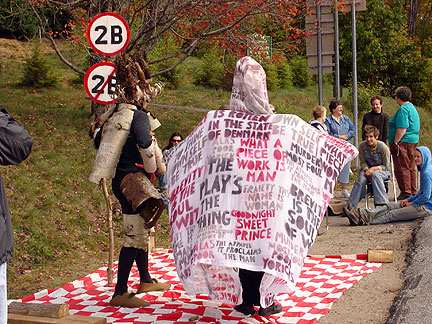 We also had a bucolic 5+ mile canoe ride from Raquette Lake back to here the other day. This was before the abolition of habeus corpus by the reigning war criminals in Washington. If this goes through, and doesn't get thrown out by the courts (Michael Ratner of the Center for Constitutional Rights is certain it will be, but not for two years), anyone could be picked up by the government for almost anything and sent away forever, no courts, no hearings, nothing. Forever. Is it really possible that 2/3 of the Congress voted yes for this, which also includes immunity for war crimes already committed in the current wars? Yes. Listen to Democracy Now today for the sickening details.
Once again, the frog in the slowly heating water is failing to notice the boil that has been reached… including me! Is it time to leave? What shall we do?
Let's look at purty pictures!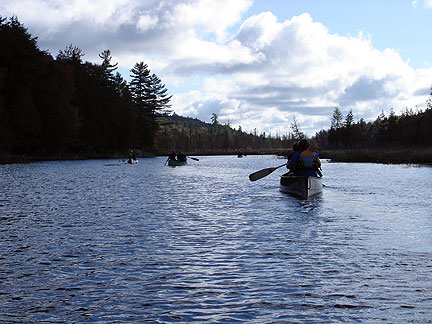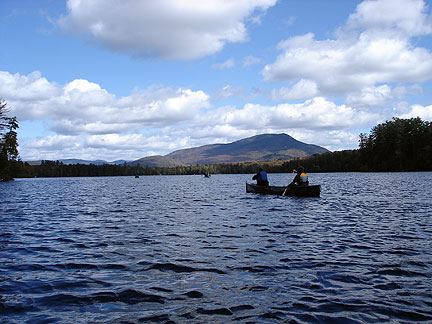 On another note, the Shaping San Francisco Fall-Winter Talks got off to a great start this past week. If you'd like to get on the email list to be notified regularly of upcoming Talks please go here.