Summer is upon us here in Berlin, sweltering heat during the day, but gloriously balmy all night long. Francesca and I have been touring around on rental bikes, enjoying the great bike lanes and normalized bicycle transit accommodations (you can take your bike on any train or tram, there are dedicated separate sidepaths on countless streets, even left turn lanes and signals at complicated intersections–photos to come in a later post).
There is a palpable sense of ghosts lurking in every part of Berlin, but especially here where we are a short distance from the old Wall. Berlin has replaced most of the Wall with a two-cobblestone inlaid marker in the ground along the entire original path. We are at 44 Brunnenstrasse and next door, at 45 Brunnenstr., there was a tunnel dug from West Berlin under the wall to its basement in 1963. Unfortunately Stasi informants betrayed it and the diggers and aspiring escapees were caught and imprisoned. We are outside the Bernauerstrasse U-bahn station and just a half block away was the wall; where we are was for many years the edge of East Berlin, a scary, heavily militarized place.
The yellow arrow at the right edge of this aerial photo points to where we're staying and more or less corresponds to the route of the tunnel dug back in 1963 (one of several, only the first one succeeded in freeing a couple of dozen people).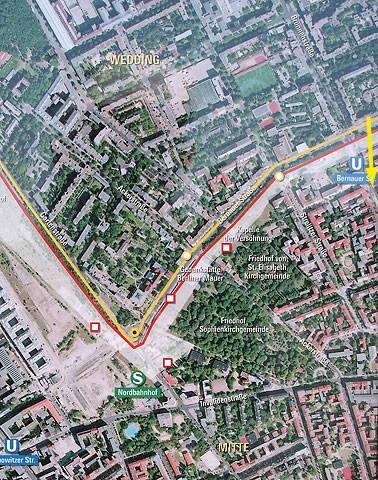 Yesterday I took a lovely ride through Berlin's famous urban park, the Tiergarten, a world-class park. Of course one of the main ghosts haunting any urban environment, including this one, is nature itself. In the Tiergarten I found this statue of a fox hunt and thought it illustrated well the lost nature of this area, which in turn reminded me of the Grimm Brothers (who apparently once studied at Humboldt University in the heart of Berlin) and their sagas set in heavily forested medieval Europe, Germany's Black Forest among the most storied. Here's the fox hunt statue: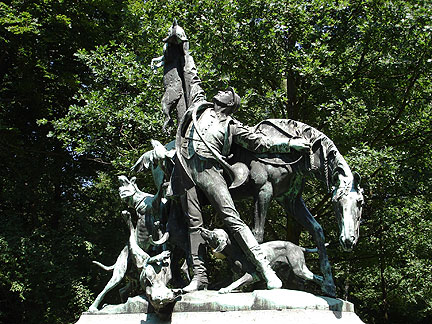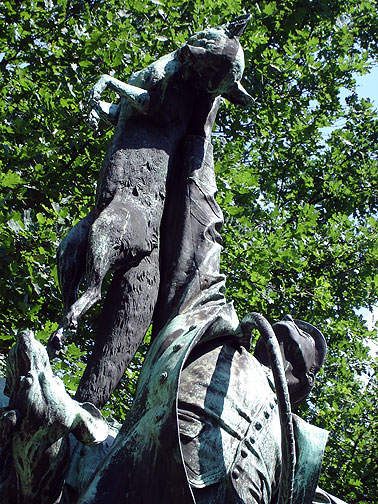 Ghosts lie layer upon layer here… Marx and Engels were here for a while too, and then heavily honored by the East German state during its reign. Marx-Engelsplatz features a giant bronze statue of Engels standing slightly behind and to the side of a seated Marx. We joined countless tourists in snapping our photos on the statue, but had to remember the oddity that an astrologer friend told us when Francesca was born that she has the exact same astrological chart at Marx! Go figure…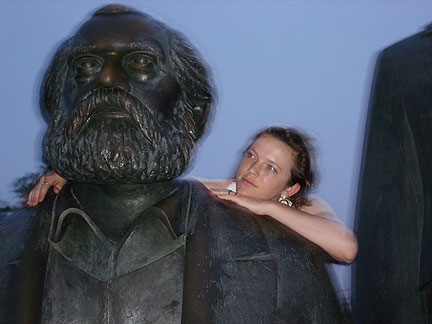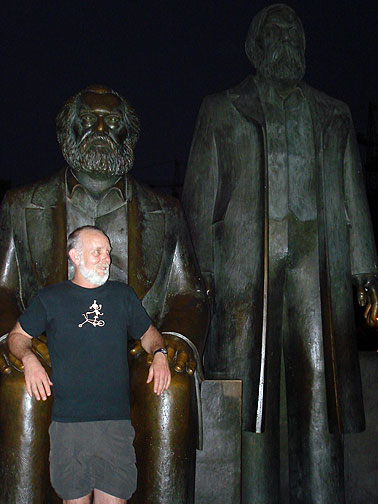 The ghosts of Berlin are well marked by numerous historic displays and statues, without which I'd probably only have a queasy feeling that I was missing an awful lot (I am, anyway, I'm sure!)… Here's Bismarck, the Prussian leader who presided over the founding of the modern Germany back in the 19th century, and is famous for his geo-political machinations of the time. Somehow appropro that part of his monument towers over a character bearing the burden of the entire globe…esp. after the G8's pretensions to plan the world's future!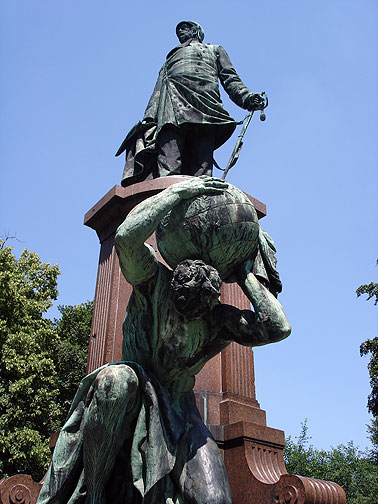 A new monument near the Brandenberger Gate, apparently built in spite of some serious controversy, honors the Jewish dead from WWII (conspicuously, it is not a memorial to the Holocaust more generally, which doubles the number of dead to take into account). It consists of a field of giant gray slabs and seems unremarkable until you walk into it and suddenly descend among the quiet, towering stones. It's an awesome experience and really invokes a lot of feelings and thoughts about absences, ghosts, death and denial, and much more…here's a couple of shots: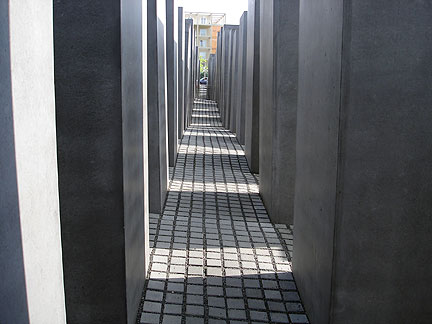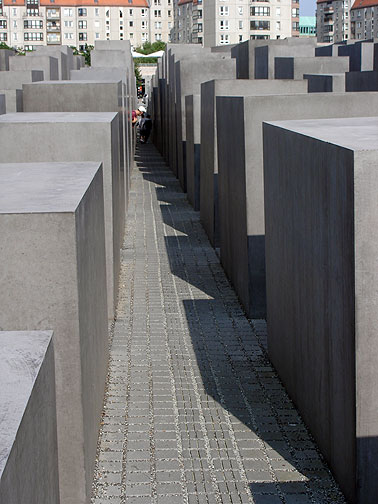 On a lighter note is the weird affection one gets for the walk/don't walk signs that still denote whether you're in old East Berlin or West Berlin. Somehow there is a growing nostalgia for aspects of the East, but the only real marker for this amnesiac nostalgia are these curious signs: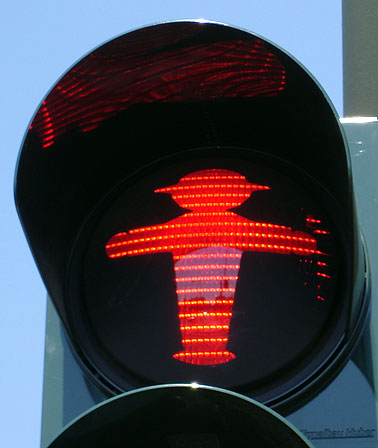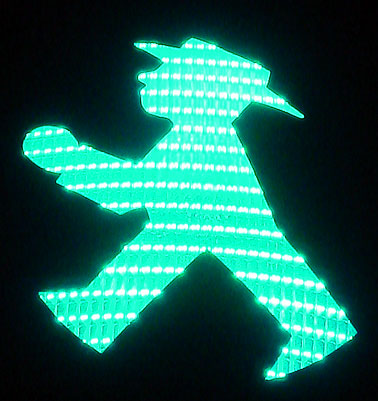 And whenever you start to forget about the Wall, you come upon another spot where a memorial sits and displays explain what happened there from 1961 to 1989… And sometimes you just come to a piece of the Wall still standing. I found this lonely chunk today: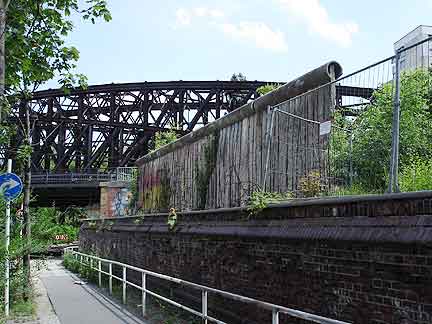 Here's a historical marker for a former Wall crossing by a canal and Invalidenstrasse: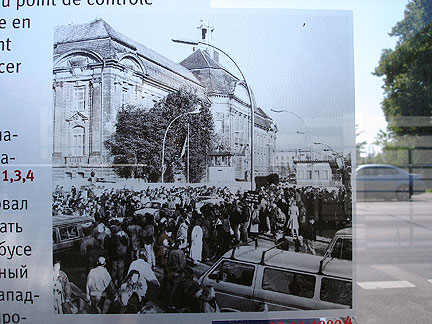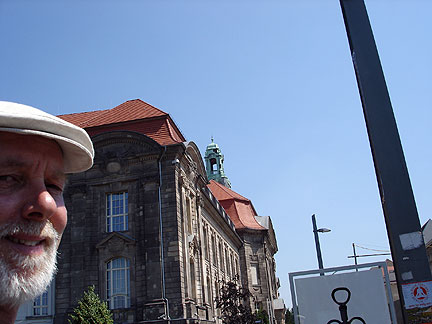 Lastly, though by no means exhaustively since there are way more ghosts and histories here than I've discovered in my cursory tourism, we went out drinking last night at Schliemenstrasse 22, which is where I went as a part of the Anti-Economy League of San Francisco in April 1990 when it was a big squatted apartment amidst a sea of squats in this part of East Berlin. Now the neighborhood is quiet, prosperous and bourgeois, but the bar that was just opening back in 1990 is still there and the bartender confirmed that it was the same place as that old squat… here we are having our drinks at 2:30 a.m. on a balmy Berlin summer evening, surrounded by ghosts and layers of history…