Part 1: intro to TED, my speech at the conference
Part 2: Highlights of other TEDx Amazonia Talks, especially from Amazonians
Part 3: Critical look at the Entrepreneurially Minded TED speakers
Ironically, we had come to the most fecund place on earth, facing a world economy based on a logic" endless growth–that has generated one of the greatest species extinction pulses in the history of the planet. Could we explore new ways of working and living that could ensure a quality of life for all species, without addressing the elephant in the room, the economic system based on perpetual growth? Apparently that was the hope, since few of the participants took on that larger question (notably, the two economists Enrique Leff and Hugo Penteado, as well as yours truly, DID try to attack dysfunctional economic thought). Opposing capitalism and growth wasn't the stated purpose of our gathering, to be sure. TED is an organization rooted in the quasi-libertarian high-tech boom that started with the personal computer and accelerated through the 1990s and 2000s, and as such, seems to be a self-selecting culture of a subsection of the global elite that favors entrepreneurialism as the answer for the world's problems, including the topic of this gathering in the Amazon.
TED stands for Technology, Entertainment, and Design, and it's a very specific brand that has been spreading itself globally with enormous success, especially during the past 8 years (it actually started back in the 1980s). The x after TEDx indicates that it is an independently organized event, licensing the format and reputation of the main TED organization, which is centered in the U.S. Former WIRED magazine publisher Chris Anderson took the helm of it in the early 2000s and absorbed it within his not-for-profit foundation. Their motto is "ideas worth spreading," and you can find hundreds of their Talks online, free to watch, and many are indeed brilliant. That said, you won't hear a lot anti-capitalist rhetoric or thinking at a TED conference. In general, they are fellow travellers of Stewart Brand and his early 1970s Whole Earth Catalog, followed by the new computer culture that accelerated in the 1980s after the emergence of the personal computer. Ideologically they share a belief that the gray bureaucracies of government and old-school corporate giants are the problem (on their website they advertise that the TED Talks are "untainted by corporate influence"), but the answer lies in independent entrepreneurialism rather than in any kind of social or collective action. Brilliant investors and inventors will continually produce technological breakthroughs that will solve the problems humanity and the planet face. (Fred Turner's fantastic history of this is in "From Counterculture to Cyberculture: Steward Brand, the Whole Earth Network and the Rise of Digital Milleniallism"" highly recommended!)
This TEDx event drank deeply from this long-running river of self-congratulatory entrepreneurialism. Let's face it, the past thirty years has been a long nightmare (for people like me) of triumphant business ideology, and the folks at WIRED magazine, the Long Now Foundation (Brand and Kevin Kelley's thinktank) and other quasi-libertarian tech culture types have been an important wing of that, complementing the straight-forward glorification of wealth and greed as pushed by Reagan, Bush, Wall Street, et al.
I saved a grouping of TEDx speakers for my last entry. These contributors include some of the people I made great friends with, but also represent the cutting edge of modern capitalism, in terms of their use of games, business, participation, and crowd-sourcing. I've been saying for the past couple of years, "better is better than worse," and many of the efforts described here are bettering things in their own ways. But I'm interested in the way they also begin a process of renovating capitalism, of advancing this crazy, exploitative system's capacity to capture new activities, new ways of thinking, and channel them back into the typical forms of products and commodities, markets, wage-labor, and monetary relations.
Rafael Kenski gave a presentation that revolved around the Portuguese word "Divertaçao," which is usually translated as "fun." He described a variety of multimedia projects and games, highlighting the successful ones for their ability to attract participants by being fun to use. In some basic way this parallels my own political thinking for the past years: that a politics of sacrifice and suffering is a dead-end. We need a political practice that is enjoyable in itself, and creates a contagious attraction through the pleasure of participation. Interestingly, this is what a lot of game-designers are trying to do too, but not to overthrow capitalism, but to bind us more tightly to it.
Paul Bennett is a congenial fellow who I got to talk to a lot. He's from London, and is the creative director for IDEO, a multinational design consultancy with clients everywhere, including Brazil. He gave a talk that used the Amazon as a design metaphor, and encouraged us to seek the small idea that can become large. He showed slides of daily improvisations by Brazilians that he saw as great models for product design, and in particular gave high  marks to his client, the flip-flop and bag maker Havaianas (and he gave me a pair later too!)
The hairs on my neck were standing up through a lot of Paul's presentation, as he matter-of-factly described the launch of the OpenIDEO platform. It's a separate website from their main corporate home, and offers for free a human-centered product design guidebook, targeted at NGOs and innovators in the Global South. It's a powerful combination. On one hand, you take the latest in design process technology and open it up for free to anyone. Then you solicit ideas from the world ("What global challenge do you think innovation leaders should work to solve right now?" and "How can today's technology address the environmental challenges we're all facing?" are current queries on OpenIDEO). Bennett described a recent successful effort that gathered more than 500 ideas from submissions, which were eventually whittled down to 17 good ones, most of which are now being test-marketed and prototyped in various markets around the world. He didn't describe the licensing procedures, the intellectual property agreements or waivers that one has to sign off on to get the IDEO push, nor how potential profits would be divided. Even if they offer very generous terms to the idea originators, it's still a fantastic deal for IDEO, gaining huge attention, participation, and a river of ideas from unpaid world citizens.
I recognized it immediately in the same light as I recently wrote about the Levi's campaign here on my blog too, an attempt to capture the enormous creativity and wealth being generated in urban environments but often remaining outside of the commodity circuit. My effort in Nowtopia was to describe a growing trend of refusing the logic of business, of working very hard precisely when we're NOT at our stupid jobs, and exceeding the narrow logic of being "mere workers" when we're doing it. Negri and Hardt also write about capitalism's difficulties in measuring or capturing these new forms of wealth creation in their latest volume Commonwealth. And here in the Amazon we had a representative of the one of the world's more successful product design corporations describing how they are co-opting that wide world of creative wealth, but framing it as a nearly philanthropic activity of their own, giving away their professional know-how for the good of the world.
Stef Van Dongen is a contagiously enthusiastic young entrepreneur. He started a company called Enviu and sees himself as rooted in the "co-creation economy." In fact his firm has been involved in some interesting projects. "We believe in the economy of  the crowd!" he declared. One project he shared that got a warm reception was the "Sustainable Dance Club" which consists of dance floor built on electric sensors that generate electricity as the dancers bounce up and down on the floor. Their slogan for this project is "People, Planet, Party!" and you can imagine how easy a sell that is among the global dance club culture. Facing a greater challenge, they launched a project to change the noisy, polluting technology of the ubiquitous autorickshaws (TukTuks) that fill the cities of Asia. They launched a "Hybrid TukTuk Battle" among a half dozen design faculties on campuses in India and Holland and after the dust settled two winners emerged, one with the 2-stroke engine and another for the 4-stroke engine. A partnership was established between Enviu and an Indian entrepreneur, leading to the founding of SocioEnviro, whose goals are stated on the Enviu website:
SocioEnviro has developed a business model around three pillars: financial services, advertising and clean technology. By offering fair loans and advertising income to rickshaw drivers, we aim to create better and more sustainable income for the drivers. The installing of clean technology will further increase the income potential and also decrease the environmental footprint of the rickshaw eco-system.
So the Indian entrepreneur and our friends at Enviu will be developing new cleaner vehicles along with a more aggressive system of small business loans and advertising, all of which is promised to improve the lives of the poor rickshaw drivers, as well as reducing CO2 emissions and providing cleaner city air. Who could complain? Well, me for one. Because an idea like this could have been given away to the drivers in combination with encouragement to form cooperatives and collectives, depriving the middlemen of an endless stream of profits from interest payments and advertising revenues (only a fraction of which will go to the drivers under this system). The drivers could have been given a path towards complete autonomy and relative self-sufficiency but instead, this green entrepreneurialism seems committed to creating new forms of dependency and exploitation. Maybe I'm wrong but that's what it sounds like.
Zoe Melo used to be a top model in the 1980s and lived life in the proverbial fast lane for a couple of decades. Now she's older and wiser, and has long since abandoned that crazy life. I got to know her a bit in the Amazon and we became friends. Since she abandoned her alienated life as a model, she has become a product designer and gallery owner. After ten years away from her native country Brazil, living in Los Angeles, she is now returning to open a branch of her product design firm in Sao Paulo. She specializes in using sustainable materials, local and healthy sources, and is quick to state her aversion to exploiting nature or other people. But she is also a very typical modern entrepreneur, employing subcontractors to make products for clients. From her point of view, she respects their independence, and wouldn't want to put them into a wage-labor relationship where she's the boss and they're her employee. But the so-called independence of the subcontractor is a fake independence anyway. In Italy and France and some parts of the U.S. and the UK, this model is better known as precarity. No one has any guarantee of work, but everyone must be continually available to work. Moreover, each individual has to constantly upgrade and renovate their skills as to be more employable when potential contractors do come around. The insecurity and lack of stability is a given, but there is no support either for the range of additional costs to reproduce labor, from medical and dental to the taxes that support the unemployment, disability and other "safety net" systems. No doubt Zoe herself suffers the same predicament, wondering where the next revenue will come from, watching the ebb and flow of projects and overheads with no certainty that she'll come out in the black or sink into the red. But for sure, this is no model of personal and social emancipation, except in the narrowest capitalist sense of being free to sell (or not) your labor to whomever you choose in the open market. (I am in a similar boat in San Francisco as a small prepress book and magazine designer, never sure if my clients will stay in business or if I will get extra work or no work.)
Biologist and author Joan Roughgarden is now retired in Hawaii, but she ran for office in 2000 in the first district elections for San Francisco supervisor since the 1970s. After attending her first gay pride march in 1998 her resolve to change from Jonathan to Joan was strengthened and soon she carried out her desire to transition from male to female. She presented a compelling critique of Darwin's theory of sexual selection, an argument she's developed more fully in her book "Evolution's Rainbow." She shows how Darwin's assertion, parroted ever since, that males are "passionate" and females "coy" is patently false, and that there is an incredible diversity of roles, behaviors, and gender realities in the animal kingdom, not to mention that homosexual behavior is extremely common among many species. But I was disappointed when she concluded her argument by using microeconomic categories of "demand curves" and "real prices" to describe how baby birds differentiate themselves to their parents and get fed. I doubt Joan is really committed to those metaphors, neo-social Darwinian as they are, but it's a commentary on how hegemonic neoliberal economics is in this time that a radical contrarian biologist who is also a transsexual would use such concepts to bolster her own arguments.
Aaron Koblin is from San Francisco and he's an engaging fellow, an artist and computerist. He devised the famous software that showed daily airplane flights across North America as a series of flashing beams of light on a dark continent. He described his project of using Amazon Mechanical Turk to have thousands of people do small things as part of something much larger, but without knowing anything about what they were actually contributing to. To me it sounded exactly like the labor process of the Department of Defense, or even object-oriented programming, where dozens to thousands of skilled technical workers do finite tasks that satisfy some part of their desire to solve problems, but they never really know if they're designing nuclear bombs, drone missile navigational systems, or what. Aaron's projects are quite benign compared to that, at least so far! He offered 2 cents to anyone who would send him an original line drawing of a sheep facing left. He received thousands of them. Later he packaged them in collections of hundreds and sold them for $20 a block, earning a big profit and incurring the wrath of some of the original contributors. For him it was primarily an art project, a demonstration of the possibilities of a broad crowd-sourced creative process. Later he did another project having thousands of people collaboratively draw a forged $100 bill, which later everyone was free to download and use as they saw fit.
These kinds of projects make me uncomfortable. I don't like the idea of a master entrepreneur hiring basically anonymous, brainless labor to do narrow tasks for teensy bits of money, and then use the results for any purpose. The methodology is bothersome, and based on what Aaron showed, the results don't do much for me either. I suppose you could strike great subversive blow to the status quo, at least in theory, but there was no evidence of any such purpose lurking in the middle of the thousands of sheep or squiggles that became the $100 bill. Mostly it seems to reinforce the kind of alienated labor that we've been doing all along, and worse, it establishes the notion that you'll work for fractions of money so infinitesimal that any notion of a minimum wage is forgotten.
Simo and Roope, the guys from Demos Helsinki, had come even a longer way than I did. Their consultancy works on quality of life issues with a particular focus on trying to understand happiness. Coming for a long-established social democracy in which the basics of life are guaranteed to all, from clean water and good housing, education, and medical care, they realized their prescription for happiness might be a bit out of place. But they went ahead and gave it a shot anyway, and it was quite amusing when they gave a rousing pitch for Brazil to become a "Superpower of Happiness" especially considering that Finland, along with Sweden and Norway, is considered among the more depressed countries in the world! I liked their argument though it is mostly couched in terms of what policy changes can be made at the governance level: e.g. more free time, longer vacations, shorter workdays, support for bicycling vs. private cars, more childcare support, more time off to raise children and care for elderly, etc. Why not? But coming from the land of Nokia, it seems a long way to the Brazilian Amazon, and their prescriptions might have universal application if we were able to see the planet more universally in terms of distribution of wealth, resources, technologies, etc.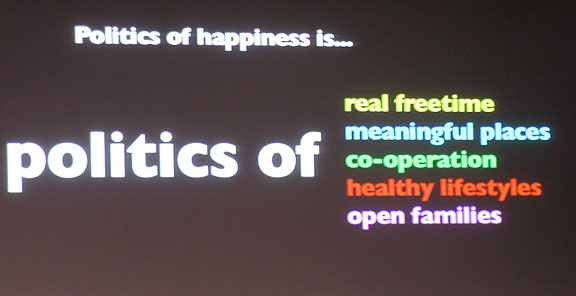 Lastly, Edgard Gouveia, Jr. was easily the most charismatic guy I met at TEDx Amazonia. He's about 6'5″ with his big afro, and has one of the most beautiful smiles you'll ever see. He is on fire with warmth and creative ideas and it only took him about 15 seconds to get the audience on their feet when he took the stage. A minute later we were all tied in pretzels trying to keep in contact with the people on either side of us with our left and right hands, as well as our left and right feet, and then he said we had to tip our head to reach yet another person!
He got everyone laughing and then launched into his own creative use of game-playing applied to practical dramas. His best example was the massive flooding that afflicted southern Brazil a year ago, and how it had left the region under water and paralyzed for weeks. He and his colleagues devised some games to get the locals to start taking matters into their own hands, and before too long a whole series of challenges were being pursued by teams in many of the submerged areas, often with the younger teenagers taking the lead. "Build a bridge over this creek, but you can't use any money and must get all the materials and labor donated. You have 3 days." And the job would be done in 1 day! He was passionate about bringing people together in practical projects, but using online social networks and gaming metaphors to promote an activist and engaged population. I was really impressed and quickly came to share his excitement, but the more I thought about it later, the more skeptical I grew. And then a few days ago someone pointed me to the Gamepocalypse Talk by Jessie Schell, which plays the logic out to its logical (capitalist nightmare) conclusion. This is not to say that Edgard is trying to generate a world of game-playing to serve the needs of capitalist marketers, but that his use of it and enthusiastic adoption is probably not going to find it easy to avoid co-optation by the larger society's rush to the same kinds of ideas.
Human ecological reinvention depends on adapting better to natural systems, but the latest business schemes to capture the value of all these experiments and keep them safely within the logic of commodities and privatized resources undermine the deeper transformation, don't they? Is planetary and human survival only possible if we proceed through price signals and market relationships (or games) or can we reinvent a democracy that represents our best interests but also those of all species, as this conference set out to do? Heady questions to be sure.
I hope I haven't written too harshly about people I just spent a lovely time with. I want to separate genuine human affection and an all around respect for everyone I met, from my disdain for some of the assumptions embedded in some of their Talks. In other words, I hope my new friends from this event will read what I write as comradely criticism, rather than a personal attack on anyone. I don't doubt anyone's good intentions and only want to challenge the comfort zone so many appeared to have with business models as the appropriate way to organize human and planetary life.