Haven't had much time or mental focus for blogging lately. But sometimes things crop up that are just begging for a good rant. The current ad campaign by the multinational clothing corporation Levi's is a case in point. The fact that Levi's is originally a San Francisco company lends a certain extra twist to this saga. And that they could say "Everybody's Work is Equally Important" at a time when so much work that is handsomely rewarded is not only NOT important, it is ruining the planet while it is destroying the humans doing it! It's an astonishingly bizarre statement to make in a society that has grown ever more hierarchical and class-divided during the past few decades, in which people who ARE doing the important work, like childcare, hospice care, public school teaching, driving public transit, etc., are being demonized and attacked and in many cases, left at the bottom in terms of pay and social esteem.

"We Are All Workers" proclaim the ads in bus shelters, on billboards, and seemingly everywhere all of a sudden. "Everybody's Work is Equally Important" says a neon sign in the window of their Valencia Street workshop (itself a wet dream: free screen-printing, photocopying and art resources for anyone to use). Back in Braddock, Pennsylvania, a quintessential Rust Bowl town abandoned in the early 1980s by the steel industry and verging on total collapse, Levi's has ridden in as a white knight. After a big nonprofit pulled out, Levi's agreed to put up $1 million to bolster the efforts of John Fetterman, the youthful and burly 6'8″ mayor to bring the city back from the brink of ghost town status, putting their money into a community center, the public library, and an urban farm! On Youtoob there are a dozen videos produced by Levi's, from one-minute ads to five-minute mini-documentaries on Braddock, designed to evoke a series of complicated emotions and speak to needs and ideas that have been buried during the past twenty years of shrill neoliberal triumphalism.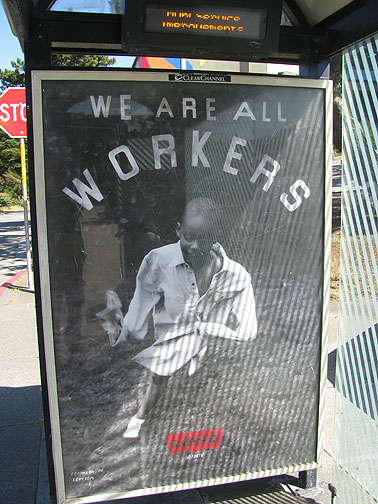 The first time I saw the "We Are All Workers" ad, featuring a small African American boy in an oversized adult workshirt, I was shocked. Who or what could be sponsoring an ad with that as a title? I felt that typical ripped-off feeling when my own words, sincerely uttered with real meaning on many occasions, were reflected back at me as a vapid advertising slogan. And then the puzzlement. Why Levi's? What are they getting at? Don't they want to hide all the sweatshop work that goes in to their products? Isn't it the point of the modern capitalist economy to disguise the relationship between work and product? Aren't we supposed to be kept blissfully ignorant of what it takes to produce the common items of our lives? Aren't the objects supposed to be the lively characters and the people who make them completely invisible? Has Levi's broken with the playbook of fifty years of capitalist consumer marketing?
Yes and no. I think they spent a lot of time and money with focus groups, testing this whole campaign out, long before it appeared to us publicly. I think they, or at least their advertising agency, realized that something is developing that has so far been out of sight and out of mind in terms of mass culture. There is a deep frustration with the stupidity of work that rarely gets mentioned. But most people live it every day, and have to pretend to like their jobs (if they have one), to pretend to care about the company they work for, to want it to be more profitable (even if they are faced with stagnant wages and shrinking benefits), etc.  The desire to do real work with a sense of its purpose and ultimate utility to our lives, and to do it with a lot of control over the process and its results, including who we do it with and how it affects the natural environment, has led many people to engage more fully with work they do when they're not "at work." This is what I wrote about in Nowtopia.
Michael Hardt and Toni Negri writing in the 3rd volume of their theoretical trilogy Commonwealth argue that there is so much productive activity going on outside of traditional economic measurement that capital is seeking new ways to capture that value. I think this whole Levi's campaign is a cutting-edge example of this effort. I find it unimaginable that the designers of this campaign haven't been studying their Hardt and Negri, and who knows, maybe they even read Nowtopia!
Here's how Hardt/Negri put it on page 140-141: "Capital expropriates cooperation as a central element of exploiting biopolitical labor-power. This expropriation takes place "¦ from the field of social labor, operating on the level of information flows, communication networks, social codes, linguistic innovations, and practices of affects and passions"¦ Capital is predatory, as the analysts of neoliberalism say, insofar as it seeks to capture and expropriate autonomously produced common wealth."
The Levi's workshop is a fascinating experiment in this effort to "capture and expropriate autonomously produced common wealth." Dan Connor is labeled as a Levi's photographer in the online video, "Pre-Print Opening July 1, 2010," where he describes their strategy: "The point is to come into a town, find a bunch of nonprofits that are in that area, and work with them, to create an environment that is collaborative, an artspace, to kind of talk together, work on projects in a collaborative nature"¦"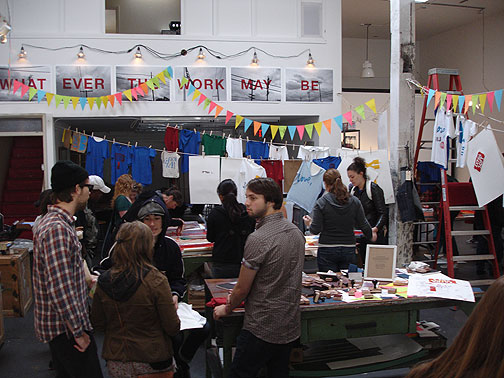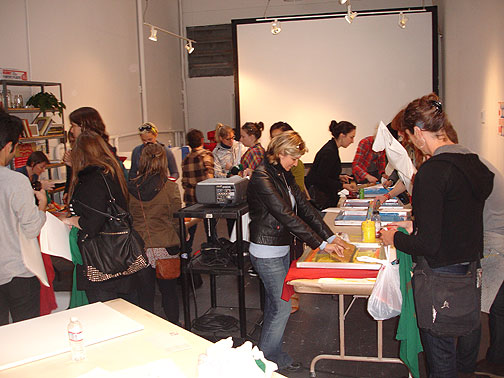 The place opened in July and will close at the end of August. (Locals in the Mission are suspicious that the short time of their renting the place conveniently avoided their having to get a normal business permit and encounter the shitstorm of neighborhood chainstore opposition that their competitor American Apparel ran into when they tried to open a store a few blocks up the street a year ago.) But it's not a regular store. It's a community workshop with a beautiful old letterpress, silkscreening tables and screens, a free photocopier for zinesters to help themselves to, and a surprising largesse of resources. Frankly, the workshop is the kind of fantasy place that anyone involved in radical publishing or printmaking and community politics has dreamed of forever. The catch of course is that this is a Levi's facility. While they've been relatively open and uncensorious, encouraging dozens of local artists to come in and do whatever they want, even offering some of them modest amounts of money to produce art there, they are using the place as a showcase to gain brand loyalty and they're freely using the folks who come in as advertising props. They have a marquee outside bragging about who is going to be there "making art" in coming days, and a lot of the output is connected to various local nonprofits. There's even a spinning wheel with three local nonprofit groups who get the cash when you buy some jeans or a shirt there (because in spite of everything, they do have a couple of shelves of clothes for sale). It's as though they've hit upon this new strategy for capturing a whole stratum of productive energy in the ultra-hipster Mission, co-opting it to their own purposes while also inserting the corporation into it as the provider of hardware, free space, and endless paper and ink and other resources, but at the last moment they can't resist also doing what they've always done: sell bluejeans!
Hardt and Negri describe the problem of capturing the immeasurable wealth, which maybe this Levi's workshop is managing to do.
"Furthermore, the results of biopolitical production, including social subjectivities and relations, forms of life, [do generate] value, but it is immeasurable, or rather it constantly exceeds the units of any accounting scheme; it overflows the corporation's double-entry ledgers and confounds the public balance sheets of the nation-state. How can you measure the value of an idea, an image, or a relationship? The quantitative indicators of professional economists offer little "¦ in particular since production of the common constantly exceeds not only relationships of control but also frameworks of measure. Useful economic indicators instead would have to be qualitative."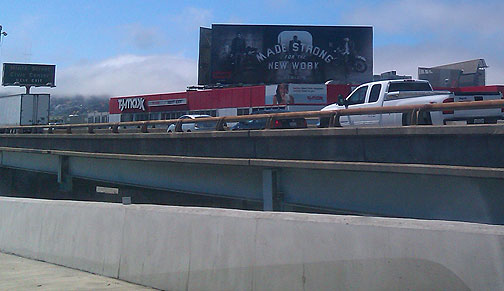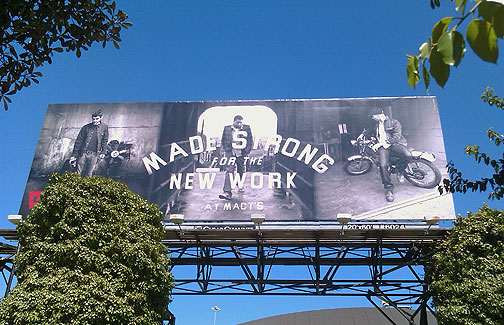 "Join us, roll up your sleeves, and get to work." They have a half dozen slogans like this. Another one is "Ready to Work" echoing the millions of unemployed who would be glad to get a job rather than being thrown on the discard pile like they were a broken piece of plastic. Yet another version is splashed across big billboards near the Bay Bridge: "Made Strong for the New Work," with three men wearing the requisite branded clothing while posing among machines and in brick rooms as though waiting for them to come back to life. What is this "new work"? One guy stands in front of an out-of-context motor in an otherwise empty room. The guy on the right is sitting on an old motorcycle in another empty room, probably a former factory work space. The guy in the middle is walking through some kind of archway with a cityscape behind him" is he entering an empty factory or leaving a dying city? These guys aren't working exactly, they're waiting. They're embodying the precariousness of modern worklife, a dangerously accurate portrayal of the lassitude and emptiness that fills all too many lives in an economy with 22% unemployment. Waiting for the New Work that hasn't yet started, or if it has, only in brief fits and starts, enough to keep you from total penury, maybe even enough to keep the payments going on the credit card where you charged the new Levi's you bought, or so the ads imply"¦
But precarity is a permanent state now. The lost world of full-time work for stable employers actually making things that other people can use and will buy, is now reduced to phantom references floating in and around an ad campaign. The images are meant to invoke a (false) sense of nostalgia, but one that has a real yearning in it, a persistent wish for a stability and security that were never available to most of the world and only to a fraction of the American working class during the peak of U.S. global power. That time is definitively over.
But in good old American bootstrapping ideology, Braddock is being showcased as an example of the can-do spirit, the circular fantasy that once you've been kicked to the ground by the decisions of a tiny elite who control wealth and power, you can work yourself to the bone to regain your former middle-class comforts. I'm pretty sure Mayor Fetterman, who looks like he was part of Survival Research Laboratories or some equally edgy urban art project (and is an Ivy League grad to boot), knows better. The Braddock website features a stark and gritty urban aesthetic but has a photo of a big urban garden as the first thing you see, with the slogan under it, "Reinvention is the only option."
So if you were the Mayor of Braddock, or even just someone who moved there to be involved in a radical effort to reinvent the place, how would you respond to the sudden appearance of a major corporation who offers serious money with the only caveat that they can make and use representations of you for their own marketing purposes? Not an easy call. Because anyone facing that level of economic collapse and urban decay knows that they need serious resources to get out of the hole. You can only bootstrap yourself so far, and without serious capital (in this culture) to work with, you'll probably hit a wall.
Obviously Levi's is co-opting Braddock and its Mayor. Does that mean he's lost all autonomy and is now a fully captured entity of Levi's? I doubt that too. Maybe he thinks he's playing Levi's and as long as their money stays in the buildings and facilities they've invested in, Braddock comes out way ahead no matter what dumb advertisements Levi's runs for a few months or even a year or two"¦ Time will tell for Braddock's gamble.
But here in San Francisco, the naïve young hipsters who are flocking to the Levi's store are doing what comes natural. They're playing, they're making art, they're finding friends and community in practical projects that are based on their own sense of meaning and purpose. Wouldn't it be lovely if we always had access to practically unlimited resources to make our zines, our posters, our t-shirts, our creative fantasies? Why don't we have such workshops as a matter of course? And not limited to printmaking and clothing, but a whole range of tools and machinery so we could begin to make the world we want to live in, a world of our own design? Levi's is tapping that yearning, but will soon pull it all away, just like Lucy always pulls away the football just as Charlie Brown is really ready to give it the kick of his life.
Hardt and Negri say "the metropolis is to the multitude what the factory was to be the industrial working class"¦ the metropolis primarily generates rent, which is the only means by which capital can capture the wealth created autonomously." And it isn't coincidental that during the past two years of economic breakdown, mass foreclosures, and rising unemployment, San Francisco rents have remained in the stratosphere. Aggregate capital is doing a fine job of exploiting the flourishing, unmeasurable creative output of San Francisco's residents through the harsh regime of rents here. Now we have Levi's opening a temporary workshop to experiment with a new form of cooptation, simultaneously more overt and more opaque, more insidious and more subtle. How will this play out? Can we turn this inside out? Or does it automatically turn us inside out? Love to hear your thoughts…