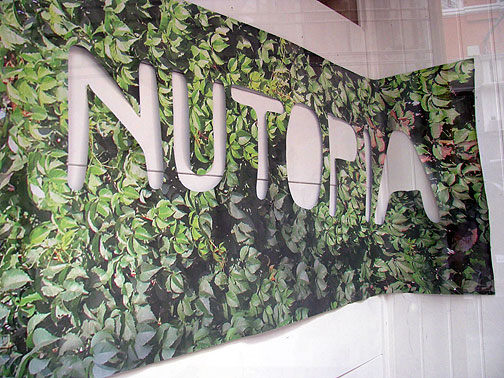 I was at Cardiff and had a lovely time at the Nutopia Conference. I spoke in the morning yesterday as part of a 1.5 hour panel with Mike Hallett, Development Director of Igloo Regeneration, a straight up "green" real estate developer (mega-millions), and Steve Garrett, a very sweet guy who is the main organizer of the Riverside Farmer's Market here in Cardiff, and then me. We were not entirely in sync, Hallett presenting a more or less typical planning demonstration of how his company (named the #1 Green development company in the world by the UN!) plans to renew the old coal yards in a part of Cardiff Bay (condos, townhouses, some parklands and less parking, but nothing about agriculture or transportation or anything radically "sustainable"). Garrett went next and immediately objected to part of Hallett's presentation due to the paltry allocation for open and green space and the total lack of agriculture. That was as sparky as it got, and he went from there to a lengthy home movie of his trip to Havana's community gardens and manure piles (!) and said clearly that the 'gig is up' and we have to change everything. No longer is there any hope of restarting the system as we've known it. But his comments didn't add much to that healthy sentiment. I went and did a super condensed Nowtopia talk, which really seemed out of left field after the prior two speakers, but people seemed to enjoy and many people spoke to me later with a lot of enthusiasm and I sold a pile of books.
We had two walks and a bike ride, all related to the Nutopia Conference. I give very good marks to the overall Conference (and am sorry I couldn't stay through the end). There's a great crowd of interesting people, good synergies… On the morning walk before we spoke, conferees were sent out to find a series of posted printouts around the area, each displaying an excerpt from an email from Zimbabwe, detailing the breakdown of water supplies, the cholera epidemic, the famine, the death of the prime minister's wife, juxtaposed to ironic locations designed to highlight a way to think about the same issues in a "stable, first world" context.  I particularly enjoyed the signage about cholera posted in a "health products store" full of over the counter herbs and health foods, and the signage about the famine over the shoulder of three guys wolfing down a hearty English breakfast. It was a good way to get started in the conference.
We had a nice, short bike ride led by Robert Bermingham of Cycle Cardiff, wherein he showed us the River Taff, and had us riding in single file to my dismay. I loved riding around though, and it was great to catch this view of daffodils blooming on the river.
On bikes we could cover some territory, and though we didn't go far, we saw a lot. Another stop brought us to the front of this impressive old pub, The Vulcan, which is slated to be demolished in June and replaced by 50 parking places!
As you can see it's already isolated in the midst of a nightmare of creeping monoculture, so this guy came out and spoke with Glenn and some of us for a few minutes. He said he and the other regulars had put up a fight, but it had been for naught.
Tonight, April 3, Glenn and friends are beaming text messages onto the facade of The Vulcan, virtual love poems to a dying institution and an artistic rebuke to a mindless urban development juggernaut.
Soon after we came upon this old tiled Victorian structure, dwarfed by the hideous Marriott towering behind it, but at least this one is protected by local preservationist rules.
The afternoon panel featured all academics speaking to "Resistance, Patterns, Rhythms: Urban Economics and the Everday" and I actually enjoyed all three (Jill Fenton, Malcolm Miles and Tom Hall), but thought best of Hall's discussion of the rhythms of urban life and how difficult it is to script or plan how spaces get used. Which also means that despite the efforts of architects and urban planners to squash all the charm and character of downtown Cardiff in its mega-million reconstruction, ultimately people may be able to repurpose a lot of the mess they're making.
After that presentation we were encouraged to take Jennie Savage's audio tour of the Arcades, which was quite interesting, a series of interviews related to various places in old Cardiff, folks reflecting on the uses of space historically, the texture of life amidst the Victorian Arcades, and a recurring experience of being fooled by ambient sounds of heavy machinery and traffic that were not actually near you as you walked along listening to the recordings! It was also a well designed way to get us to walk through most of the charming Victorian arcades. Here's a gallery of images from it.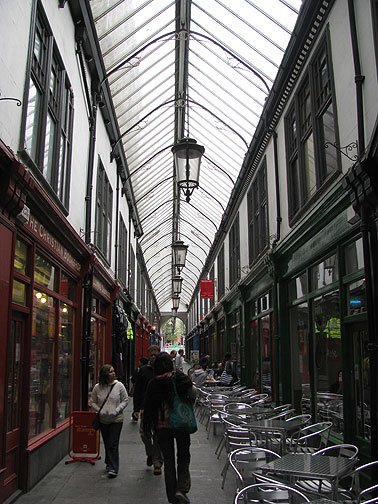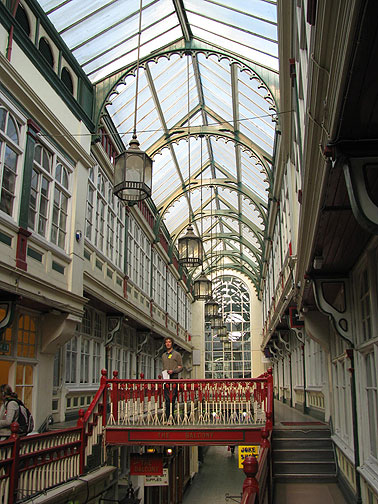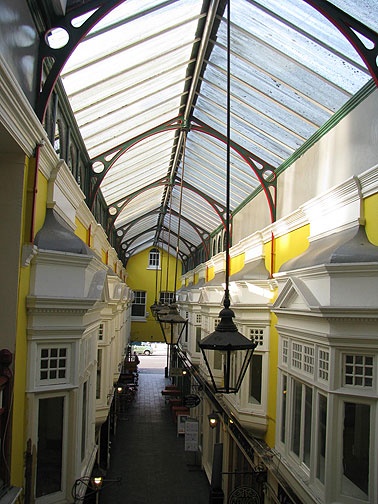 I loved seeing the old Arcades juxtaposed to the insane construction (this whole town is being turned upsidedown, a massive rebuilding program predating the economic crash that has a long way to go yet, and millions of bucks)…
So I'm going to rapidly fall behind on this trip, because it's 2 a.m. in Bristol and I have a whole 'nother report to make and I have to sleep now… But anyway, I think the juxtapositon of the Nutopia Conference to the oddly self-destructing Cardiff downtown was quite compelling, and I congratulate the organizers for an intelligently organized rebuke to the city's planners and leaders, who clearly need to stop and rethink. I could only imagine that they'll have to start all over again in 5 years and re-do almost all the horrible construction they're inflicting on the city now! Alas… Last image: the old Castle! didn't go in, but loved its looming presence north of the construction zone!