Obama and the Alaskan Nut-job governor… how to decide?… let's see, Obama is FOR "clean" coal (an oxymoron of the first degree) and "safe" nuclear power (another one)… the Alaskan will be off her rocker FOR drilling, warring, babymaking, suppressing dissent (oops, wait, Obama will probably be for suppressing dissent too, but he won't have to do much because the broad American pwogwessive (non)movement will paralyze itself waiting for Him to fix everything)… would we prefer a blowhard corporate shill with an unknown but vociferous female ideologue of the crazy right, or… an articulate proponent of American power, elected to restore legitimacy to a highly illegitimate and dysfunctional political and economic system? (with an old windbag egomaniac, Senator "Chemicals & Credit Cards," as his sidekick)… Dontcha just love American presidential politics?
I would prefer to hear the hesitant and calibrated rationalizations of Obama, I admit, but only because it's more interesting to see how that wing of Capital tries to manage the unfolding crises, NOT because I think he'll be "good" for anyone or anything that I care about… "less bad" maybe, but only maybe… And that energy policy based on coal and nuclear? That's a serious nightmare and will require very substantial mobilization to resist its insane implementation, so start your (anti)engines…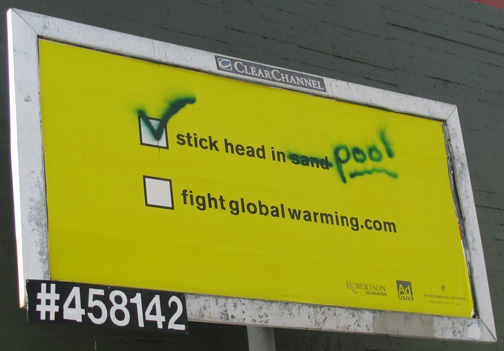 Yah, let's just jump in the pool and fuggedaboudit… (I really hated this billboard campaign, and find this an appropriately cynical riposte.) But I've been living in my usual ecologically compromised-but-thinking-about-it way… Here's a photo I just took from the top of Twin Peaks yesterday, with a water bottle I got when I volunteered on the Victory Garden at Slow Food Nation (open today at Civic Center and Fort Mason):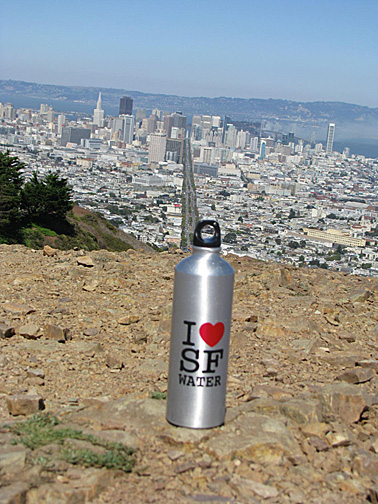 There's a nice booth at the Slow Food Nation pavilion in Civic Center to "Reclaim The Tap" decorated with dozens of discarded plastic water bottles. I'm very enthusiastic about San Francisco tap water, and public water supplies in general. It's one of the great stealth privatizations of our era, the creeping paranoia that has infected so many people to make them think that clean, drinking water from the tap is somehow suspect and unhealthy… thus they buy ridiculous quantities of small containers that hold… tap water (most of the time!)…

I've done the same for many years, justifying it with my enjoyment of bubbly water. Never much liked soda or even juices that much, but bubbly water! Now that I'd buy in large quantities, by the case even… so I did, for many years, and always felt kinda stupid and hypocritical, since I know perfectly well that shipping bubbling water from the southern Alps to San Francisco is worse than ridiculous. But I finally changed my behavior by being a "good" consumer… I bought from the Soda Club a small plastic device, some bottles that fit it, and two canisters of CO2, and now I'll make my own bubbly water from SF's delicious Hetch Hetchy tap water, and no more shipping, waste glass or plastic, or any of that… still have to buy metal canisters of carbon dioxide once or twice a year, but from a solid waste point of view, a major reduction has been achieved… a small improvement, to be sure, but I'm digging it, I admit!
I eat a lot of fish too, and sometimes while I'm shopping at Trader Joe's or somewhere like that, I wonder how much longer there'll be fish in the market. Clearly fish populations are in catastrophic decline in many parts of the world's oceans, and the few areas that aren't in decline are being voraciously exploited by the big industrial fishing fleets… along came a copy of Smithsonian magazine in which a marine biologist had the good idea to examine tourist photos from fishing resorts to see how fish populations have literally shrunk through overfishing (the article and image is not online for some reason).
These three photos more or less parallel my own time on the planet:
Sports fisherfolks are now showing off their catch, a catch that was discarded only a generation ago as insignificant… ominous sign, buried in an unlikely place, for the health of the oceans… good to note that after four years of WWI, Atlantic fish catches were huge, since the fish had been left alone for a while… we may have gone too far by now, but nature is pretty darn resilient, as we noted during a recent visit to Pt. Reyes.
Adriana and I went up to Pt. Reyes for a couple of days get-away last week, and took some walks through parts of the amazing park that I've never visited before. The Sky Trail seemed like a good bet to get us through the areas that burned really badly in the late 1990s… after I got home I dug out an 2005 copy of Bay Nature magazine that had a special section on the Pt. Reyes fire, 10 years later. Here's the map of where it burned: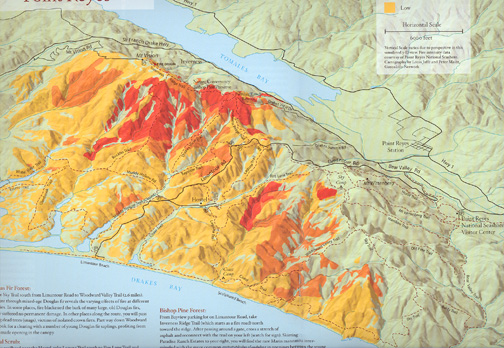 We hiked in the lower right hand part of this map, and here are some photos… first we found ourselves on the high ridge trail in the fog, on muddy paths among ferns and moss-covered trees that felt like we were in deep rainforest.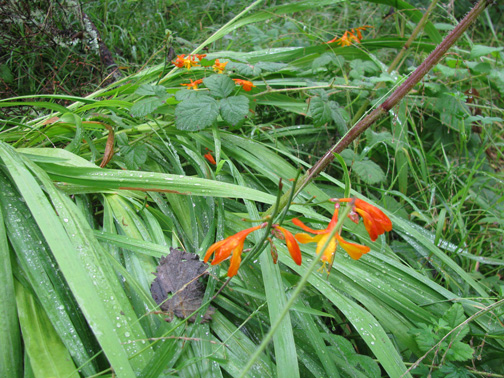 Considering how dry it has been around here for the past few months, it was surprising how wet and lush it was… later we broke out (along with sunshine) into more open terrain that had once been densely forested and is going through steady regeneration now.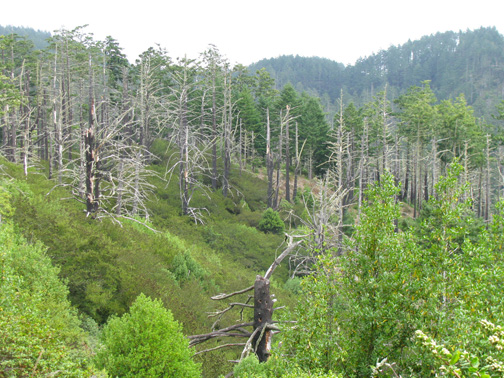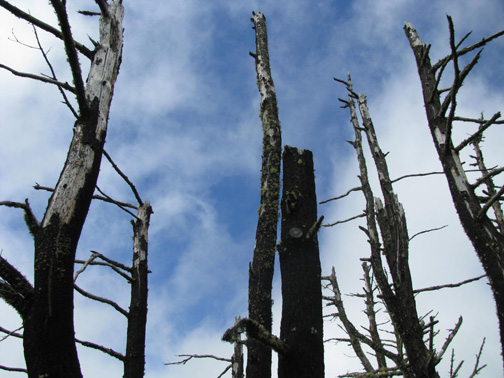 Eventually we made it down to the coast itself, but here I am still above, agog at the beauty of this incredible public treasure: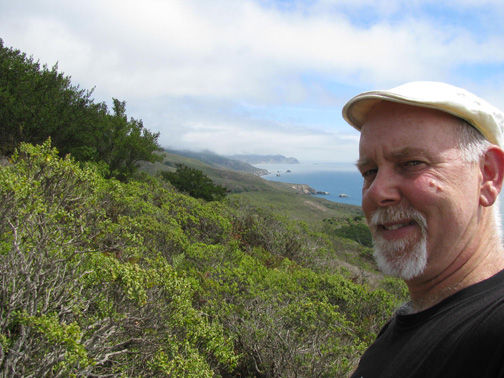 The day before we had the good luck of making it out to the Pt. Reyes lighthouse when it was in sunshine and not too windy (it gets closed quickly when winds gust over 25 mph, which is really common at the northwestern tip of this ecological marvel)…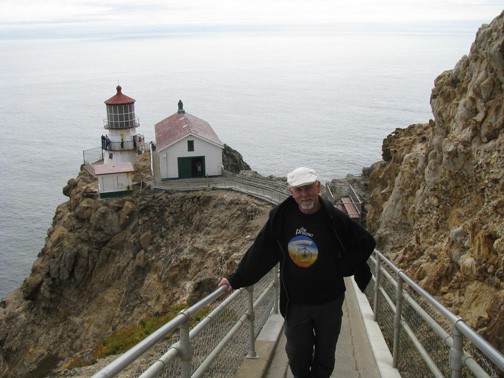 It's always curiously reassuring to visit a place that was burned to the ground and see how resilient nature is. In fact, the ecology of Pt. Reyes, like much of the west coast, is quite compatible with fire, and fire was used as a basic landscape management tool for millennia by the humans who preceded Europeans here.
Back in San Francisco, in the dogged summer fog, I went to the top of Grand View Peak, which has not much view in the fog of course, but has its own charm even in that strange microclimate: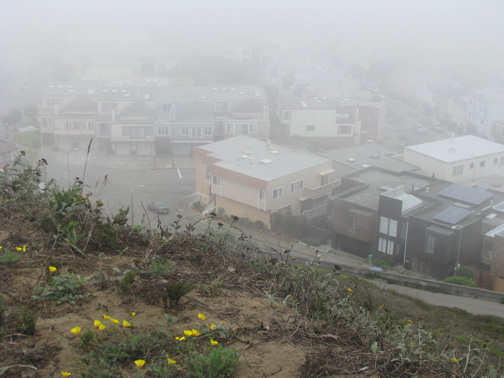 And then yesterday, the end of summer heat finally pushing the fog away and beginning to bake us, I made my periodic trek to the top of Twin Peaks in time to take this photo of the grass fire burning on Yerba Buena Island right under the Bay Bridge… a view that must have been quite common long before urbanization…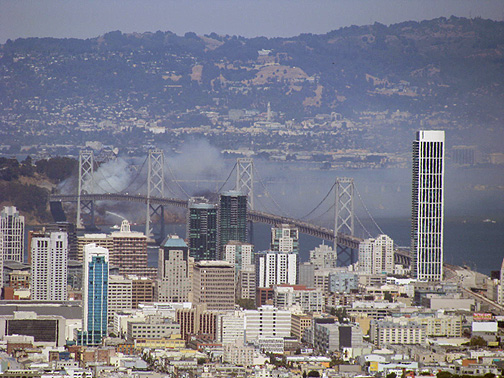 Lastly, a couple of shots of the Victory Garden in its full glory: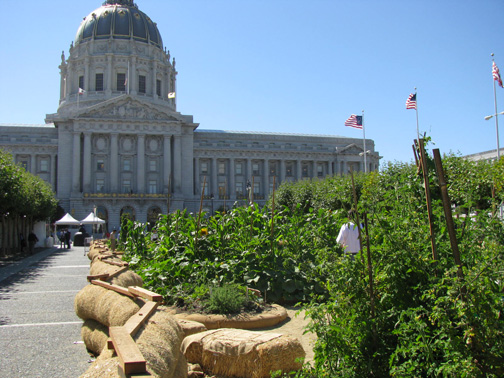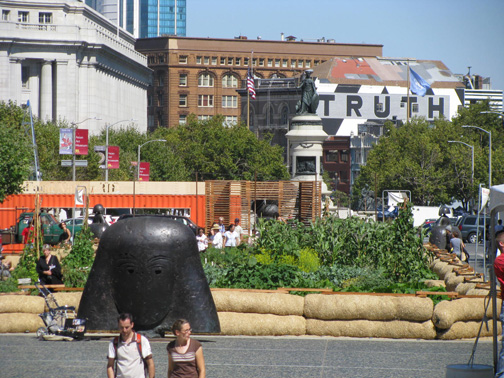 You gotta love how Rigo's TRUTH mural is always looming over the view from the front of City Hall…
I'm off on another mini-tour next week, visiting Toronto, NYC, New Brunswick NJ and Troy NY… details here.