That's the title of a piece (pdf) I wrote in 2003 and published in The Political Edge. On this Labor Day, it's more true than ever. The way we make the world we live in is seriously broken. There's a lot of work to do, but mostly we're not doing it. Then there's a lot of jobs out there that should be abolished and the work stopped tomorrow! We'd be wealthier as humans, and the planet would be healthier immediately too (banking, insurance, advertising, real estate, military production, shoddy commodity manufacturing instead of making things to last 75 years, etc. etc.) The soaring unemployment rates, the crashing economic production figures, the severe ecological crisis (call it climate chaos, global warming, whatever), endless war and widespread famine and thirst"¦ it's not rocket science to see that things aren't right.
The most common demand and solution heard from the so-called "Left," as well as the more populist strains of the Right, is for Jobs! At the recently held Community Congress in San Francisco, representatives of the Living Wage Coalition and Jobs With Justice were among many who put forth the demand for Jobs (albeit with wages that can support people in this expensive city). Local trade unions in the East Bay are clamoring to build the wildly expensive and completely unneeded Oakland Airport Connector because it will create "jobs." Big Oil and other transnational corporations are on the bandwagon too, having the gall to launch an Astroturf campaign called "Jobs Not Taxes." The mainstream liberal left, including the AFL-CIO and a number of Democratic politicians are calling for One Nation Working Together at a big mass rally October 2 in Washington DC, which is supposed to "put America back to work," as though we're not working all too much doing idiotic things already!
If you are unemployed, or underemployed, and certainly if you're underpaid as at least a quarter of the working population of the U.S. earning $9/hour or less is (not to mention the rest of the world where it is even worse), the demand for jobs is misguided at best. In a capitalist economy what we need is a livable income, and to get that we need a radical redistribution of wealth. I read a stat recently that the past two decades' severe skewing of wealth towards the top has led to the situation where 5,600 families in the U.S. have as much wealth as the bottom 138 million people. (An analysis by economists Thomas Piketty and Emmanuel Saez found that despite several periods of healthy growth between 1973 and 2005, the average income of all but the top 10 percent of the income ladder — nine out of ten American families — fell by 11 percent when adjusted for inflation. For three decades, economic growth in the United States has gone first and foremost to building today's modern Gilded Age. The recipients of those gains don't care about a fully funded Social Security system or a healthy Medicare program — they don't need them.)
Obviously having a job and some income is better than abject destitution, but it fails to address the deeper issues we face. For many, the urgency and desperation that unemployed people face requires them to demand jobs. Why not demand income ahead of jobs? I suppose it's because there's something acceptable and supposedly "dignified" about "earning" your own living, even if most jobs put people into ridiculous situations of doing pointless, or pernicious, or just bad work, in exchange for inadequate wages and often no benefits.
A recent book, The Moral Underground: How Ordinary Americans Subvert an Unfair Economy by Lisa Dodson, tells heartbreaking stories of people trying to play by the rules, taking low-wage jobs and finding it impossible to make ends meet, especially when their children or elderly parents need care as most do. Dodson interviewed dozens of workers and middle-managers and what she reveals is that at least occasionally there is a well-developed conspiracy to pad workers incomes and reappropriate time and goods, often with the complicity of their front-line bosses (who cannot ethically enforce the rules of the market). It's fascinating although exasperating too, especially when she's recounting the interviews with the managers who repeat ad nauseum the casual racism and blame-the-poor mentality that sustains so many self-righteous American attitudes. Overall The Moral Underground dovetails well with Barbara Ehrenreich's Nickel and Dimed of a few years ago, wherein she tried to live as a low-wage worker and found herself falling further and further into a debt trap.
Years ago in Processed World we put this poster out and I stand by it twenty years later: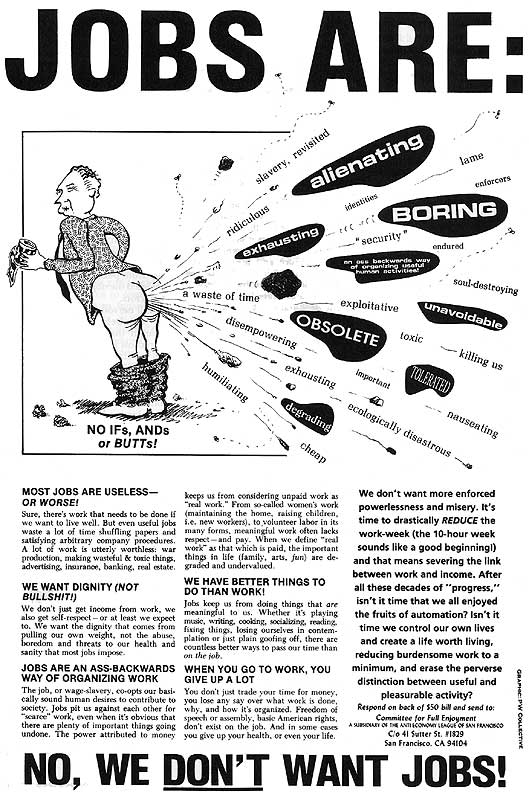 There's more to this though. We spent a lot of years (1981-1994 and again in 2001 and 2005) in the pages of Processed World making arguments like what you've read above. But what we've been living through since at least the late 1980s didn't correspond too well to our utter disdain for jobs. I, for one, was blind to how many people were coming to embrace their jobs, claiming to love them. Moreover the old 40-hour work week faded away and suddenly everyone seemed to be either working multiple low-wage jobs up to 80 hours a week, or if you were salaried in an upscale "profession" you were expected to put in 50-70 hours a week routinely. The massive speedup and intensification of work was engulfing most people, but weirdly, there wasn't a lot of overt anger or hostility about it (Processed World did dedicate the 20th anniversary issue to "The Greatest Speedup in Human History"). In fact, most people just went along with it, and compensated for their lost lives by buying more stuff, or so it seemed.
I wrote Nowtopia to get beneath this story and try to rediscover a radical impulse under this glossy surface. Lisa Dodson's book about the "Moral Underground" does the same from a very different angle. But a well-known Italian autonomist, Franco "Bifo" Berardi, published a book in 2009 called The Soul at Work: From Alienation to Autonomy, that goes in a different direction again. The book suffers from a severe jargon overload and I don't recommend it because it's impenetrably dense for large sections. But here's one short excerpt that I thought absolutely nailed a key piece of the story:
"Now we can finally answer the question: how did it happen that work regained a central place in social affectivity and why did society develop a new affection for work? One reason is well-known: in a situation of competition workers are obliged to accept this primordial blackmail: work as much as possible or die. But there is another answer we can give, concerning the impoverishment of everyday life and the relation to others, the loss of eroticism in the communicative experience. The reasons behind the new love of working are to be found not only in a material impoverishment derived from the collapse of social warranties, but also in the impoverishment of existence and communication. We renew our affection for work because economic survival becomes more difficult and daily life becomes lonely and tedious: metropolitan life becomes so sad that we might as well sell it for money."
Jason Smith, writing in the preface to Bifo's book, summarizes his argument this way:
"Bifo calls the contemporary organization of production in which the soul and its affective, linguistic and cognitive powers are put to work the factory of unhappiness because the primary function of the work the post-Fordist factory commands is not the creation of value but the fabrication of subjectivities" the modeling of psychic space and the induction of psychopathologies as a technique of control. In a phase of capitalist development in which the quantity of socially necessary labor is so insignificant that it can no longer seriously be considered the measure of value, the ghostly afterlife of the order of work is an entirely political necessity. Work is a matter of discipline, the production of docility."
It would seem that the production of docility has been doubly effective, since the range of political demands being uttered among supposedly oppositional tendencies is so narrowly circumscribed by the logic of work and wage-labor. There is a radical political agenda with respect to work, but it does not involve demanding jobs. It involves the seizure of wealth and its redistribution, the production of a fair and egalitarian society based on democratically chosen work, shared and organized to maximize human and ecological well-being. The narrow, myopic demand for jobs, even with living wages, ostensibly because that's what poor people want (or desperately need), only reinforces a system in which such empty demands will go unmet indefinitely. We need systemic change, not a reinforcement of our passivity and powerlessness. Life could be grand, everyone could live quite well, IF that were the target towards which our daily lives were directed. Getting a job only ensures that we'll go on working to fulfill an agenda that only meets human needs as an accidental and occasional consequence of the real goal: profit making.