Had a couple of fun trips in August, one a 3-day camping trip to the Giant Forest of Sequoias in Kings Canyon National Park in mid-month, and this past Saturday a day trip by bicycle to an overlooked corner of shoreline in the north bay, Pt. Pinole Regional Park.
We went to see the Giant Forest because I'd been itching to for a few years, since I started telling the story of Burnette Haskell and the radical labor movement in San Francisco in the 1880s. Haskell and his comrades had burned out after a fevered period of organizing (he was one of the founders of the Coastal Seaman's Union in 1885) and decided to move to the country, in this case the southern Sierra Nevada, and start a commune. Like countless radicals of the 1960s and '70s, these guys were following a similar trajectory but far earlier. There is a good book on their story called "Cooperative Dreams" that I read some years ago, that tells the remarkable story of how their attempts to homestead in the Giant Forest thousands of feet above the Kaweah River were thwarted first by a recalcitrant Federal Land Office that wouldn't approve their claims, and then in the dark of night in 1890, Southern Pacific Railroad inserted language into the federal bill that was going to create Yosemite National Park that also established Kings Canyon National Park, thereby divesting the Kaweah Cooperative Commonwealth of its land.
Reputed to be the largest tree in the world, in terms of sheer square footage of wood, is now known as the General Sherman Tree, but when the Kaweah folks had the land, they called it the Karl Marx tree. So of course I had to go and see it in person!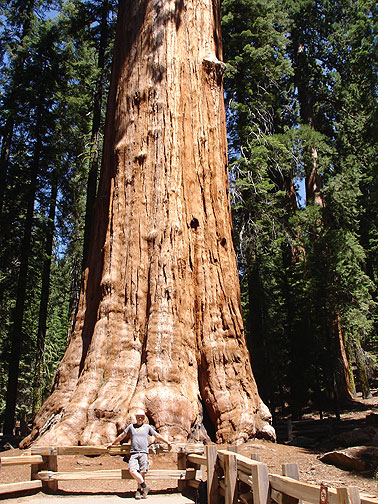 The tree is in fact unbelievably huge. And what was so remarkable was that there are dozens and dozens of massive trees, and after a while, it was the whole forest that left us amazed again and again. Towards the end of our hiking around we came up on a tree called the Lincoln tree (annoyingly a lot of the trees in the Giant Forest are named after U.S. presidents and famous people, one huge closely-packed grove was dubbed "Congress" by… the Congress!). Here I am at the left-hand base of the Lincoln tree–can you see me?
I don't love camping. Basically it's cooking and doing dishes in the woods, very inconvenient to say the least!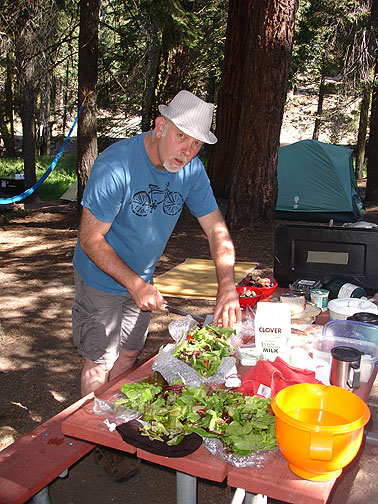 Not to mention that nature is trying to kill me! All those beasts, bugs, snakes, etc…. I never fully relax in nature, always expecting something awful to happen… still, when we were hiking in Kings Canyon we passed a bear 100 feet away, and later a rattlesnake was just off the trail. In both cases I was delighted to see them! (go figure…)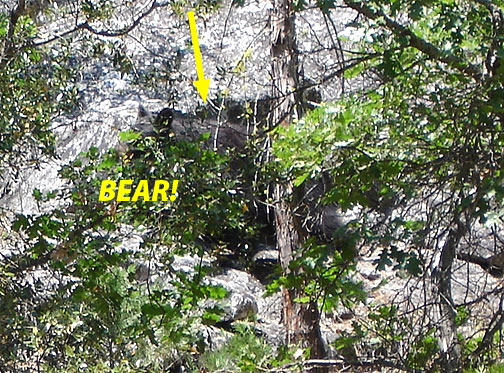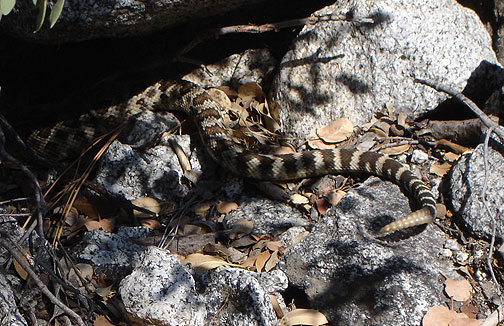 It was really beautiful up there. The hiking was great, the weather near perfect. Here's a bunch of shots of us from our hikes:
Before we came out to that view, we had a long walk along a largely deserted path called Trail of the Sequoias. It was funny because there were so many tourists around the Sherman/Marx tree and its near environs. But as soon as you walk for 15 minutes, nobody! So we wandered in delightful weather along a 5-mile up and down trail around 7,500 feet up, past dozens and dozens of massive, incredible trees.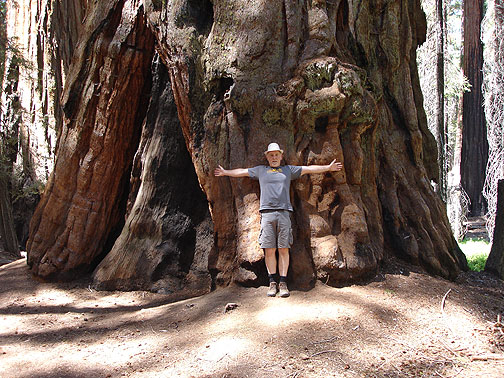 After we had a nice picnic lunch overlooking the Kaweah canyon from near Eagle's View, we went to see what John Muir called the "Jewel of the Sierra." Others have said you can't really appreciate the Giant Forest without visiting the gorgeous meadows that were the first areas coveted by American settlers for cattle grazing.
The day before we went through the Giant Forest we went over the mountains into Kings Canyon and hiked up to Mist Falls. Here's a few shots from that walk: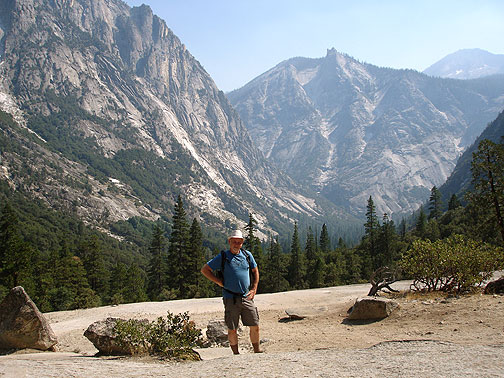 The last two photos from here: two of the most impressive big trees, the Chief Sequoia and the General Grant… amazing how much personality each ancient tree has… these are all 2,000 years old or older!
So this past Saturday I went with some friends to Point Pinole park, a place that was for the late 19th and early 20th centuries an isolated place where black powder and dynamite were produced. Here's a shot from the one of the plaques showing a hard-working donkey there: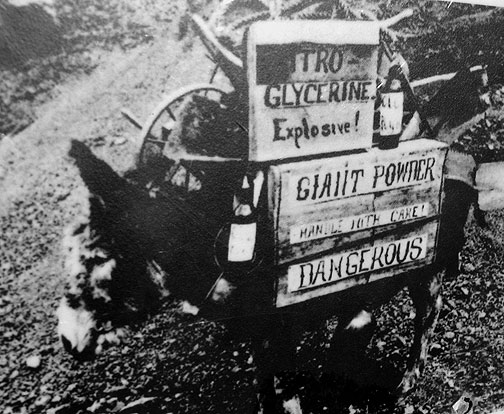 It's a tiny peninsula north of Richmond and well west of Pinole and Hercules. Today it's a charming, rather isolated park with fantastic views across the north bay towards Mt. Tamalpais, Novato, and the Carquinez Straits.