A strange title that just popped into my head. Thanks again to all my friends who are giving me so much love and support during this awful time. Last night I stepped out to visit a friend and found this on the sidewalk in front of my apartment.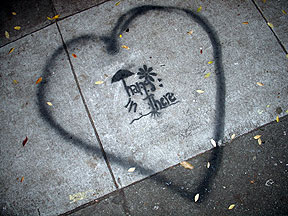 It speaks for itself. We both thank the anonymous artist.
As for the title, well, I was reading the Dec. 12 New Yorker, the Financial Page by James Surowiecki, which I don't generally think much of, but he made an interesting observation that misses the main meaning of itself. Talking about the Sarbanes-Oxley Act (SarbOx) and the growing frustration of large corporations having to spend a lot of time and money meeting its mandate to more closely monitor corporate financial reporting, he defends it by listing how badly distorted 'normal' capitalist business was by the frauds perpetrated by Enron, Worldcom, et al:
"They made foolish acquistions and high-profile investments that destroyed value instead of creating it–studies suggest that, in the telecommunications sector alone, bad investments totalled tens of billions of dollars. And they hired lots of people whom, in the end, they probably didn't need.

"A recent paper by Simi Kedia, of Rutgers, and Thomas Philippon, of NYU, for instance, looked at all the companies known to have been managing earnings between 1997 and 2000. In those years, the companies boosted hiring by a full twenty-five percent, while other companies increased hiring by less than seven percent. As soon as the companies were forced to come clean, the employees were sacked… re-stating companies fired between 250,000 and 600,000 employees between 2000 and 2002.

"All this playacting affected not just the fraudulent companies but also their competitors, with serious consequences for the American economy at large… An accounting professor at Columbia suggests [that] WorldCom's lies–about its profits, about the amount of internet traffic its network was carrying, and about the total demand for telecom capacity–made competitors like AT&T and Spring look inefficient. Trying to keep pace with WorldCom led these companies to overinvestment in new technology and to price wars, followed by cost-cutting campaigns, layoffs, and in AT&T's case, the decision to break up the company. WorldCom's deception… led to the misallocation of billions of dollars in capital across an entire industry, and rearranged the lives of tens of thousands of workers…"
The next time someone glibly insists that markets are the most rational way to allocate resources, and that social planning would create some kind of disaster of inefficiency and wasted resources, pull this anecdote out of your hat and shove it down their throat!