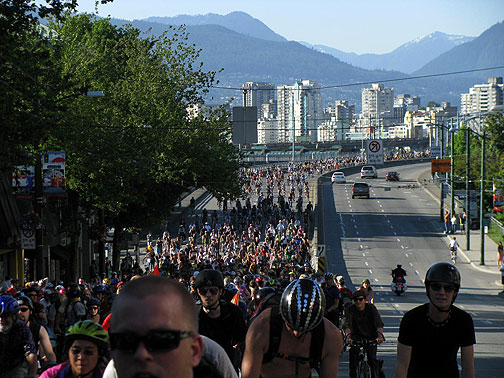 This is mostly a huge photo gallery, but let me tell you a little about it too… first off, "thank you corkers!" was the surprising refrain we heard throughout the ride as we passed by groups of people corking. Unlike San Francisco, corkers are welcomed by all here, the police don't hassle or ticket them, and the riders are clear that a great service is being provided by those who stop to barricade the roads to allow Critical Mass to pass unimpeded. As it turns out, Vancouverites turn corking into a series of mini-parties, each one attracting a growing number of cyclists who stop to talk, have a beer, share a puff, what have you. It was remarkable! Here are a couple of shots of corkers at work: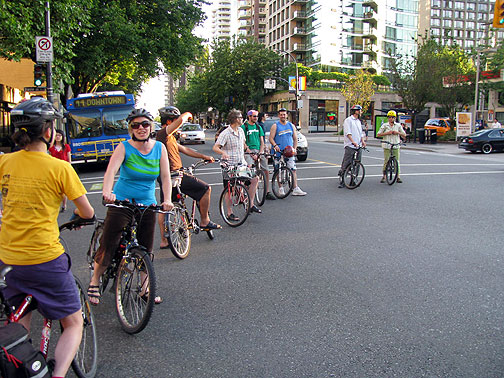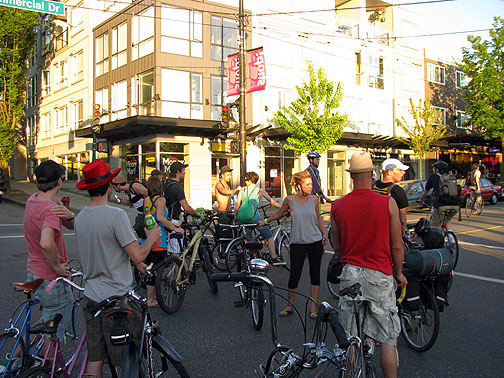 Motorists were surprisingly mellow in general (a few exceptions of course, including one report we heard a day later of a brawl between a cyclist and motorist, punching each other on the street, but that's only hearsay)… Here's an angelic rider in conversation with a sheik and his Bollywood star girlfriend (note the corkers jamming the taxi behind them):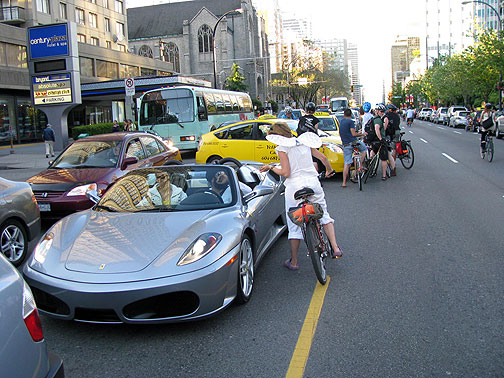 A lot of interaction took place between riders and motorists, mostly very polite and friendly. One guy in a Metallica tshirt with ipod plugs in his ears rode along calling to every car "Thanks for Waiting!"
The ride leaves from the gathering point at the city's Art Museum in the center. Before we got going a gaunt, possessed hippie wandered through the crowd trying to start a chant of "One Ride, Keep it Together!" and it almost took, but not quite. Someone else got up with a bullhorn and addressed his comments to a different part of the crowd so I have no idea what he had to say. There was a great flyer handed out with 10 advisory points like Corking, Stopping at the top of bridges and hills so people can catch up, CM being different for different people; one point #8 was even that not everyone agrees with these points! very nice…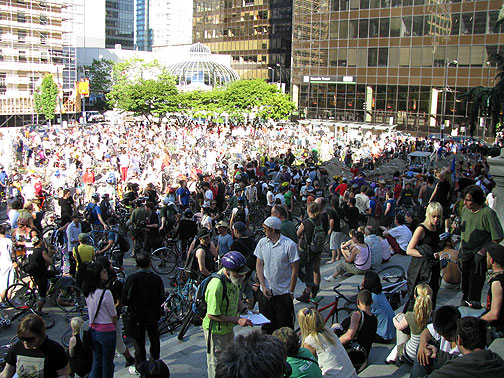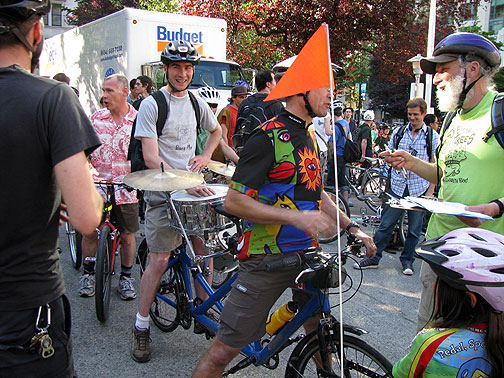 This guy was rocking out on his drums along the way (we couldn't find a groove together except very briefly once… I with my normal bike and bells)…
and proceeded to cross Cambie Bridge: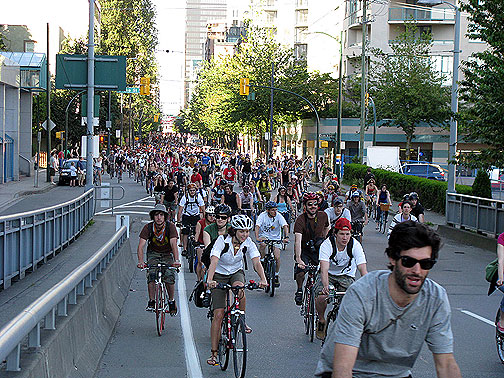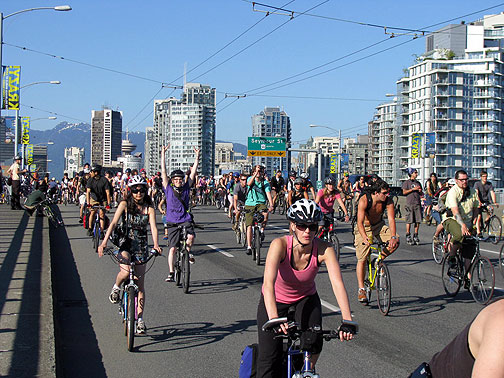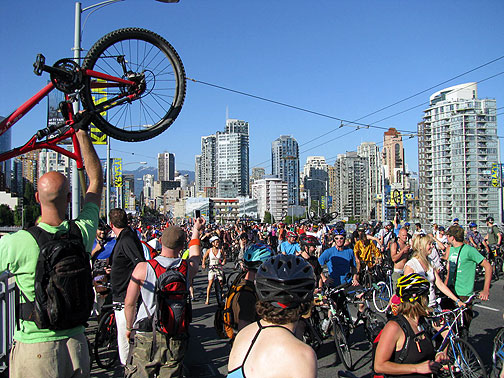 then west on Broadway (I think) to take the Burrard Bridge back to downtown: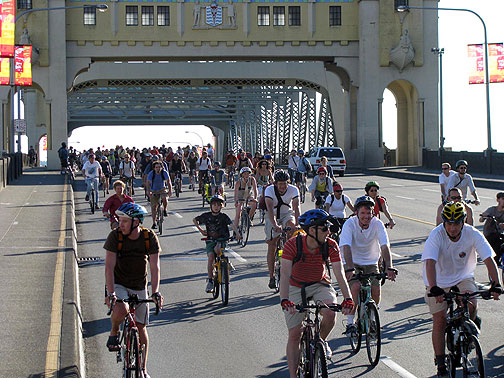 through the city to the magnificent Stanley Park that juts out on a peninsula at the western edge of central Vancouver, connecting to North Vancouver by the Lions Gate Bridge. It's apparently the habit of big CMs here to ride up to the middle of the bridge and then hang out for a while before turning back, and that's what we did: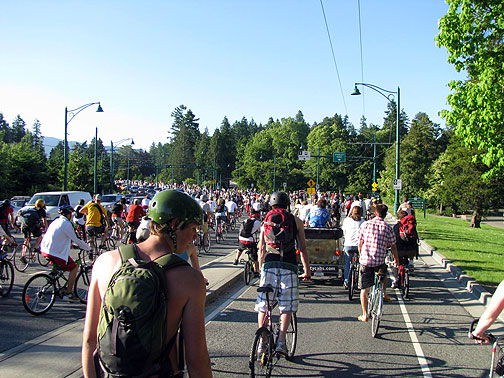 entering Stanley Park from downtown.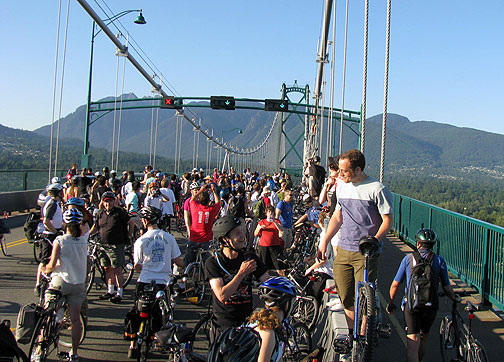 Near the center of the bridge where we paused.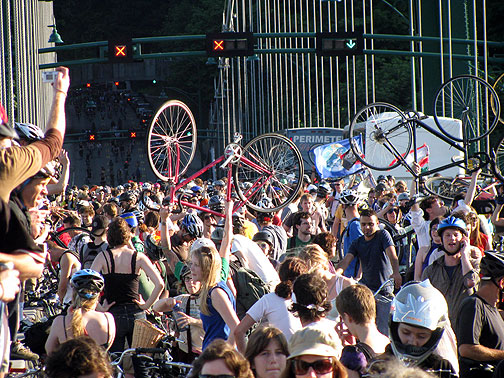 The apx. 3000 cyclists on the ride are still arriving in the dark tunnel in the distance, while already there is a big party underway all over the bridge. The several dozen cars isolated in the far lane are completely stuck and don't move until we clear the bridge a half hour later…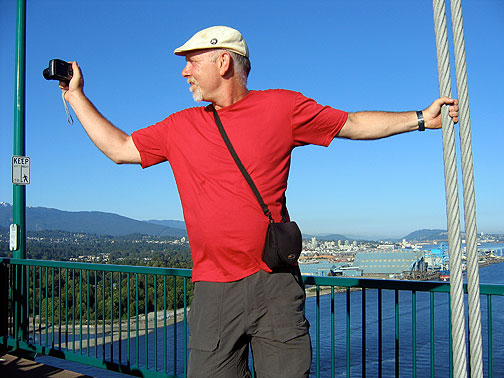 I had plenty of time to hang from the side of the bridge and take photos… the next few are views from this mid-span point, still an hour or more before sunset:
You can see Stanley Park in front of downtown, and at the water's edge is a pedestrian-and-bike-path combination that Russell and I circumnavigated earlier in the day (next post for the rest of my Vancouver images and thoughts).
Another majestic mountain, this one Mt. Baker, appeared through the summer haze: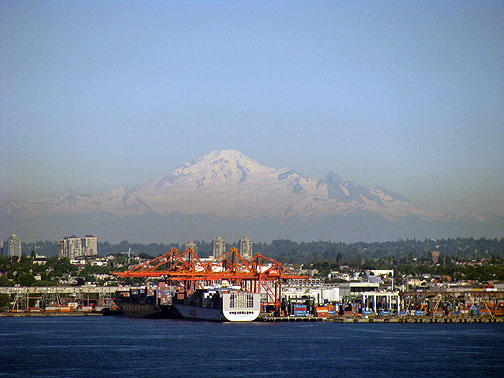 In the opposite direction, towards the setting sun, a tanker was steaming our way: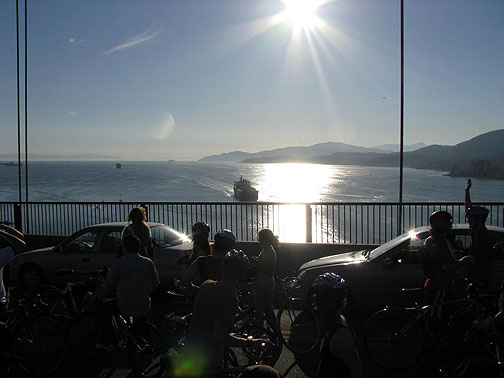 Russell yelled at it to "take the junk back to China!" which got a few nervous giggles… here he is trying to be furtive: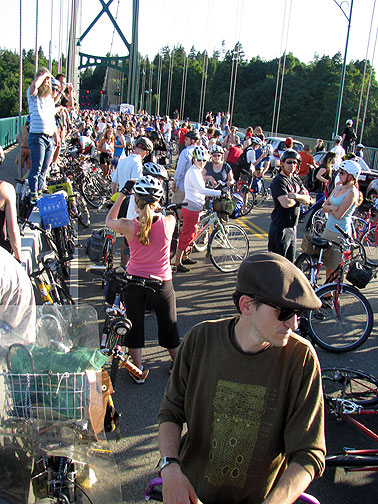 We finally turned around to leave the bridge, but it was a huge bicycle traffic jam and it took a good 20 minutes to get moving: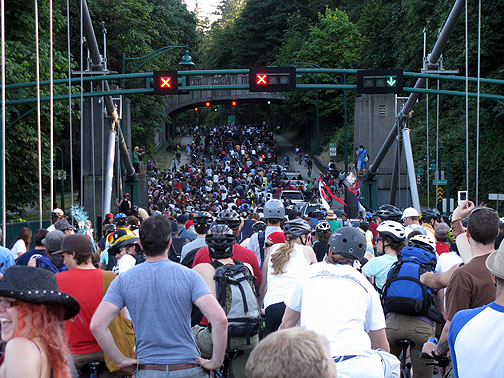 The locals were all really delighted with the next stretch of the ride, wherein we hurtled down a long winding road through Stanley Park back to downtown, a road that is never available for safe cycling except this one time. Here's Russell, a local luminary, and Finnegan in the trailer, just before we hit the downhill: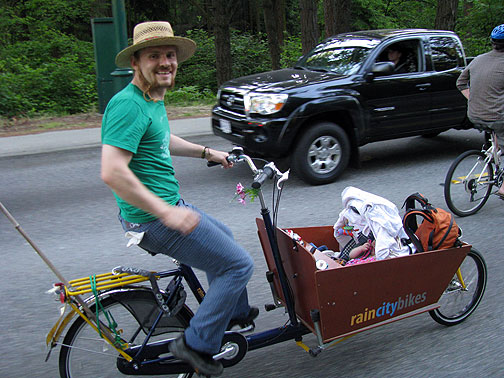 Didn't get any pictures as I flew downhill, but when we were leaving downtown and heading east, I turned back to get this one: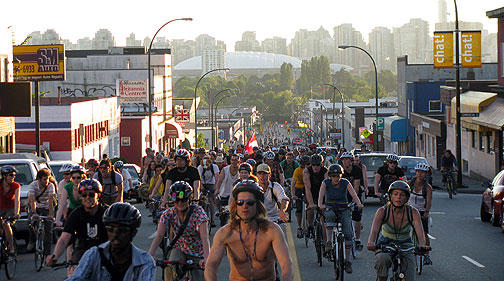 We went out to Commercial and then all the way back on Broadway again to catch the last of the bridges we hadn't already crossed, the Granville Bridge. While we were crossing, pausing, bikelifting, etc., the sun finally hit the horizon…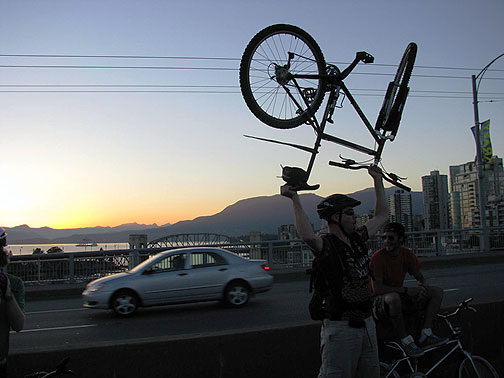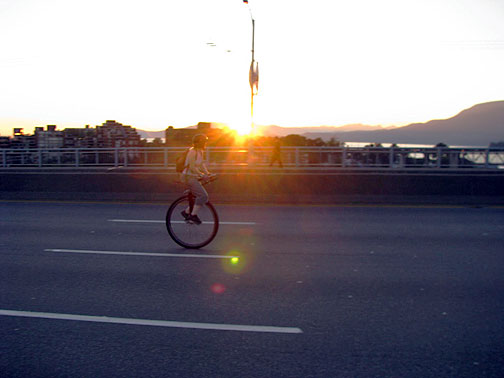 This gal on the big unicycle had to be weary by the end of the ride… I saw her pedaling furiously on many of our long downhills as she has no way to coast…
All in all, a great Critical Mass… along the way an old hippie yelled at passing cyclists: "Enjoy your Carbon tax!"… The BC gov't. is issuing tax credits to all citizens based on a revenue neutral carbon tax they've just started, so folks are getting checks soon for about $100… a lot of confusion and derision among people about it. There's also a fair amount of opposition to the 2010 Winter Olympics that Vancouver is going to hold… Here's a better shot from the Cambie Bridge of False Creek and the Olympic Village being built on its shores (to be turned into condos later):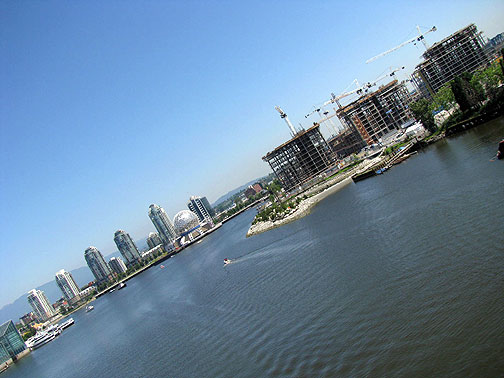 Lastly, Vancouver and Canada in general, are famous for being polite, and the Critical Mass here definitely confirmed that reputation. People were great! And there were tons of kids on the ride… Here's one who was already growing weary as we entered Stanley Park, and to tell the truth, we were about this tired by the time we finally ended our evening hours later: