While tooling around Toronto with various cycling friends we passed this site, which is the home to Igor's used bike shop…It's a hilarious and weird story: Igor was stealing bikes by the thousands and many of them were piled up in various spaces around town. He got busted recently, and his store is boarded up, the cops are inviting people down to peruse his fleet to see if they can find their stolen bikes… This funny commentary was sprayed on the building: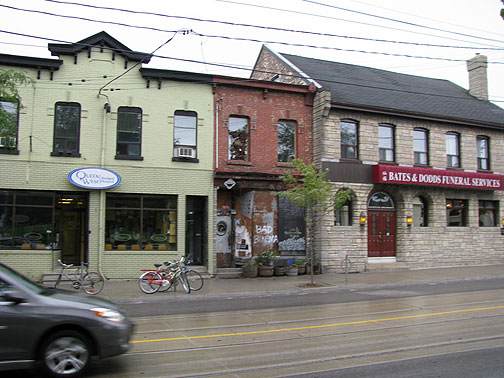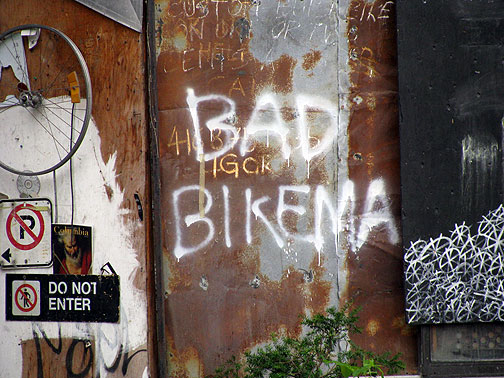 On the last day of my awesome visit to Toronto I visited the Centre for Social Innovation, which is the fantasy space for everyone who ever tried to set up an incubator for radical projects. It's got about 100 participating groups and individuals and all in all it made me salivate like a greedy fool… here's a couple of shots of the interior, which don't really capture its grandeur (shared meeting rooms, kitchen, etc.):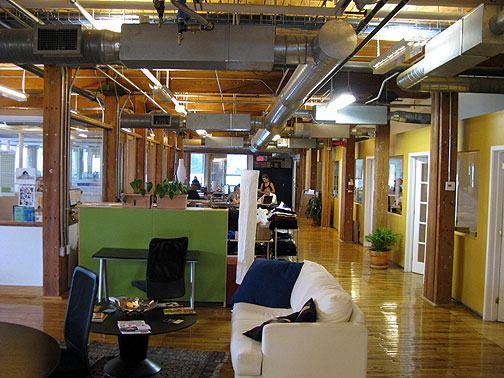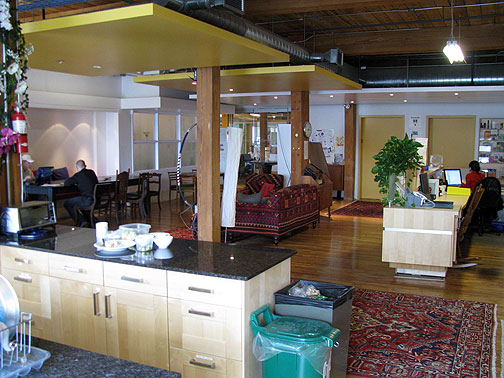 They have a thriving native grassland on their roof too. Here's a couple of shots, me and Janet "Bike Girl" Attard, who was incredibly generous and gave me tshirts, postcards, posters, and a whole pile of beautiful art. She's a fantastic stencil artist!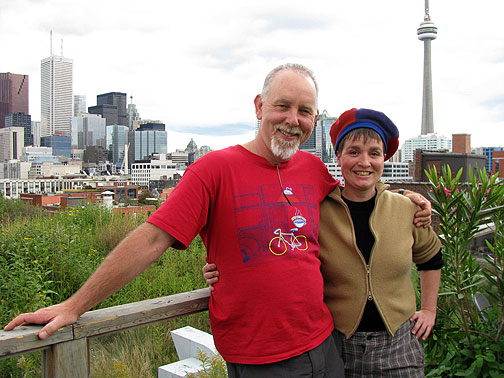 and then me and Yvonne Bambrick, who was such a great host for my visit…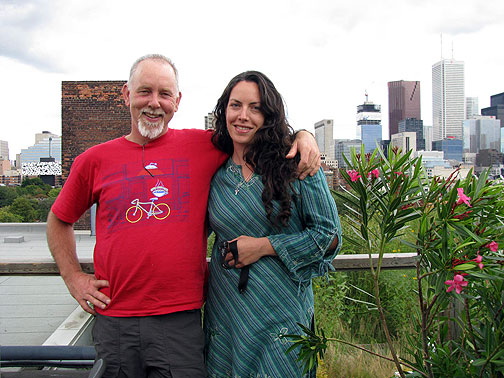 After regaling me with the Centre for Social Innovation, her place of employment, she later accompanied me to the top of the CN Tower, which is the high point to get a view over Toronto.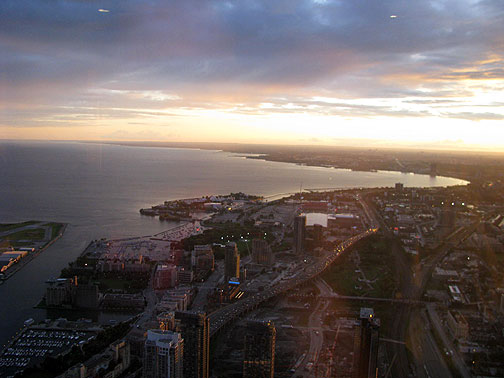 This last photo from Toronto is just kind of an ironically weird image, addressing local agriculture in a tangle of wires:
After bidding adieu to Toronto, I took a very long train ride, about 14 hours finally, to NYC. The upstate NY landscapes were pretty, but all in all it was a boring ride. I worked, slept, and read, as possible, when the train wasn't vibrating too intensely, which it did a lot… Crossing the border at Niagara Falls was pretty, but as soon as you clear the tedious customs process the train proceeds through about a mile of rusting junkyards full of car hulks… kind of a funny intro to the U.S. if you were just arriving for the first time. A while later as we pulled into Syracuse, a cookie-cutter mall called Carousel had a bizarre sign over the entry point to its underground parking garage: "Welcome to the Future Green Capital of America." Huh? under the mall?…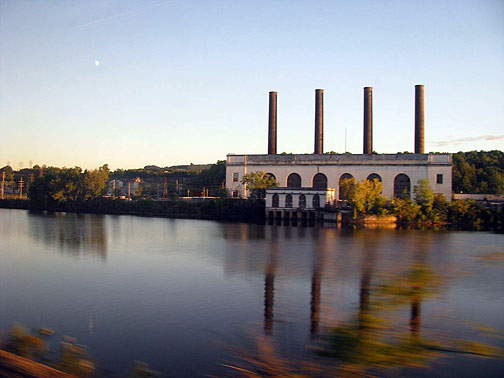 This is the Mohawk River, near the Erie Canal, at Amsterdam, NY, moon rising in beautiful evening light. One of the prettier moments of the train journey.
I was reading Granta on the train and a funnily caustic Rick Moody story "Videos of the Dead" had this lovely line in it: "A sandy and dangerous country at the crossroads of monotheism."… random, I know!
So I've been at the Conflux Festival all day yesterday and today, including giving a Nowtopian keynote talk yesterday as the festival began. Lots of fun interventions and weird art projects, panels discussing mapping, public space, the situationists and psychogeography and more… I've met a lot of fine folks, and imagine that there may be some interesting future events and projects that will emerge in time…
I borrowed a bike yesterday so I can ride back and forth across the Williamsburg Bridge. Here's the shot showing its multi-modal use, a smart if somewhat ugly design for a bridge: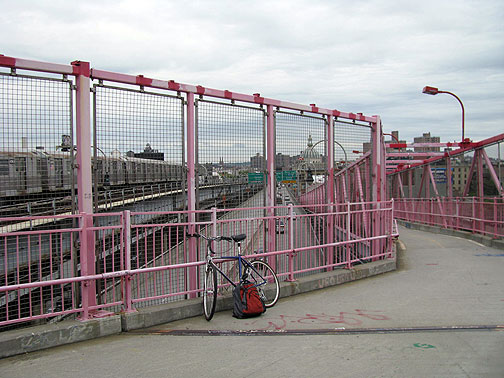 Last night as I rode home in the dark, the city was dominated by the 9/11 "celebration" (I suppose it makes sense that it was misdesignated as a 'celebration' by various people, since as someone was mentioning, it's astonishing that the Bushistas can wrap themselves in 9/11 as an example of pride and strength!) and the twin beams of light shooting up from ground zero: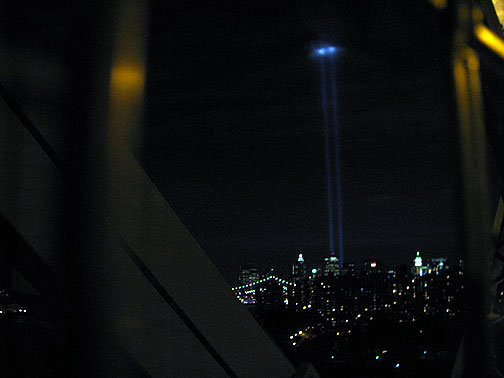 The bridge's bikeable surface is covered in graffiti and stencils, so I shot a few on my way in today: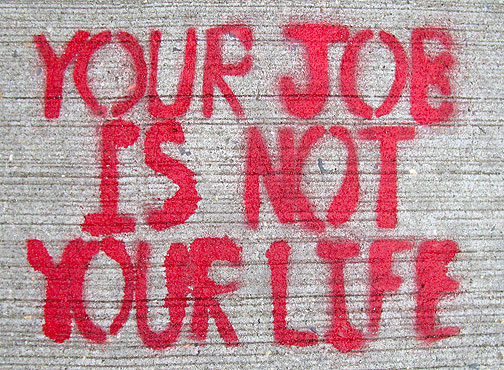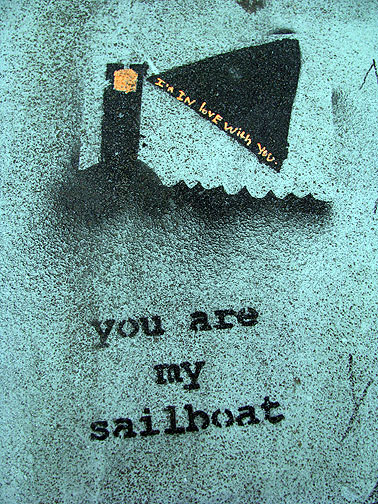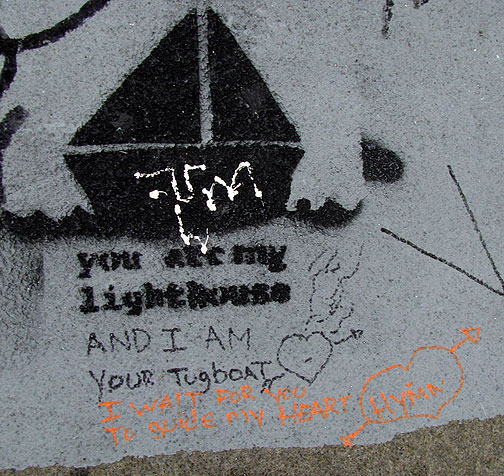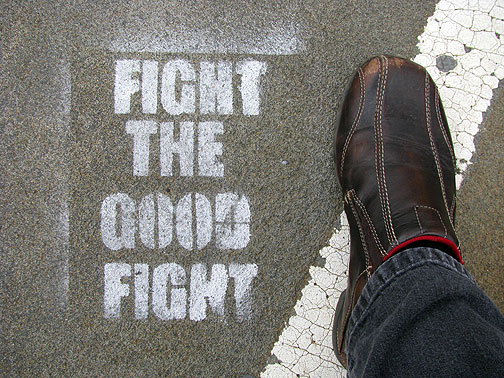 Some new marketing campaign for a movie, not sure which one, took over a sidewalk around 1st Avenue near Houston with this and other similar images: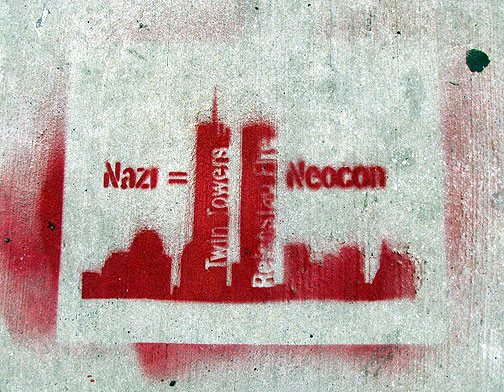 and lastly, I just love riding in New York, its pure chaos and lawlessness feels like the proper environment to cycle in for a wreckless guy like me… But even New York is showing signs of a Nowtopian renaissance in small ways… here's the new-ish green lane on Bleecker Street: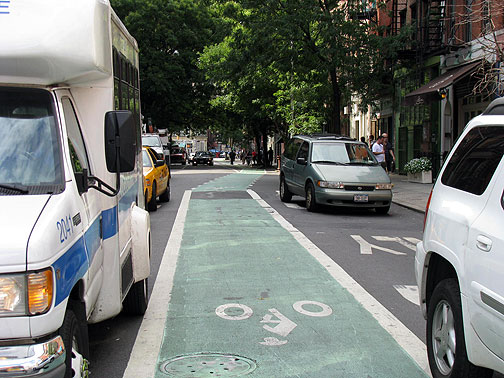 and another shot of a teensy community garden on one of the NOHO streets here…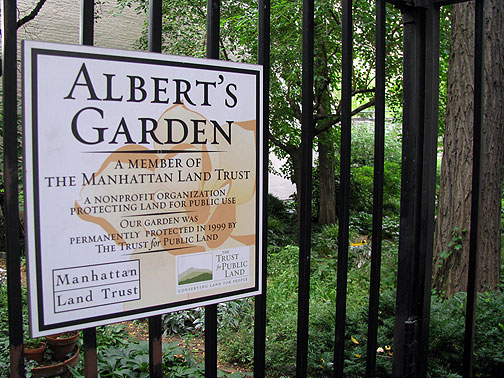 So having a blast, loving getting some time with Francesca, met her new beau and will have more time with them on Tuesday… Tomorrow I go to New Brunswick NJ and then up to Troy on Sunday-Monday… lots of fun still ahead!