The "Towards Carfree Cities" Conference in Portland this past week was quite a fun time for me. I didn't attend very many workshops but I made lot of new friends, saw many old pals too, and generally was in networking nirvana (and I even sold a bunch of books too!) One I went to at the very end was about direct action, street memorials and the ghost bike movement, which was super moving and beautiful. The project brings people together across a lot of populations and cultures, especially in New York where the presenters were from. Another panel I did go to featured Thiago and Eduardo from Sao Paolo and Florianopolis Brazil. They gave a great presentation of how they're at the early stages of growing the awareness and communities that can push the local authorities into redesigning the urban spaces to accommodate cyclists too, and to reduce the total focus on autos. It's made more difficult by the enormous car industry in Brazil, where all the multinational manufacturers have set up shop since 30 years ago. Here's Thiago as he confers with Eduardo on a point, and then the first slide he put up, commenting on the post-dictatorship history of Brazil: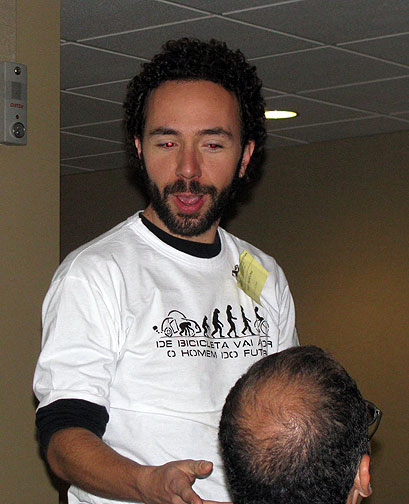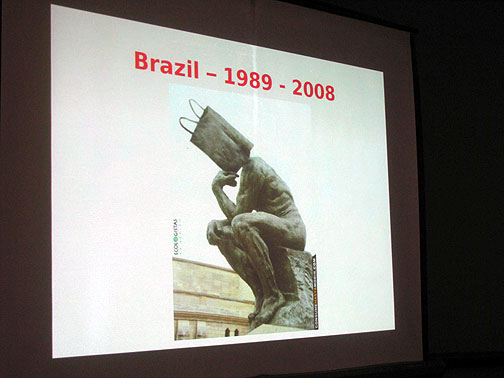 Simultaneous to the Conference was the ongoing zaniness of Pedalpalooza , a month-long Bike Festival. (Just checking their website, I see that yesterday they had a "Kidical Mass" in downtown, where 40 parents and small children took to the streets on bike–a concept they imported from Eugene, where I found a poster for it.)
I bicycled in every day from the far northeast of Portland and took the Broadway Bridge to get to the Conference. The bridge is very bike adapted, with side paths, lovely views of the city, and a well-designed split in the bike paths at the west end to send you into one part of downtown or another: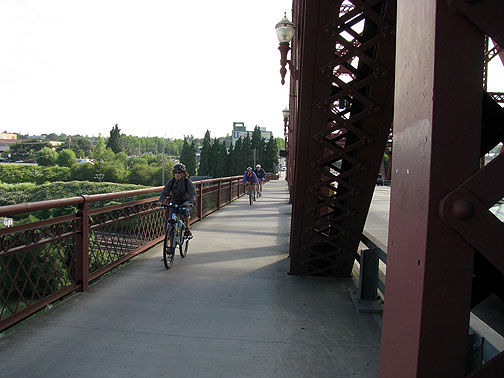 After choosing the left turn at this spot, in a few blocks you invariably find yourself amidst a group of cyclists heading south on Broadway: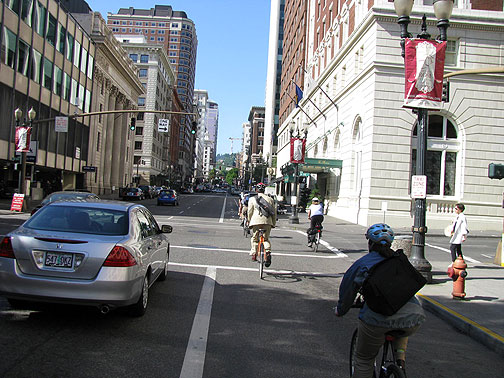 Portland has been awarded for its bicycle facilities and improvements, and here's a colored bike box, likely to be more widely implemented in lots of cities in the next years: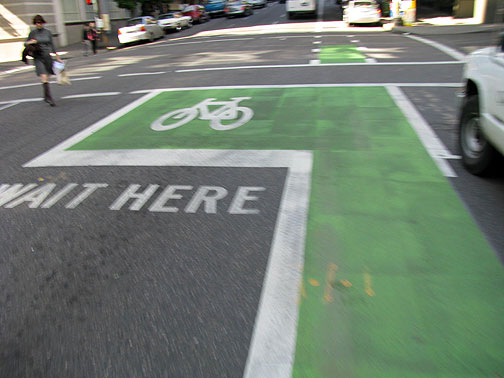 The keynote speech by Gil Peñalosa on Tuesday was quite good, if a bit long. He really went after the transit planning geeks in the audience, including all the Portlanders patting themselves on the back, by emphasizing how limited and inadequate the bike lanes we have are, and comparing the Portland infrastucture to cities in the real major leagues of bicycling, like Copenhagen, Amsterdam, Berlin, etc. I particularly appreciated it since he went through a number of powerpoint slides showing how life improves, accidents fall, health stats get better, and so much more, if you build the infrastructure to accommodate lots of new cyclists. Crucially you need to provide separate bikeways, sidepaths and dedicated roads, so the majority of the potential bicyclists out there who are afraid to ride in big city traffic will venture out and give it a try. Particularly inspiring were his images of Bogota, Colombia where he and his former mayor brother implemented a lot of cycle paths and Bus Rapid Transit to improve the lives of the poorest citizens (the juxtaposition of unpaved, crumbling slums with state-of-the-art tree-lined bikeways, used by people to bring their kids to school, was really great). I was glad his speech was so clear that cycling and carfree advocates have to seek much more profound changes to the urban landscape. He really got his point over by emphasizing the starting point for the discussion is "how do we want to live?" If you provide spaces for cars, you get a lot of cars, if you provide spaces for people and pedestrians and cyclists, you get… public space used by lots of people moving themselves in a variety of ways… ABC… so easy, and yet such a struggle to get even bike advocates in the U.S. to step up to this more aggressive approach.
Anyway, we got to get into the inside-outside politics of San Francisco's past 16 years on our panel on Thursday afternoon. I was the outsider of course, Steve Jones of the Bay Guardian was the forceful moderator (good job Steve!), and Leah Shahum of the Bike Coalition, and Dave Snyder of SPUR presented the point of view of the insiders, while Jason Henderson, geography prof at San Francisco State, gave a useful overview of the bigger political processes underway (neoliberalism, neoconservatism, pragmatic politics, based exclusively on "who shows up at City Hall" either as voters or lobbyists or appointees)… The audience seemed to appreciate our range of views and one guy summed it up in the Q&A when he said he'd come to be entertained and educated and we'd delivered on both. Here's a blurry shot of us in the act: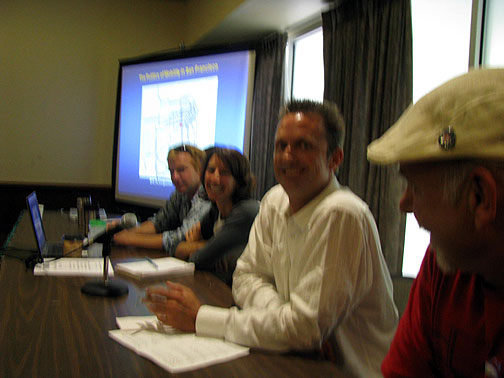 After the day indoors we headed to a brewpub where we ate and drank for several hours. I had the great pleasure of getting to know better the guys from Toronto, Mike Joy and Shamaz and Andrew (who interviewed me for an upcoming CBC segment). Here they are before sitting down to some great steak dinners, along with Thiago and Meaghan who was one of the awesome volunteers who made the Conference such a pleasure to attend: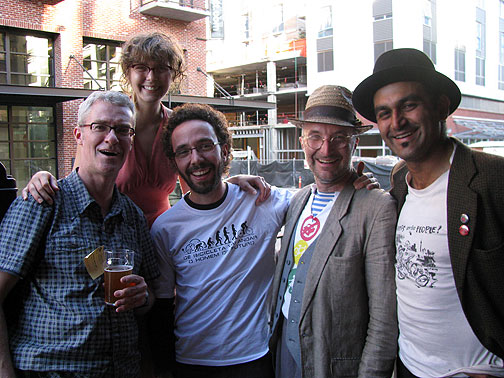 Down the deck the San Franciscans were putting heads together with Aaron and Clarence and Elizabeth of StreetFilms, plotting to open a bureau in San Francisco amidst the sloshing beer (Elizabeth made a nice segment on the Depaving Day Monday event, including a short bit from yours truly):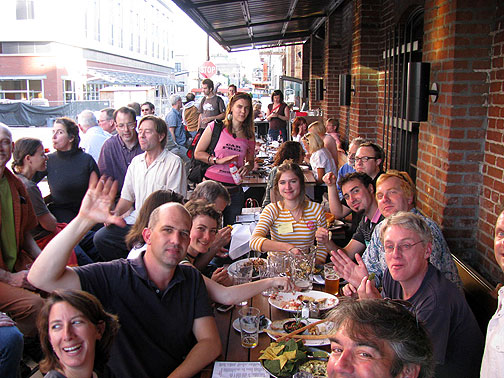 After dinner we went to the closed street where square dancing had been going on, though we arrived after it was over. Not to worry! Mike Joy pulled out his trumpet and started regaling us with tunes, sometimes sounding like Rube Waddell, other times he got us going with some familiar Balkan rhythms. Before we knew it about a dozen of us were whirling around dancing, clapping and hooting along with him, a very sweet impromptu dance party.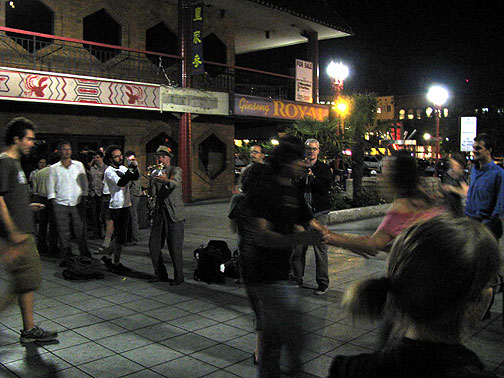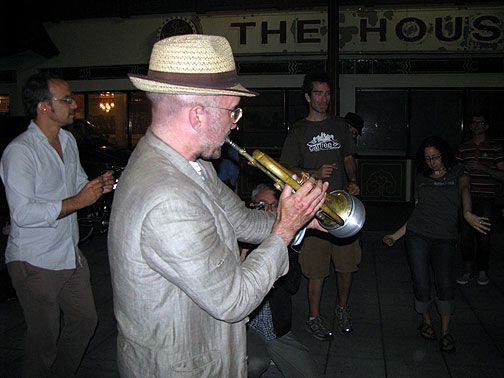 I'm definitely looking forward to an invitation or excuse to go to Toronto and continue the great friendships that started here in Portland… the night wound down for me and I had to make the long trek back home, so I went up on the Broadway Bridge under a full moon. Some other cyclists were hanging out there too, admiring the moon…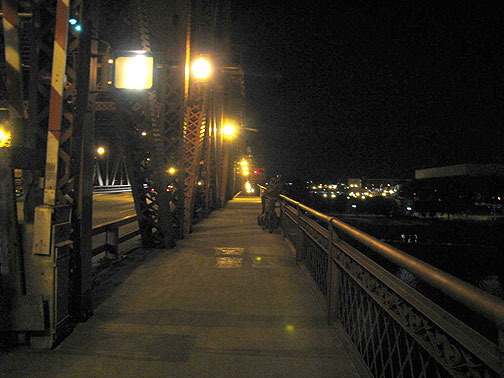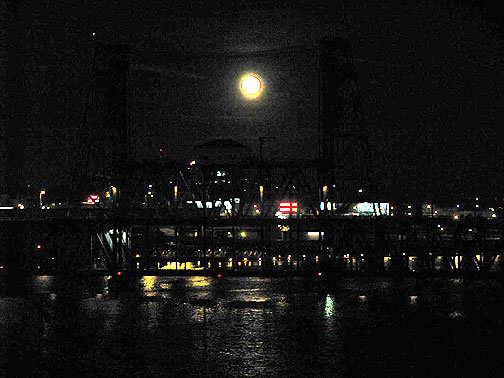 All in all, a great visit to Portland, a place I could spend lots of time in quite easily…
On the way out of town Friday we pedaled back in to find the City Repair crowd and see some of their altered intersections. As it happens we only found the Sunnyside Piazza, which I'd seen a few years ago, but it's been freshly painted. While there some folks cycled through too, adding to the sense of it being part of a real alteration…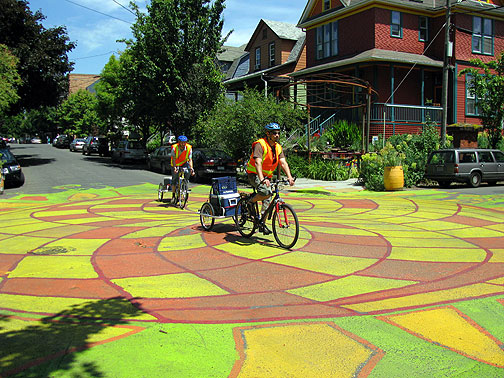 There's a nice fruit tree growing on the corner, too!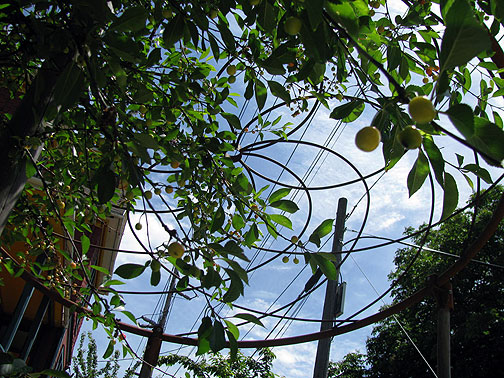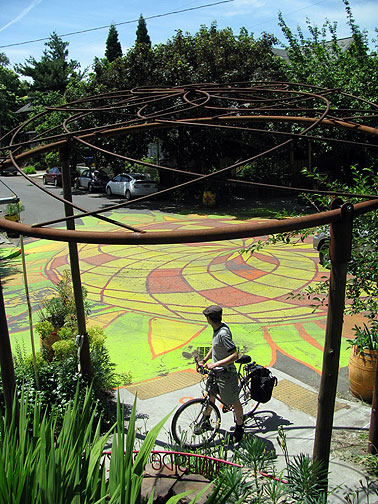 We went to find their headquarters and here it is, though no one was home when we went by: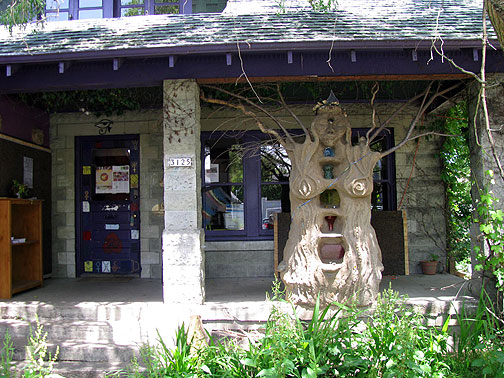 To wrap up the visit to Portland, here are a few extra shots. First, a sensible repurposing of a parking space for bike parking (San Francisco, when will we have these all over town?)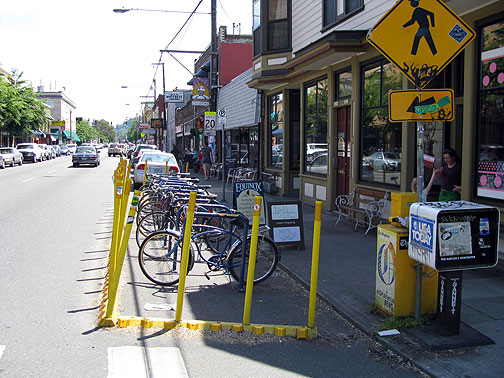 Across from the City Repair HQ on E. Burnside was this prominent handpainted sign: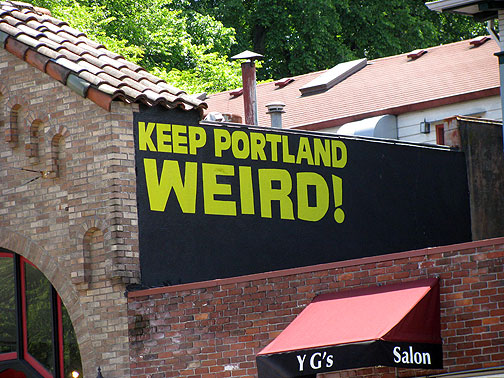 Which was odd because Portland seems extremely sensible and practical, and not particularly weird at all… then I came upon this sign, which was a gratifying reinforcement of my fantastic steak dinner the night before: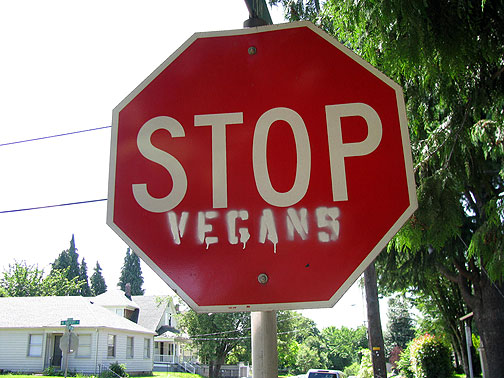 OK, maybe they're a bit weird!