Arrived in Berlin last night around 9:30 to a searing magenta sunset on one side of the plane and a glorious nearly full moon rise on the other. Then walked across the tarmac, which always makes me imagine I'm deplaning in 1961 or something. Ryanair charged me $66 for 6 kilos overweight (they only allow 15 kilos in the checked bag and 10 kilos in the carryon), which brought the London-Berlin flight to about $90, after a .01 ticket price, then taxes and airport fees, with the whopping luggage charge the secret way they recoup their cheap tickets (actually they get huge subsidies from the EU, who seems bent on expanding air travel inside Europe, even while huge campaigns are going on to reduce "carbon footprints"… typical cross-purposes, I suppose)…
Tina met me and we went on a hilarious series of S-bahn and U-bahn and bus and cab rides to the Tegel airport (I came in at Schonefeld) to meet Rob. All was well, as we finally found him, and after a late night of catching up we woke today to a beautiful early summer Berlin day. Tina's apartment is in the old East Berlin, and it's not atypical of the places here now. The apartment is huge and beautiful. The building looks big and boring from the outside, but like so many east bloc apartment houses, they are getting redone now in ways that take advantage of the big spaces… We headed over to the Kreuzberg neighborhood where the three Convergence Centers are for the anti-G8 protests about to start north of here in Rostock and Bad Heilingendam… Just adjacent to the first Convergence Center we visited (the Bethanienhaus CC) we came upon this funny statue/fountain: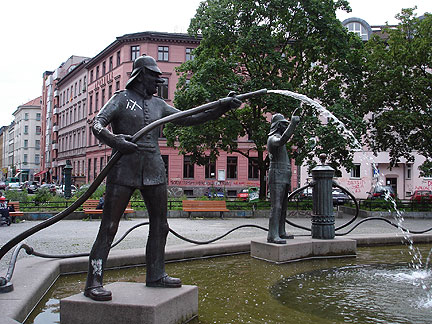 We picked up a bunch of information packets and a collection of posters there before walking a few blocks to another Convergence Center, this one in a huge squatted building called Kopi. This reminded me of what it was like 17 years ago when I visited Berlin with my pals in the "Anti-Economy League of San Francisco" to warn them that the free market was anything but free. Whole blocks of East Berlin were squatted at the time, and the wall wasn't yet down and East Germany hadn't yet dissolved, but it was relatively easy to cross over during the day. We went through Checkpoint Charlie then, and tomorrow I'll go and see what the area around there looks like now. But here are some photos from the courtyard of Kopi: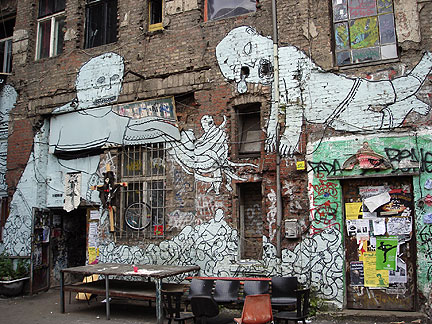 This last one's banner refers to the recent attack on a long-term squatted social center Ungdomshuset in Copenhagen, Denmark. In fact, the buzz here in Germany among anarchists at least is that the combination of that Danish police attack and the heavy-handed raids by German police on various squats, bookshops, and social centers here in Germany, has actually galvanized the European anarchist networks into much greater cohesion and determination to make their presence felt at the upcoming G8 summit. They already had a 1000-strong march confront a large force of police in Hamburg a few days ago during an Asia-European summit in anticipation of the G8…
Anyway, I'm pretty skeptical about this whole G8 protest. I'm going anyway, but don't think I'll last as long as some of the more dedicated. If you read the link I just mentioned, you can find some severely overheated rhetoric glamorizing the fight with cops, framing it like a sports event almost. There's a youthful excitement that somehow a few thousand anarchists dusting it up with a few thousand police is some kind of threat to capitalism! What a bizarre and ultimately narcissistic idea!… Not that I don't understand the passion that drives folks to want this kind of theater to be "real" and to mean something. But it is just theater in the end, on both sides.
Nothing of importance will come from the leaders of the G8 meeting together. It's a PR stunt for international and domestic consumption. If they meet or not, the actual negotiations are going on elsewhere. And the staging of war games is a symbolic gesture of defiance but hardly a threat to the larger system that binds us so tightly to a sinking ship. I'll write more about this when I return from Rostock, or maybe I'll get a chance to post some from there…
Meanwhile, our walk around Kreuzberg inevitably cross the path of the old Berlin wall. Here's a couple of views east and west of a spot we walked through, followed by Tina peering through a nice historic glass display installed there. (There are lot of such historic displays around Berlin, helpfully juxtaposing old photos to today. I love these!)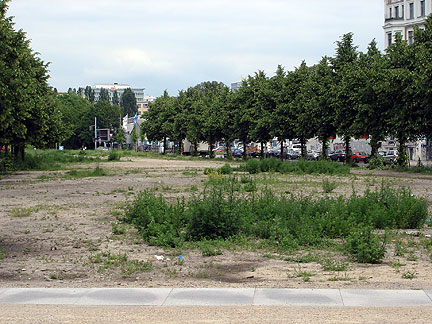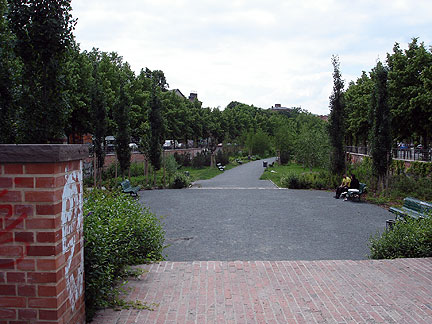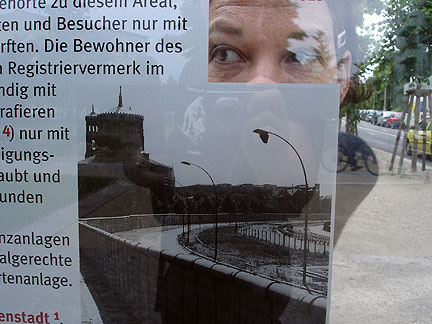 Later we were walking along one of the stretches of original wall that's still standing. This one is covered with graffiti, as well as a number of unimpressive murals dating from around 1990 when it was breached. These are on the former east side of the wall where no art was until after that time, unlike the west, which was famously covered in wild art. Here's a shot of an old East German Trabant breaking through the wall, its license plate indicating the day the wall fell, with an ample dose of graffiti further embellishing it: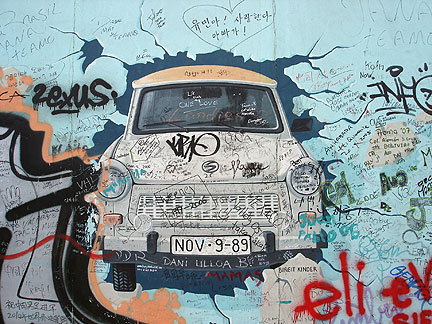 And Tina and Rob walking along the same stretch of wall: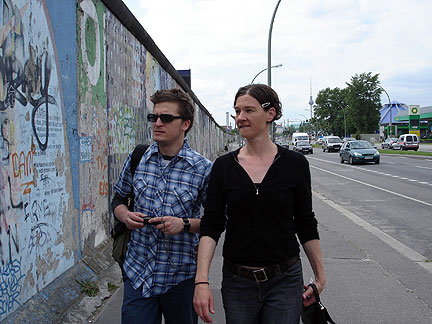 One of my favorite things about Berlin, and northern Europe in general, is the wonderful culture of everyday bicycling here. You are surrounded all the time by bicyclists going to and fro, laden with groceries, children, briefcases, what have you. And the street engineering is designed for bicycles too! Here's a couple of shots from the same spot, first of two bikes approaching on my favorite design, the side path separated from both pedestrians and cars by curbs on both sides, and then the view in the other direction as a whole clot of bikes cross the huge intersection.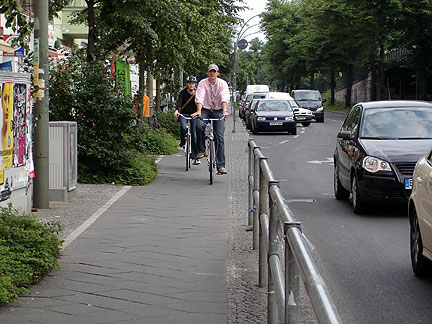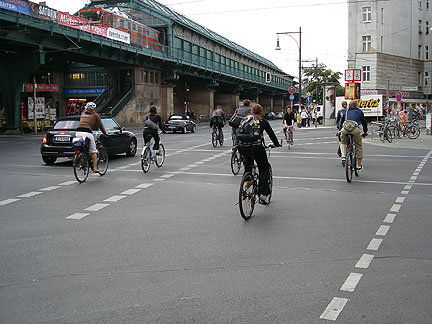 It's all the more remarkable because in East Berlin especially the roads are huge wide boulevards, easily 6-10 lanes wide in many places. But instead of being wall-to-wall cars, like in Mexico City or New York, they are landscaped with trees and bushes, wide sidewalks, and on most streets, a continuous red pavement bikeway that is elevated above the roadway, between the sidewalk for pedestrians and the parked cars (they also have bikeways on sidewalks in many places)… Walking all around town tonight by myself I was struck by the transformation of East Berlin from when I visited so long ago… Still, Berlin feels exciting and quite romantic, in spite of the blocky buildings and huge streets. I did a bit of touristic sightseeing, and here's some shots to end on, captured near sunset during my walk…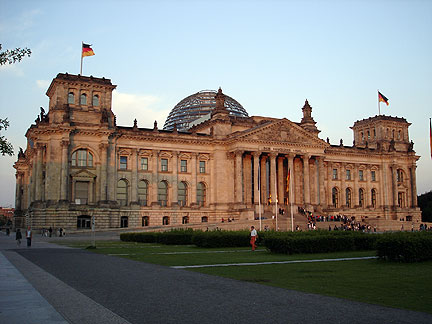 The Reichstag