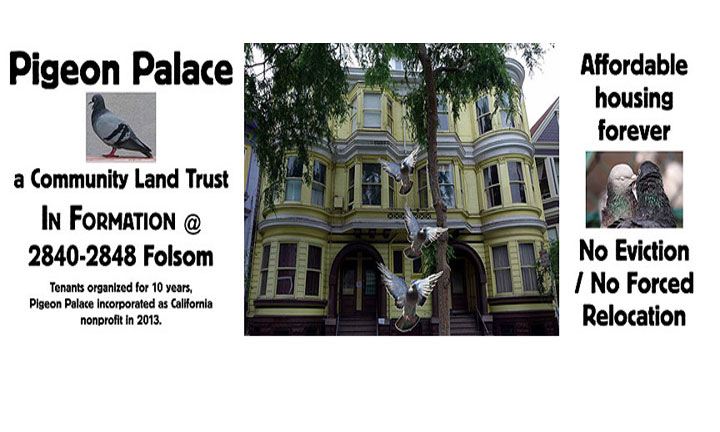 Hi friends, neighbors, readers,
My home of almost 12 years in the Mission has been put on the market. The sellers seem intent on getting to an auction where the richest bidder will get our building. This in spite of the fact that we have organized ourselves into a nonprofit ready to assume control over the building through the aegis of the San Francisco Community Land Trust (SFCLT). The SFCLT has put a hefty offer on the table as of over 10 days ago, but the Conservator, Tom Lucas, and his lawyers working on behalf of trustee Patricia Gustafson, have spurned our proposals and insist on trying to wrest maximum money from this, in clear opposition to the stated wishes of the landlady, Frances Carati, who maintained this lovely old Victorian as an affordable home for all of us for years. I am taking advantage of my blog here to post several documents below as an online resource beyond our current reliance on a Facebook page (what a disaster that so many people use Facebook for so much of their online communications! but one we can hardly buck at this point, certainly not alone).
Pigeon Manifesto
Friends and neighbors,
We are Adriana Camarena & Chris Carlsson, Carin McKay, Ed Wolf & Kirk Read, Keith Hennessy. We are long-term Mission residents: artists, activists, health care workers, and micro business owners, engaged in local queer and activist cultures for 10, 20, 30, and 40 years. Our six-unit building is called the Pigeon Palace, after the hearty rule-defying birds loved by our dear landlord Frances Carati. But oh shit! Our home is for sale! And the vultures are circling. If we get evicted, we lose not only our home, we lose our city. Like most of you, none of us can afford anything close to market rate housing in San Francisco. That is why we, the pigeons, are fighting back!
With the Mayor's help, The San Francisco Community Land Trust is trying to buy the building to prevent our displacement and provide affordable housing forever. But the people entrusted to manage the sale seem hostile to the idea of tenant ownership and instead are seeking to maximize profits, thus defying the long-stated wishes of the owner.
We need to protect affordable housing for low-income people and support initiatives to generate more options that are way below market rate. Public ownership and collective ownership are necessary to fight the dictatorship of capitalist profit and the trance of private property. Another world is possible. We need to re-imagine and insist upon alternative economic models that would keep working class people, Latino families, queer families, artists and activists, teachers, nurses, and non-profit workers in the Mission. The exodus to Oakland and further points east has already heightened the gentrification crisis in the East Bay.
We call on friends, neighbors, and the City to help save our homes, to transform the Pigeon Palace into a community land trust, with affordable housing forever.
Thank you.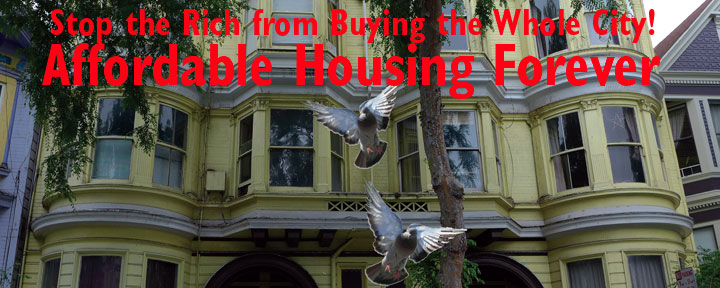 What is the Pigeon Palace?
The Pigeon Palace is a non-profit organization founded by the tenants at 2840-2848 Folsom St, in the Mission neighborhood of San Francisco. Our goal is to further our landlord's decades-long practice of providing affordable housing to low-income people; in her words, "refusing to choke anybody." Our landlord Frances was a fan of pigeons. She scoffed at people who considered themselves better than these resourceful birds and she often pointed out the pigeons' ability to survive hatred, violence and almost any effort to limit their free movement. We are determined to stay in the building at a cost that doesn't choke anybody. We have been working the San Francisco Community Land Trust to buy our building. If they buy the building, 6 units of affordable housing will be saved forever.
What is SFCLT, the SF Community Land Trust?
The mission of SFCLT is to create permanently affordable, resident-controlled housing for low- to moderate-income people in San Francisco through community ownership of the land. They do this by acquiring apartment buildings at risk of eviction and convert them into resident-owned cooperatives. Currently SFCLT has five properties in its portfolio and is rapidly expanding. When a privately owned building is transformed into a community land trust, the building is pulled out of the capitalist market and can no longer be sold or rented for profit, nor participate in the profit speculation that drives gentrification, displacement, and eviction. More info at: www.sfclt.org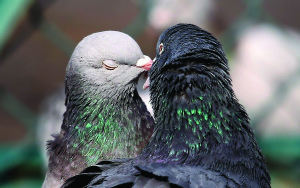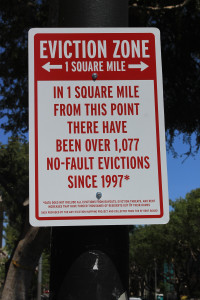 Our neighborhood is at the epicenter of a wave of evictions. We are fairly capable folks, able to broadcast our plight and seek support far and wide, but most of the evictions are happening to people who have few if any resources. We stand with our neighbors and friends who have endured this tidal wave of displacement. We refuse to go quietly. If we cannot establish a Land Trust at this building we are determined to put up a fierce resistance to anyone who tries to evict us from the City we've lived and worked in, making enormous cultural and political contributions to, for well over a 100 years combined.
Here are the capsule biographies of Pigeon Palace residents:
The Pigeon Palace tenants have lived and worked at the frontlines of AIDS services, art and culture, and neighborhood activism for 10, 20, 30, and 40 years. Well established in San Francisco, they are innovators, protectors, and ambassadors of San Francisco Values. Each and all would have already been displaced, evicted from the city they have helped to nurture and inspire, had they not been the beneficiaries of below market value rent. We invite you to read their brief bios and to note the many projects and activities that would never have been possible had these tenants had to pay "normal" rents or had been forced out of the city. The affordable rents they've enjoyed at the Pigeon Palace are precisely what made possible this remarkable range of social, cultural, and political activities that have enriched San Francisco for decades.
Ed Wolf
Ed Wolf moved to San Francisco in 1976. He attended San Francisco State University to begin work on his MFA when the AIDS epidemic arrived in the city. He's been working continuously in the HIV/AIDS field since 1983, as chronicled in the award-winning documentary "We Were Here". He's worked for numerous non-profit organizations in the city, including The Shanti Project (where he worked on the AIDS unit as San Francisco General Hospital), as well as the Metropolitan Community Church, California Pacific Medical Center, and the UCSF AIDS Health Project, among others. Ed has a strong network of comrades and colleagues who survived the AIDS epidemic here in the city. In the last 5 years he has had 5 major knee operations, the last two involving total knee replacements. His ongoing progress is being provided by several doctors here in the city.
Adriana Camarena
Since moving to the Mission District of San Francisco in 2008, writer, researcher, and activist, Adriana Camarena has been documenting the stories of the Mission District's traditional residents: migrants, homies, mammas, homeless, and radicals to name a few. Her project, Unsettlers:Migrants, Homies, and Mammas in the Mission District of San Francisco, relies on a number of storytelling media to collect the narratives of Mission community residents and the sense of place of this former working class and rapidly gentrifying neighborhood. Her stories connect past and ongoing histories of forced displacement, policing, violence, and resistance of the Mission District. In the process of collecting these stories, the storyteller transformed into a neighbor and community organizer, scathed by the same violences experienced by her storytellers. In 2014, Camarena became a community advocate against police brutality by working closely with the Nieto Family, whose son Alex Nieto, was unjustifably killed by SFPD on Bernal Heights. Less than a year later, on February 26th, SFPD unjustifiably gunned down a 21-year-old Guatemalan immigrant—Amilcar Perez Lopez—across the street from the Pigeon Palace. Camarena is part of the block support group who together claim justice for Amilcar.
Chris Carlsson
Chris Carlsson, co-director of the "history from below" project Shaping San Francisco, is a writer, publisher, editor, and frequent public speaker. Carlsson moved to San Francisco in 1978 after growing up in the East Bay, and took up residence in the Mission District in 1987. Since early 2004 he has lived in the Pigeon Palace. Carlsson was one of the founders in 1981 of the seminal and infamous underground San Francisco magazine Processed World. In 1992 Carlsson was one of the co-founders of Critical Mass in San Francisco, which not only led to the boom in bicycling locally but spread across the planet and has been the incubator for transformative urban movements in hundreds of cities, large and small, worldwide. In 1995 Carlsson and his colleagues began work on "Shaping San Francisco". In the 20 years since then Shaping San Francisco has grown into a multi-faceted project consisting of an incomparable archive of San Francisco history at Foundsf.org, award-winning bicycle and walking tours, and ten years of Public Talks covering history, politics, ecology, art, and more (see shapingsf.org). Carlsson has written two books, including a novel set in a future "post-economic" San Francisco (After the Deluge, Full Enjoyments Books: 2004), and edited six books including three "Reclaiming San Francisco" collections with the venerable City Lights Books. He redesigned and co-authored an expanded Vanished Waters: A History of San Francisco's Mission Bay after which he joined the board of the Mission Creek Conservancy; he also serves as an advisor to the Shipyard Trust for the Arts at Hunter's Point. He has given hundreds of public presentations based on Shaping San Francisco, Critical Mass, Nowtopia, Vanished Waters, and his "Reclaiming San Francisco" history anthologies since the late 1990s, and has appeared dozens of times in radio, television and on the internet.
Keith Hennessy
Keith Hennessy has lived in San Francisco since 1982 and has worked in the Mission for 33 years. A pioneer of queer performance and activist dance since the 80s, Hennessy is one of the most prolific and widely touring of West Coast performing artists. He was a member of the legendary Mission-based performance troupe Contraband (1985-94) and he co-founded 848 Community Space and CounterPulse, vibrant SF centers for experimental dance, and socially engaged performance. Since the early 80s, Hennessy has been involved in Bay Area left and progressive activism, from ACTUP to Occupy, against foreign wars, police brutality, and institutionalized racism and homophobia. In 2000, Keith co-organized the Festival of Resistance which drew over 2000 people to protest the eviction of Dancers' Group during the first dot com wave of gentrification. In 2008, Keith collaborated with a group of young performers, aged 16-24, including those formerly arrested and incarcerated as youth, to make Delinquent, a poetic challenge to the prison industrial complex. Keith has taught extensively in local universities and independent studios, mentoring multiple generations of artists and activists.
Carin McKay
Carin McKay grew up in Northern California and has called San Francisco her home for over 23 years. A community organizer of 19 years, chef, nutritional educator, and small business owner, Carin has cooked food for tens of thousands of people at community events in San Francisco and the greater Bay Area. She is the author of the cookbook "Culinary Magic at Regenerative Design Institute." She has created farm-to-table events at CounterPulse and led after-school culinary programs at the Excelsior Community School via Project Ole, as well as taught cooking classes in the Mission and Marina. She was a member of Clown Conspiracy, a San Francisco street performance troupe, and has been inspired by 848 Community Space, Cellspace and Food Not Bombs.
Kirk Read
Kirk Read has lived in the Mission for 16 years. He is an author and performer who has curated hundreds of free public art events in the city. He was the founder and director of Army of Lovers, which commissioned artists to create work about public health issues. He was a co-founder of the Gay Men's Health Summit, which led to dozens of conferences on gay men's health around the world. He has worked as an HIV counselor and phlebotomist at St. James Infirmary, where he was one of the early volunteers. He is currently a nursing student and is doing his clinical practice at San Francisco General Hospital, where he hopes to work as a public health nurse.