Critical Mass was as fun as usual this past Friday. As I was imbibing my usual pre-ride gin and tonic someone reminded me it was the 10th anniversary of the mini-police riot that Willie Brown unleashed in 1997. Quite a contrast these days, with the police a very small presence, and sometimes actually helpful with corking and cooling down irate motorists. We somehow went up and down Lombard, the dumbest way up (from Van Ness straight up) but going down the other side was blissful as always…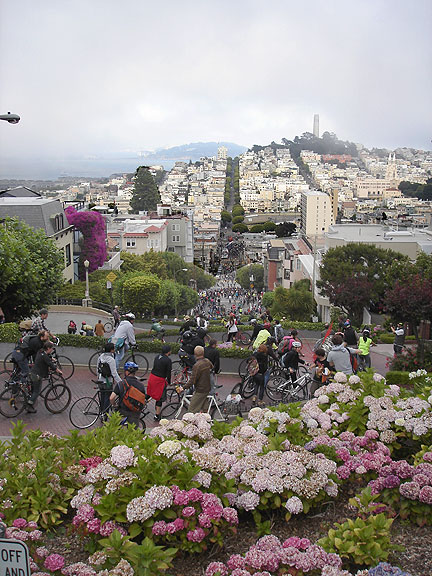 Here's everyone walking up: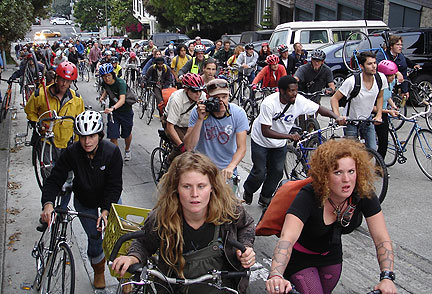 Here's a guy who wanted me to see how happy he was, a bit before we came to Lombard, still on Van Ness here: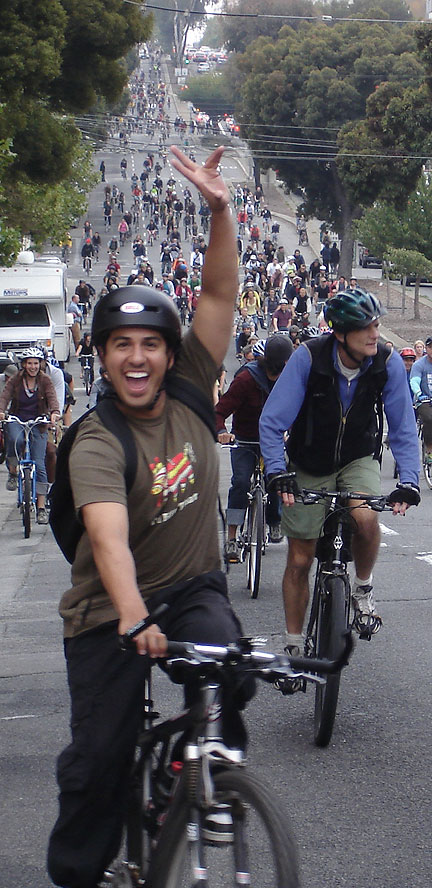 Unlike New York, or Portland, where the police have been really petty and brutal and have reduced participation through aggressive punitive tactics, we're still enjoying something of a golden era of Critical Mass openness here in SF. Check out this cool video of the 3rd birthday of Brooklyn NY's (my birthplace!).
I'm happy to report that my book, Nowtopia, will be published by AK Press in April 2008. I put a lot of hours in to writing the second draft this past month, so I'm naturally delighted that the AK folks like it. My other big push of the past few weeks was assembling the "Towering Ideas" Fall/Winter Talks series at CounterPULSE. There's a version, not quite final, online at that link, but we'll have another beautiful Hugh D'Andrade poster in print soon. So a somewhat frenetic July has led to some good work that will bear fruit for months to come–always satisfying!
While absorbed with rewriting the book, I had a pang or two induced by critical comments from friends, regarding my incessant criticism of work and wage-labor, particularly my focus on the inherent alienation of selling time for money. Some people argued that actually it's quite satisfying to be paid to do work they care about… ok, fine. I cannot rebut someone's lived experience, and it's not my intention to instruct people how to feel about work. Still, I was glad to come across a review article in the August 16 New York Review of Books called "They're Micromanaging Your Every Move" by Simon Head. (Sorry they charge $3 to get it)… Head reviews several books, including Barbara Ehrenreich's Bait and Switch (that I also utilize as evidence in my book) that detail the rise of Enterprise Software and its role in radically intensifying work, productivity, and profits (and insecurity, emptiness, and anomie). I won't go into detail, but my new book has a long-ish synopsis of class history in the U.S. that also leads to a discussion of the "revolt against professionalism" that this review does a nice job of giving the groundwork for…
In the news recently was the sad, horrifying story of the man whose 11-month old son died in his car, forgotten by the father as he went to work. How could such a thing happen? The bereaved father, who was not charged with negligence, apparently had just started a new work schedule at the medical equipment company where he works. He drove straight to work with his son strapped in the child seat in back, forgot to go by the childcare center, and when his wife called at 3 in the afternoon, he ran out to find his son dead in the back of the closed, boiling hot car. So sad. Can this be a fatality we can attribute to the stupidity of modern work? I'd say it's a reasonable explanation.

On a much lighter note, I've also been enjoying exploring some familiar and less familiar sites here in the Bay Area, thanks to my sweetie still living in Palo Alto. Here are some photos from a fantastically clear day at the top of Coit Tower (and some of the always wonderful murals there too).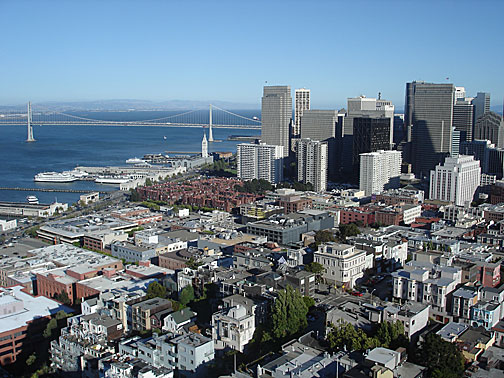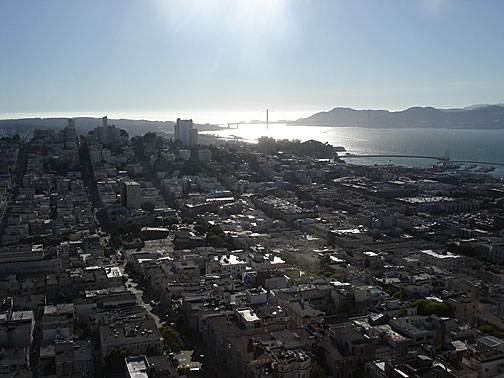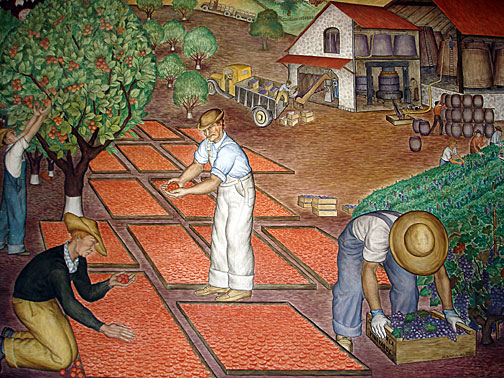 and then a shot from the Don Edwards National Wildlife Refuge, aka the wetlands at the southern edge of the SF Bay, looking across the mouth of Stevens Creek northward towards the fog over the northern peninsula: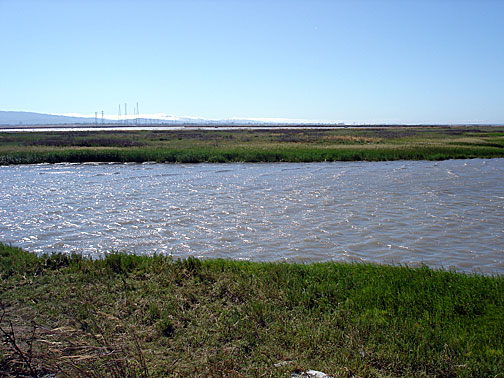 Adriana and I had a great bicycling day on Sunday down there in the wetlands, and then after taking in the Simpsons movie (laughed a lot, it's just like the tv show!), we rode up to the Stanford preserve known as the Dish. Got these photos from that 75 minute walk through gorgeous foothills I'd never visited before: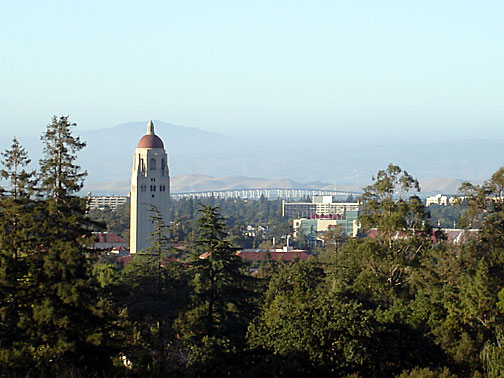 This is Stanford's Hoover Tower with the Dumbarton Bridge behind it and Mt. Diablo on the horizon.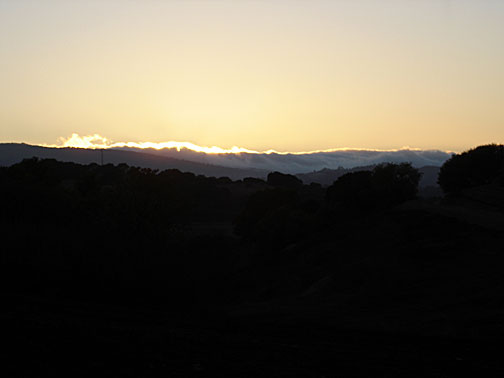 and this quirky straw sculpture, one of three at the beginning of the walk:
I really love summer hereabouts… one of the things I love the most is my weekly trips to the Heart of the City Farmers' Market where I go crazy buying fruit for my morning cereal. Everyone who knows me well knows how obsessed I am with this beginning for every morning: