Some friends invited me to join them on a "hobo" bike ride this past Sunday. We got on BART at 16th St. at 2:30 and rode an hour to the end of the line at Pittsburg. There we rode on a multi-use path along the outer reaches of Bay Area suburbs until we reached Somersville Road and turned due south and rode straight up in to the Black Diamond Regional Preserve where there are beautiful views north over the Delta and the power plant and the huge wind farm on the other side of the Antioch Bridge.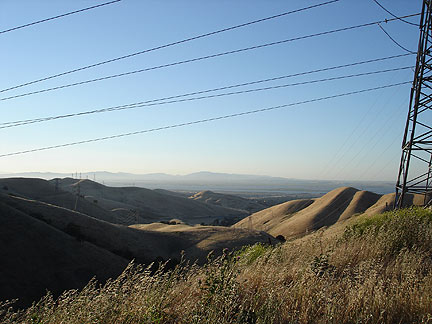 Black Diamond used to be the biggest coal mine in California during the latter 19th century, and once had 5 small towns among its steeply rolling hills. Now it's a bucolic California countryside full of yellow hills covered in oak and buckeye.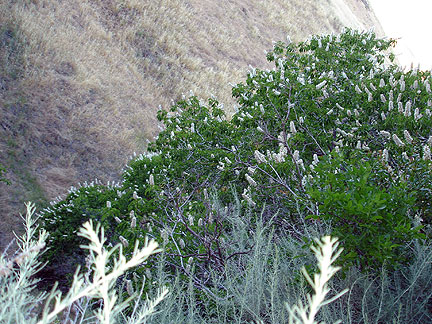 Maybe a reader knows if the California buckeye has any medicinal or nutritional value. It seemed like maybe they'd been cultivated along this gulley, they were so thick along with the sage that you can see in the foreground. One of those bits of history-through-conjecture: did the native Indians of this area manage the landscape in such a way to promote buckeyes and sage on their path over these hills?

We rode up to about 1,500 feet to a long-lost cemetery called Rose Hill, where only about 10% or fewer of the original headstones still stand. Those that do commemorate the mostly Welsh who died there at all ages during the 1870s and 1880s. We saw graves for infants and 80-year-olds, but a disproportionate number for teenage boys who probably perished in the coal mines.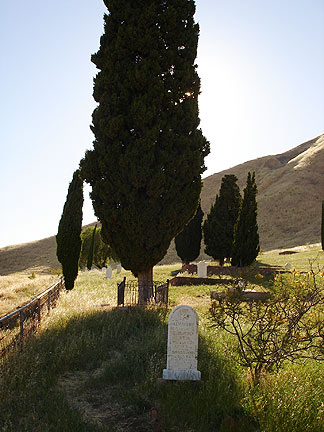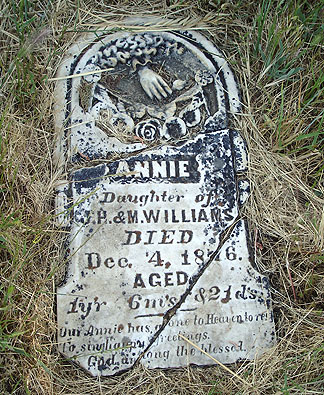 The towns are gone, the surviving buildings having been moved a century ago down towards the Sacramento River delta, Pittsburg and Antioch. We had a lovely picnic dinner in the cemetery before we rode further west to see a weird cement cave of "unknown origin" known as 'Jim's place'.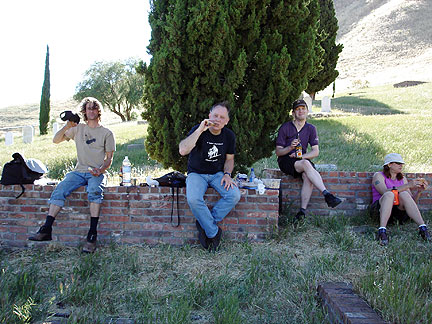 There are amazing views from the hills, and leaving the park via a backroad that we came upon led to a glorious long 1800-foot descent on well paved private roads during the golden hour around 8 p.m. We were back at the BART station in Pittsburg just in time to see the sun set over the northern Marin hills.