Another hiatus from blogging… this time because I was busy getting our Shaping San Francisco celebration ready to roll last weekend, and as usual this time of year, the weather has been unbelievably beautiful, hence more long bike rides.
Last week I went out Mission Street from 24th all the way to the "top of the hill Daly City" (long time residents will know I'm referring to a ceaseless ad campaign that once dominated our airwaves, c. 1970s-80s). Going out Mission, over the hill at Highland and Richland and down across the Mission Overpass (crossing over the river once upon a time, now over I-280 freeway), then the long slog gradually uphill to Geneva and then further up to Daly City, it's a different city. It's a commonplace that the further reaches of San Francisco are very unlike the heart of the city, but this time I saw it differently. I don't think I ever rode straight out Mission, being a traffic-choked four-lane commercial street for most of its length. But the architecture along those miles is actually surprisingly interesting. You can see layer after layer of old urban America, from abandoned Woolworth's to strange 1930s buildings that are now used as photography studios or fast food joints, or what have you. Of course mortuaries still dot the boulevard, as they do Valencia at its southern end, since back in the day, the streetcar lines that would carry the coffins and funeral attendees to the cemeteries in Colma ran along those streets.

But the really striking factor of riding all the way down there was finding myself transported back 20 years in terms of what the streets felt like in San Francisco. There were no other bicycles on the road, just me. The streets are not well designed for cycling (that's still mostly true throughout the city), and the motorists aren't expecting a bicyclist to be on the road. Just like the old days, as a cyclist you're on your own entirely. It wasn't scary or difficult for me, since I've been riding in unfriendly urban environments my whole life. From the top of the hill Daly City I went up Hillside and East Market to a two-hour ride over beautiful San Bruno Mountain, and a loop around the Saddle trail with its beautiful views like this one: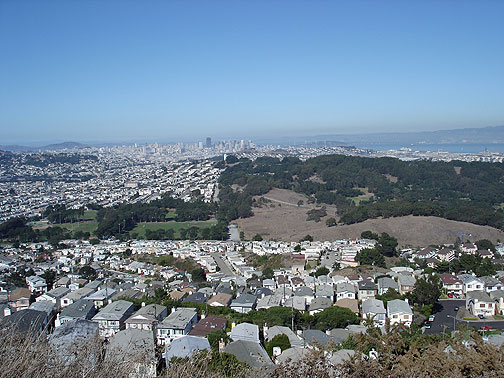 By the time I got back to the Mission district, it finally hit me: we really have radically altered the texture of daily life on the streets of San Francisco… at least in the Mission, the Haight, Fillmore, Polk Gulch, downtown, SOMA… in the heart of the city, east of Twin Peaks and north of Bernal Heights San Francisco has become a real bicycling town. In the past few days I have seen it with new eyes: the streets are full of bicycles. One rarely rides a block without seeing or crossing in front of one or two or five or ten other cyclists.
I enjoyed a lovely bbq party at the "parrot house" in the Compound on Telegraph Hill last night, and then we cycled from there all the way out to the De Young opening, crossing paths with dozens of other cyclists out on their Saturday night jaunts. Got there at nearly 11 p.m. and joined some friends in line. Soon another group found us and joined us. Then another and another and another. What had been 3 people in line had ballooned to about 28! But we weren't alone. Everyone was doing that. The line was a huge party. I've never seen so many flasks and whiskey bottles in a public line. I ran into tons of people… it reminded me of my birthday actually! Here's a vague idea of what it looked like, but try to imagine an endless river of people walking up and down, finding each other, getting drunk together, moving to new spots to hang out with new friends… for hours!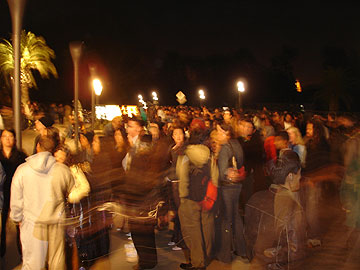 I heard there was a mini-Critical Mass that left from Zeitgeist at 2 a.m. and rode up there. Most cyclists are angry about the incredible public scandal regarding the underground garage, its entranceways, the so-called "pedestrian oasis" that was supposed to be built on the Concourse… obviously Warren Hellman and his cronies just bought the judge who validated their blatant disregard of the terms of their own Prop J. Now we have to endure another ballot proposition that will further reinforce the original illegality and policy stupidity of promoting private car access to every part of the Concourse and the museum.
On the other hand, I'm pretty enthused about the museum. I've been to enough modern museums in Europe that mostly look kind of ugly at first glance, but then grow on you over time, and once you go inside, you see how much better a state-of-the-art museum is than the old dingy facility it replaced. The old De Young was really a piece of crap. I am sure this one will be a great place to see art and I don't feel too bad about it being in the park, even though I would have preferred to have had it built in the former freeway right of way between Clay and Washington on the Embarcadero… a missed opportunity there.
Unfortunately this is a monument to old money in San Francisco more than anything else. And these people have been running this city for its entire history. It would be great to see a real public facility by and for the public (the new History Museum at the Old Mint is certainly going to follow the same path towards a monument to self-flattery for the local elite)…