I've been up to my eyeballs organizing the big "Slow Food Feast of Fools and Friends" this past Sunday, and I'm happy to say, it was a huge hit! I even got pied at the end of the evening! You shoulda been there… I gave a brief introduction to the event, emphasizing that this is one of the oldest, most global activities humans do–having a feast–but in this case it's also the beginning of what will be a biannual Feast at CounterPULSE, and thus the starting point of a new historic thread itself. We had three speakers (Carmen Tedesco from Slow Food San Francisco, Bryant Terry, co-author of GRUB, and Erik Ohlsen of Earth Activist Training), eight video clips that I put together of various gardens and farms where we got the food, eight wild and crazy clowns as servers, three amazing chefs and a team of a dozen others who helped in all kinds of ways. It was one of those amazing collective experiences in which everyone brings something unique to the effort and the whole is so much more than any of the parts in isolation.
We had a stunning five-course meal, fantastic conversations, and a lot of surprising connections between our meal and our local suppliers, land use, community gardens, and healthy agricultural innovators. The first example of the title in this blog entry is this event, which is profoundly local, but a crucial example of the kind of thinking and practice that needs to be globalized as we cope with the coming disasters in chemical agriculture and disappearing fresh water.
But another wonderful eruption these past weeks is the appearance of millions of marchers in the streets. While I've been noodling on this blog, reading various interesting books and organizing events at CounterPULSE, a huge social movement just upped and took the streets… what a pleasure! I can't remember a big movement ever appearing in my lifetime that I didn't know anything about before it happened, so I'm delighted.
Here's a couple of pictures from yesterday's march up Mission Street in San Francisco:
So many people came out for this, a half million in Dallas of all places! Right wingers are fuming about all the flags from other countries, but of course there were way more American flags than any others… but I was surprised to see that global population of Soccerexicans make an appearance too: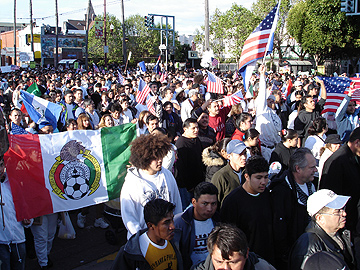 Last week I went to Station 40 over on 16th street for a live video chat with a woman in Paris, a 21-year-old I think, who has been quite involved in the student protests of the past month or so. There were about 40 of us in the room, and we listened as she did her best to describe the day's events, discuss the political implications, and so on. At one point after someone asked her about the politics of the protests, she clearly said they were not anti-capitalist, and that they primarily wanted good jobs and security. Interesting dovetailing with the immigrant marches here then, because a lot of what people are demanding is legalization and work.
This is a strange historic moment we're living through, in which so many of the old systems and categories are sputtering and breaking down. People are feeling how tenous it all is, and it is heartening to see mass demonstrations erupt against the continuing imposition of precarity and insecurity. But obviously if these demos succeed, as apparently the French ones did, where does that leave us? Is getting a job really all we want? Clearly not. Besides, even if there are temporary victories against the march of neoliberal capitalism, the answer does not lie in stabilizing a version of capitalism that is slightly less barbaric than the one they're trying to impose.

In the discussion with the French woman (I think her name was Noemi) she stated that she felt the youth of the Parisian suburbs who had rioted so intensely last November were "clueless" about what the current protests were about. I am sure she was not well informed about the participation of many from the banlieux (sp?), but it raised the question in my mind if among all the ferment in France now, and just beginning to emerge here in the U.S. too, isn't there any discussion at all about the pointlessness of seeking jobs as defined by capital, when it's clear that there's much to do that will never be addressed within wage-labor or any capitalist initiative? Again, we face highly specific and local marches and protests, but the issues they're grappling with far exceed any local, or even national, jurisdiction. It's a global logic we're combatting, and I'm delighted to see a lot of visible opposition, even if coherent alternatives remain invisible or elusive for now.
A further global/local dilemma came up at our last Spring Talk at CounterPULSE in March. Under our title of "What's Natural about Natural Disasters?" Tom Athanasiou of Eco-Equity gave a quick summary of the disastrous facts on climate change and global warming. Inevitably a good part of what he was communicating seemed terribly abstract to some of the attendees, partly because there is an alphabet soup of acronyms, but also because discussing the need to 'decarbonize' our lives so that global atmosphere can be stabilized at 400 parts-per-million of carbon or less within 20 years is kind of hard to match up with the puny activities of each of us as individuals… Sherlina Nager of Literacy for Environmental Justice gave an account of her organization's wide-ranging efforts to organize around environmental justice issues in Bayview-Hunter's Point, and Peter Davidson of the UCSF UFO Project in the Tenderloin got really specific in his account of his organization's efforts to help elderly hotel tenants manage heroin overdoses amidst the isolation and fear of central-city SRO hotels. (In all these presentations, the notion of "natural disaster" was shown to be quite problematic as we endure all kinds of slow-motion human-induced disasters that get 'naturalized' by the way we frame them socially and politically.)
In a way, it seems that the circulation of knowledge and social struggles has helped to bring forth a more profound global awareness, not just of ourselves as sharing a big rock in space, but also of the intricacy of so many problems besetting existence. But with this new interconnectivity comes the dawning awareness that our local efforts are simply inadequate to the global tasks at hand. We can't really solve climate change and hyper-carbonization at the local level, and certainly not by shopping well and recycling our trash. It will take a much more international intervention into major systems of technology and resource use… even the silly anti-civilization position that calls for generalized de-industrialization would not be able to reverse the dire consequences that have been put in motion without a creative and technological engagement.
But we are out of sync with real political and social dynamics. Marching in the streets and demanding legal rights and jobs is sure to fail unless the demands go substantially beyond expecting a patriarchal state to provide. We have to invent a new life from the bottom up. People in motion is a great start, but acting locally can only go so far. Somehow we have to rapidly invent ways to act globally too, but not by relying on corporations and governments to go on making the self-serving policies they so violently defend now. This is one of crucial dilemmas of our era: how to take on problems that are global in scope and global in solution without reinforcing the power and control of the very entities that have done so much to make the mess in the first place? Clearly we're missing some links here, but maybe the conversations in the streets, around kitchen tables, in cafes, and yes, on line, will start to consolidate a deeper vision of how much better life could be, how much we have to do to get there, and maybe start figuring out ways to act politically that will advance these goals… maybe…