I had a great time at Critical Mass last night, as usual. Probably over 2000 riders, great weather, a lovely evening. The ride broke up into a bunch of smaller clots after an ill-advised loopback through the Broadway Tunnel, which also led to some tense interactions with a drunk idiot at Broadway and Polk who decided to try to enforce his idea of traffic control by threatening bicyclists and pushing some off their bikes. Not altogether unusual, but never much fun… anyway, the highlight of my evening was at the beginning, when I came upon some folks who said they're from Ritual cafe, and they were sporting these funny send-ups of the "Bicycling Against Oil Wars" signs that I've been distributing for the past two or three years… First the original, in case you don't know what I'm talking about: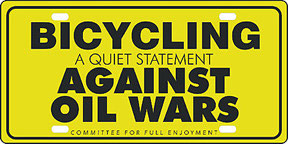 Check these out: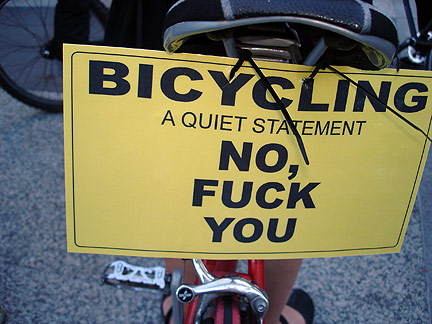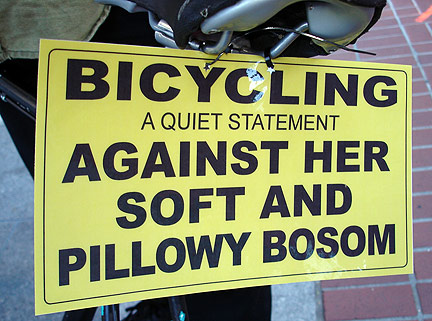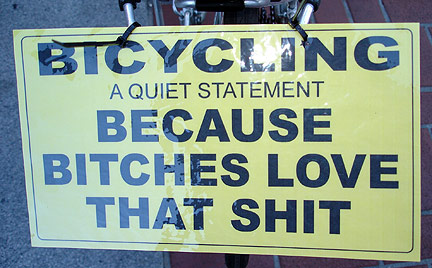 and one I didn't see until I got home and looked at my photos is blurrily visible on this woman's handlebars:
There were a few others too. I guess this last one, about "self-righteousness" captures the real point of the whole series. And that's the rub, isn't it? I do understand that a lot of bicyclists are rather sanctimonious and painfully self-righteous; in fact it's that attitude that often leads to really stupid interactions with pissed-off motorists (not that that happens so often, but when it does…). Why is it 'self-righteous' to publicly proclaim that you're against oil wars? Isn't that a rather minimal claim for bicyclists riding on Critical Mass, or riding around the city as daily commuters? Of course there is a funny irony to proclaiming oneself against oil wars on a petrochemical-based plastic sign, but fine, it starts a worthy conversation.
What I find disturbing, if I'm understanding the spirit of these satirical signs correctly, is the assumption that any proclamation of a political idea is automatically 'self-righteous' and that really we oughtn't to be doing such a thing. It seems that the series of counter-signs is partly meant in good fun and as ironic comments on the original sign, but the one about self-righteousness goes to another place, a stance that the ironic hipsters of this apolitical culture readily embrace. It is a stance that says any expression of sincere opposition to our fucked up society is by nature kind of stupid sounding and can only mean that the bearer of such an expression is obliviously self-righteous. In other words, if you are being sincere, you must be a chump.
I've been railing about this for a few years now, but I'll take this opportunity to raise my lonely (self-righteous?) voice once again. We have to find room for sincerity in our politcal expressions and actions. We cannot dismiss everything with this endless ironic distancing, always flattening all expressions of politics or philosophy into a false sameness that equates things on emotional terms even if they mean rather different things. It's a way of draining the political discourse of affect, of some chance of actually reaching from one person to another and changing how they think and feel. If you automatically scoff at any sincere expression as self-righteous you are actually reinforcing the dominant society's values as the only ones worthy of common support.
I doubt if the folks who made these funny yellow signs are in favor of oil wars, or the wars in Iraq and Afghanistan, or anything like that. And probably the signs were a product of a collective brainstorming in which a bunch of things got produced just because they came up together. All fine, of course. But in the spirit of the original sign, and the notion that public signage is about stimulating argument and discussion, I toss out my further thoughts on their expression. Thanks for the flattering satire of my original, but let's stop and think about these new signs too. Dismissive charges of self-righteousness are a key part of how the Right defangs and delegitimizes any expression that isn't pro-authority, pro-state, pro-patriotic, etc.
The interesting challenge is to be publicly poetic and sincere, but still have a sense of humor… can't say I always (or even often) manage such a task, but it seems like a worthy goal…