I arrived in Rome 24 hours ago and already it's been a great visit. Tonight I'll be presenting Nowtopia at a local bookshop, just a short distance from where I'm staying, quite close to the Cavour Metro station. Being in the heart of the city is super lucky, and just amazingly beautiful. My host, Paolo B. and his family, have a gorgeous 2-story apartment in via Urbana, and I am writing this sitting on their terrace overlooking the bustling street below. Here's the street-level view from a half block down the street: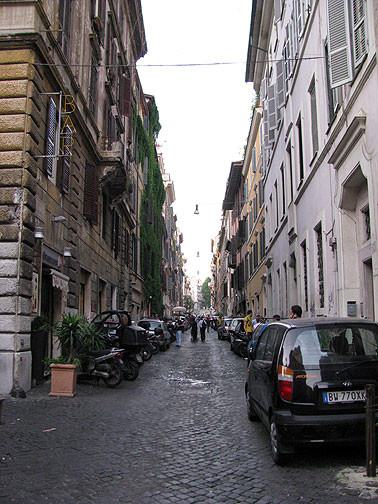 The terrace is L-shaped with two wings: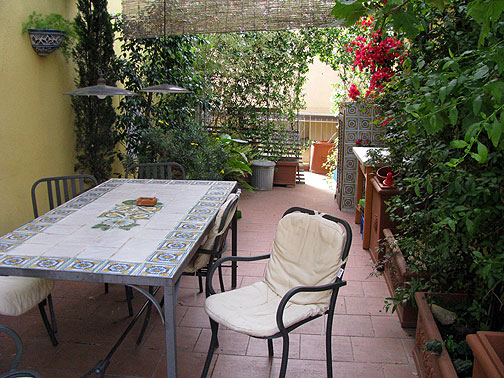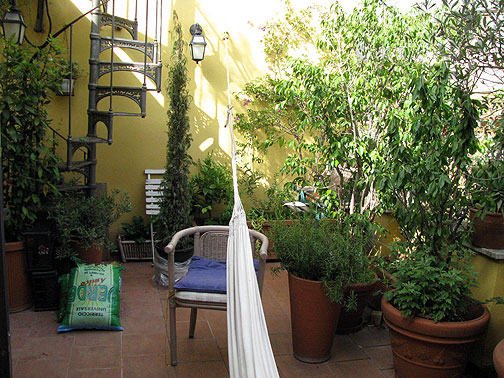 Paolo has a garden on the roof, where that spiral staircase heads, and after tonight's event he plans to take a bunch of us and some plants he's collected and start a guerrilla garden nearby. Last night he took me hurtling through the streets on a super-comfy one-speed with coaster brakes (he's building great frames in his basement workshop), first to a picnic of bicyclists, and then to Pigneto neighborhood where we hung out on a street full of life in teeming outside bars. Public life and street life in Italy, for all the laments I've been hearing, is still vastly better than anything in the U.S.
Anyway, in the short time I've been here I managed to get a long walk in, down to the Tiber River, weaving among some of the sights here in Rome. Lest you doubt me, here's the picture that proves that I'm both a tourist, and that I am above tourists!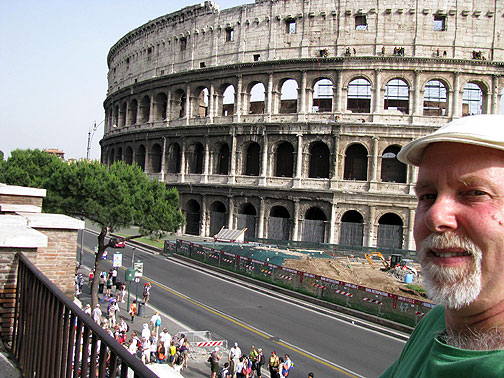 (Actually there were a bunch of other tourists near me, also "above" tourists…) I took a bunch of touristic photos, impossible to resist on landing in Rome and having time to wander around. Here's Circo Massimo with some beautiful ruins behind it up the hill: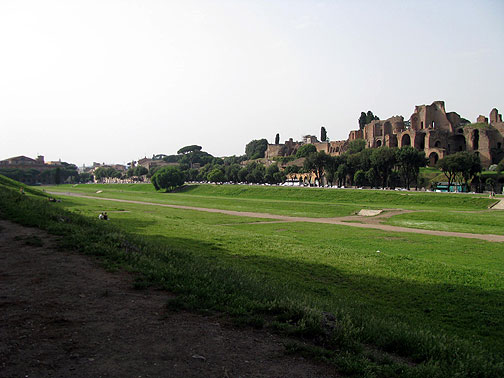 Here's a batch along the river, focusing on the beautiful bridges: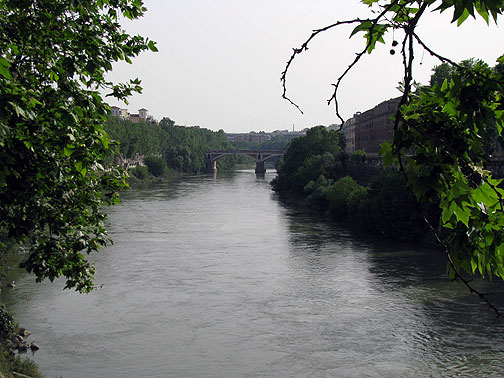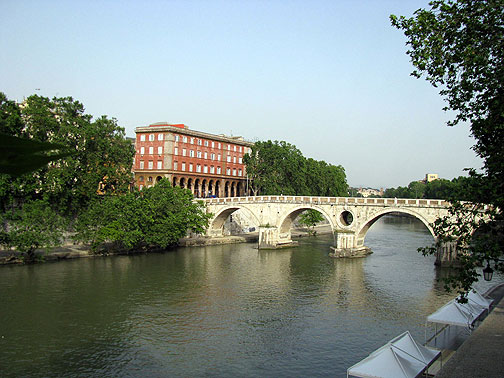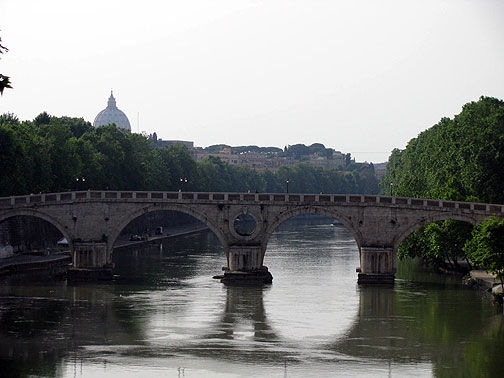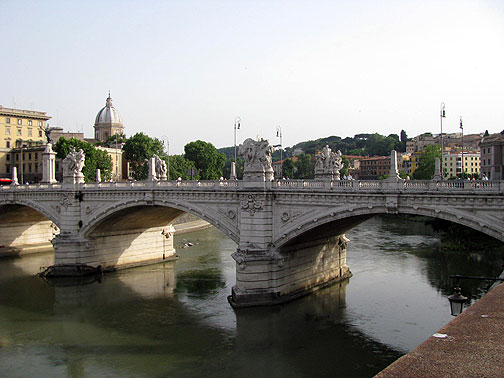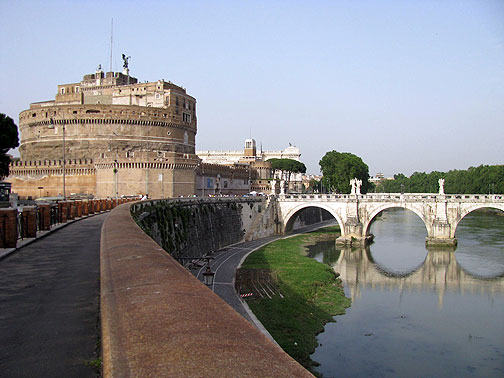 After cycling around the city last night with some "power cyclists" and finding it easy and exhilarating to ride in their wake (and manage to keep up!), it's amazing to think how much harder it is to ride during the day, especially as a lone cyclist, here in Rome. The traffic is dense and crazy, the roads are confusing and full of tram tracks, and the bike lanes that I found (like the one below on the Palatino bridge) are empty because there are so few cyclists compared to the cars and scooters.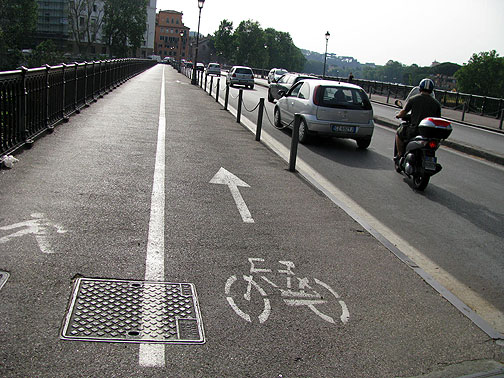 The scooter is ubiquitous here and incredibly noisy and irritating. Not as bad as I remember Naples a few years ago, but plenty bad enough. Then, not only is one assaulted continuously by bullying scooter riders, as I turned a corner in the center, I came upon this enormous billboard, which somehow captured something essential about the self-presentation of Italian culture (bombastically, artifically sexy, in love with machines and fashion, shiny new baubles, shiny impossible bodies, and an omnipresent visual pollution to combat all the incredibly history and beauty of their country):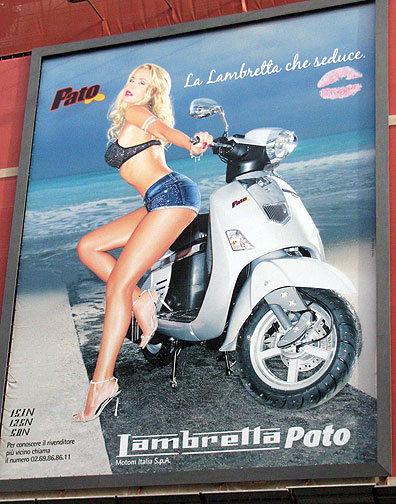 Luckily I'm here with a lot more engagement than mere tourism. And the friends I've come to meet have been busy plastering the billboards with their own advertising, getting ready for three days of Critical Mass rides. I spent most of the day reading and sleeping since it was raining off and on, but now it's 4 in the afternoon and skies have cleared and the sun is out. Weather reports say it will hold through the weekend, so it's looking GREAT for the Big CM or ciemmona as they say in Italian…