Having a lovely time in New York, as always. I really love this city! I brought my folding bike (and guess what? They're having a Folding Bike ride tomorrow at 2 pm leaving from W. 23rd St., a 10 mile jaunt thru Manhattan and Brooklyn) and I've been loving how it handles and that I can bomb through traffic with such New York-native ease… I think I'm wired for this kind of urban chaos, and being able to weave through impossible traffic, avoid impediments (esp. pedestrians, who are impressively aggressive here), crazy drivers, etc., barely pausing at red lights (drivers actually expect bikes to run lights in front them and they often pause for you…!) It's made me think about the ongoing efforts in SF and everywhere to improve conditions for bicycling and of course I still support that… but somewhere in my mischievous core I actually prefer the utter madness of Manhattan and the total freedom to hurtle and roam anywhere and everywhere, all rules and safety considerations be damned (except to not get hit, of course!)… anyhoo, it's already been a great visit and still almost a week to go.
I rode from Francesca's front door in Bed-Stuy to Columbia University on Wednesday, took exactly one hour, riding as fast as i could all out the whole way, mostly up the West Side Parkway, but suffering the imbecility of clogged bike lanes on 6th Ave and 8th Ave first (commonly blocked by police cars shopping for lunch or delivery trucks). It's about 13-15 miles I think. Here I am on arrival at the front of Columbia (and here's the podcast of my talk there):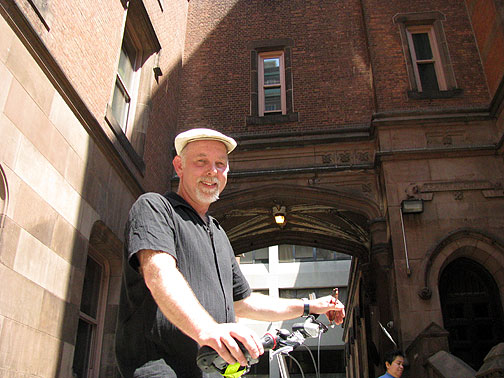 On the way back to Brooklyn, I rode through Central Park, which was spectacular, but I'd also had a more leisurely time in the park the day before. Here's a shot of the amazing spring weather on the Great Meadow: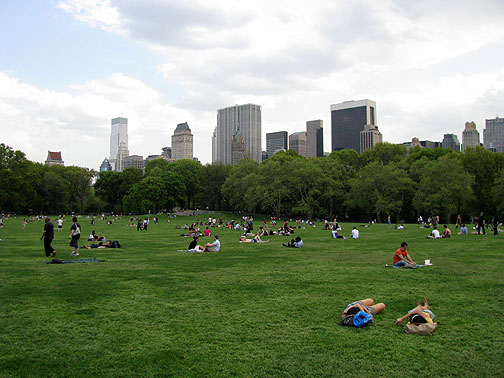 Naturally I'm visiting friends and some of them are interviewees in Nowtopia, so I've gathered some images that fit the tour. Mark Leger is one of my oldest friends and I rode all the way from Columbia back to outer Bushwick in Brooklyn to see him, and have him give me a tour of nearly a dozen community gardens in his near vicinity. Here are a few shots: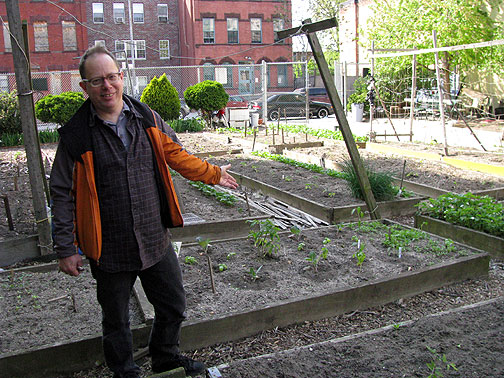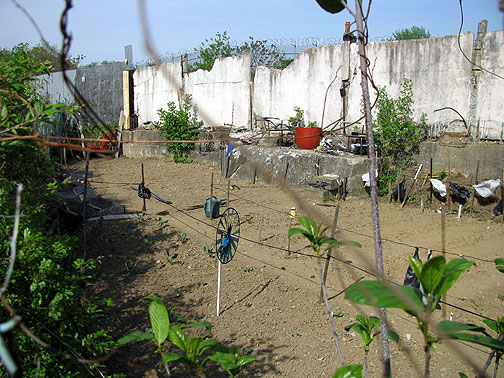 This is an informal garden by a friend of his who used to have a sprawling garden filling the entire cul-de-sac where this tiny triangle sits next to… but he got evicted by the city some time ago and this is what's left. Mark says he's an amazing gardener. Several of the gardens we walked by are locked and more or less out of commission. Aberdeen is kind of like that, though the woman across the street (both garden and her house are adjacent to Evergreen cemetery) has a proprietary hold on the place…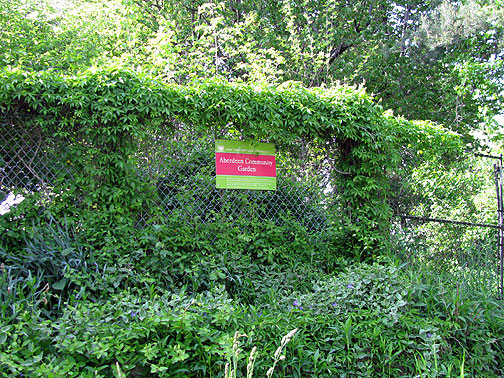 Hull Community Garden is a typical one, about to come back to life after a dormant winter: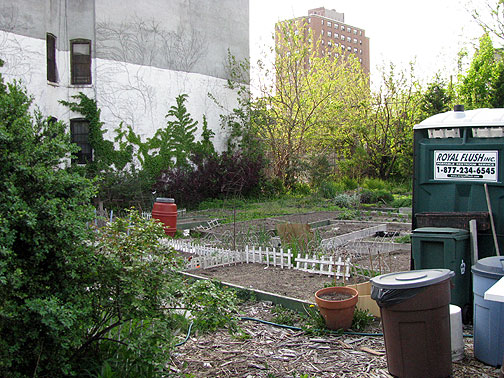 A fairly large triangular lot is being brought to life now, across the street from a row of odd little churches occupying the ground floor of typical Brooklyn brownstones. Opposite this triangular lot (which once had housing too, but was demolished in the 1970s) lives Jerry, who we met while visiting, and he gave us a tour of the narrow end of the lot where he's planted many beautiful flowers.
The neighborhood where Mark lives is still far from gentrified, though there are indications that it might be beginning. But there are stronger indications that it's not: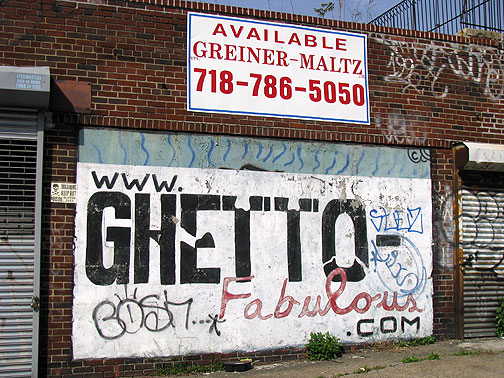 On the day before this garden tour of Bushwick, I went to the new home of Times Up! at the Hub, where George Bliss has his pedicab business and a repair shop. I finally met George and we didn't really get to have a full-blown conversation, though there were some interesting sparks flying as he passionately denounced local bike groups for alienating regular bicyclists and not taking on Mayor Bloomberg as he thought they should… I encouraged him to write his manifesto! Here's the outside of the Hub near the Hudson river: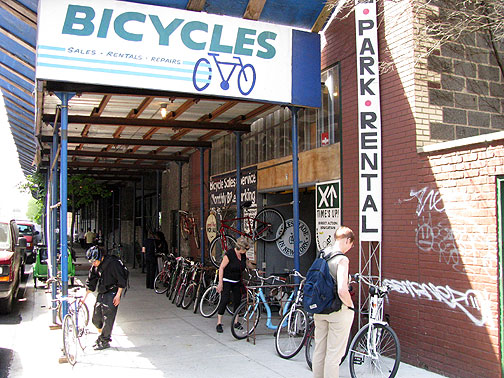 Times Up! just opened up the basement at ABC No Rio to be a place for bike repairs and skill sharing. Here's the outside of the infamous social space, and a shot of the class being held when I met Bill DiPaolo outside: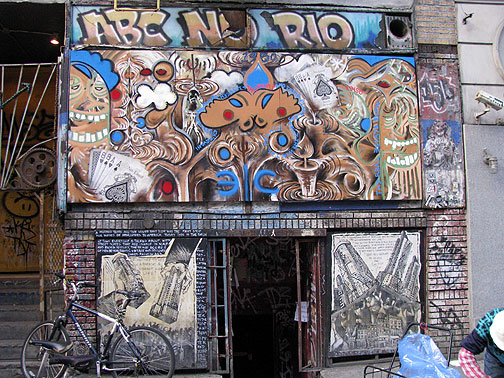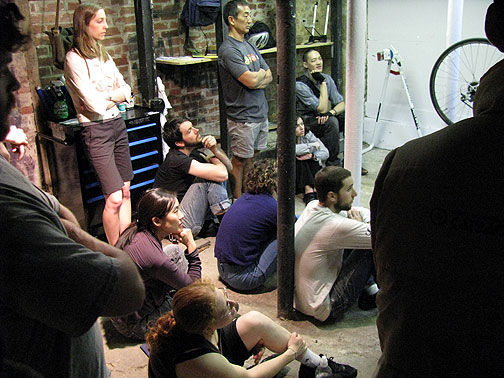 I hung out on Rivington Street with Bill, and met Colin (he writes for the New York Times, apparently well, on bike issues) and Ariane, who is launching an ambitious sustainable ecology program (132 hours of training) later this year… here they are, and then a shot up the street towards the spectacular sunset that looked better in person but anyway…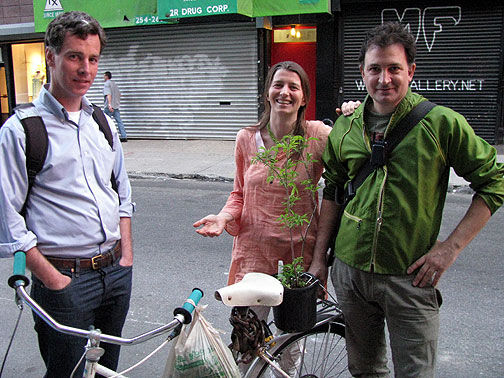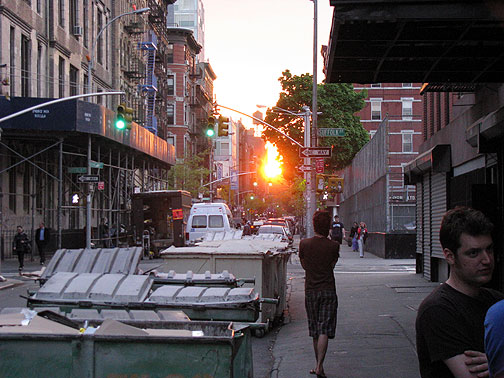 Today it's pouring rain, but I have to go out and find pillows for my daughter, who has only one tired old one… then it's on to the Brecht Forum tonight, with an after party that many friends are supposed to join… should be quite a fun time… more later!