I am in Portland at the "Towards Carfree Cities" Conference, running from Monday to Thursday this week. I took advantage of this to also arrange the northwest leg of my Nowtopia tour, and so on Monday night I appeared at Powell's Books on Hawthorne. My trip-mate Russell Howze is also promoting his new book, "Stencil Nation" and we were pitted against each for audience by Powell's, both presenting on Monday night at 7:30 in stores far apart. Luckily we both drew great audiences (and sold a lot of books).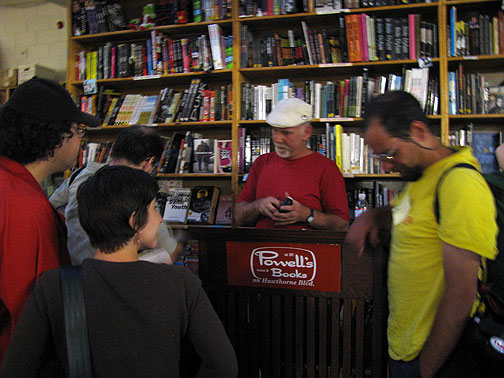 I enjoyed the appearance enormously. A good discussion followed, lots of pointed questions and interesting thoughts from the 50+ people who jammed in to hear it. Earlier in the day the Carfree Conference started out with a public event of depaving: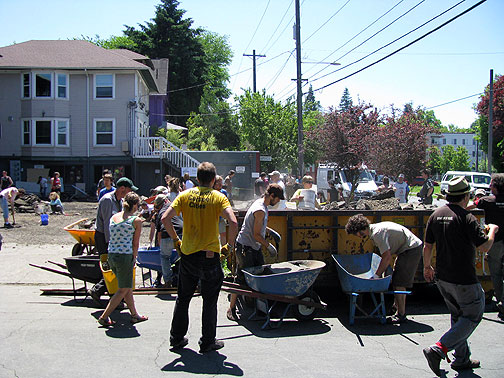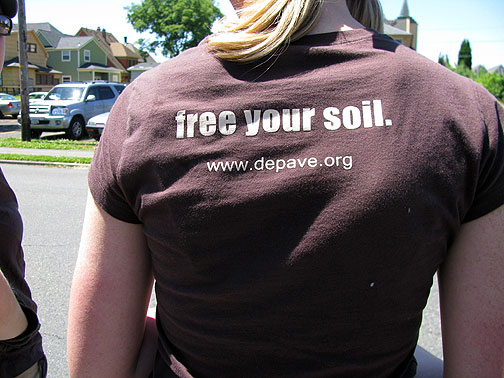 It was an inspiring scene, dozens of folks sweating to break up the asphalt and transform a corner from a parking lot into a garden, or at least a space in which a garden will be planted. Here's a few shots of the energetic crowd, many hands making easier work:
Even Superman came to help!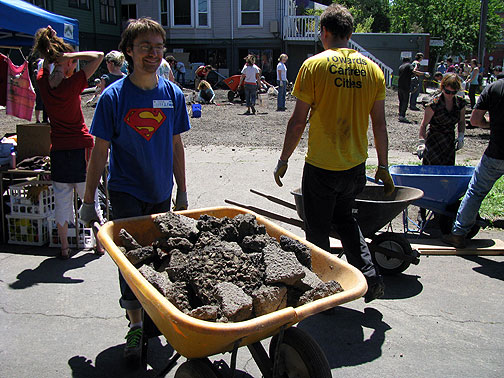 That was Monday. I was also getting my bike repaired after hitting a curb full on during my ride home Sunday night (thank you North Portland Bike Works for a quick and inexpensive job!), not re-injuring my back by pure luck (I have some deep bruises on my arm and leg) and not really damaging my bike much either. Whew! a close call…
On Tuesday I headed down to the conference but passed up the workshops in favor of sitting in the hall and schmoozing, selling books and license plates, and mostly meeting and greeting…had a lovely time! Already the night before I'd gotten to hang out a bit with Thiago Benicchio from Sao Paolo (we knew of each other beforehand so we were looking for each other) and Justin Hyatt from Budapest via Prague (we'd also been in contact during the past two years)… two really wonderful guys. I renewed my acquaintance with some of the good folks at People Power in Santa Cruz, met some interesting folks from Guadalajara, Mexico, the good people from StreetFilms, chatted with my table mates from Bicycle City, who are trying to launch a new kind of carfree urban development model, and lots of other folks too…At the adjacent table was Elaine, maker of beautiful shoulder bags from recycled materials (we were given one, each is unique, as registered attendees), and once again I was reminded of a missing chapter in Nowtopia, that of the DIY recycled-materials clothing makers, like Serpica Naro in Milan, or also this other woman, "Skye Blue Can Sew," that I saw later in front of City Hall during the art and music show and the Sprockettes.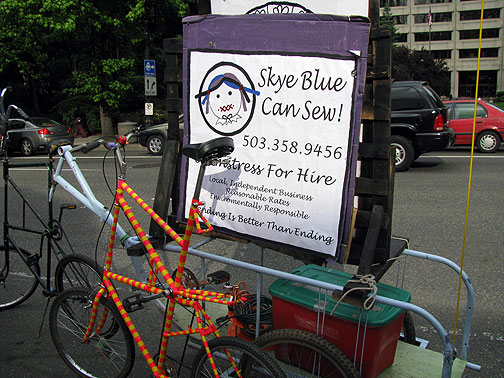 City Hall held a big carfree postcard art show, and beer and wine flowed freely, while outside bands played, art was painted, a tall bike was being welded together, and the obligatory car piñata was bashed. The emcee blithely announced "we're distributing ulocks and heavy chains–please take them across the street. Start with the SUVs, then the Vans, then the luxury cars…" and everyone took a moment to realize what he was saying. It was hilarious.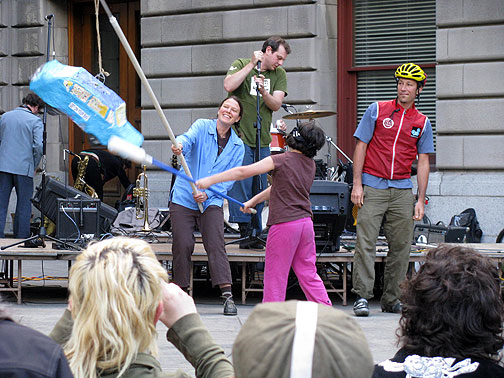 We snuck off to enjoy some local herbal alteration, and not too long after we returned the Sprockettes came on for their second set. They're provocative and cute and funny and pretty tightly choreographed, very enjoyable to watch!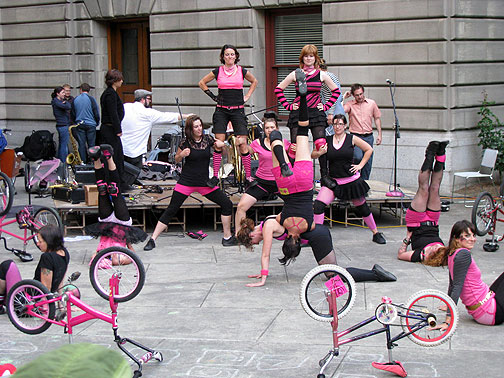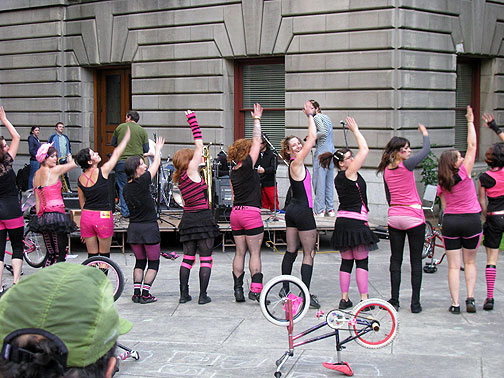 After all that it was another long ride back to the Northeast of Portland. Today was a day off, so we went with Michael Med-o up to his hometown of White Salmon… snow-capped photos in the next post.