Every year San Francisco goes increasingly bonkers over Halloween. A lot of us who have been living around here for a long time want to avoid the Castro and its frenzied insanity like the plague. But getting out in to the city and enjoying ourselves in costume is still a great desire. So Mona made the brilliant proposal to meet at the dark triangular lot at 24th and Capp (the old railroad right of way) at 9:13, and then promenade from there after a while… about two dozen friends joined us, and as we started westward on 24th, another unknown group of 50+ appeared. The woman leading them told me she had asked everyone to leave the party at her house and head into the streets together. Seems to have been a natural instinct of locals… sure enough on Valencia we found hundreds more, and for a while, we had a regular Mission version of Halloween… Here I am before leaving the house (this is the first time in my 48 years I let anyone paint anything on my face!):
Do not look into your computer screen for too long, because if you do, I WILL appear, and if I look at you, you will turn to stone, because I am Digital Medusa…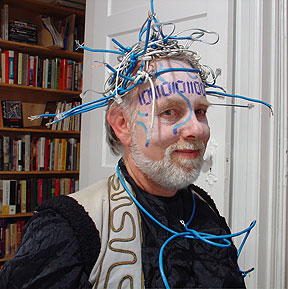 Tonight is Dia de los Muertos, a storied tradition from Mexico and points further south, which has been fully embraced by the hybrid culture of San Francisco's Mission district. If you read this today, I really recommend getting over here tonight around 7 to join the procession. It's always quite moving in mysterious ways, and a remarkable street event. Bring your drum if you have one!

Fernando Marti's really great art for this year's Day of the Dead: