I had the great pleasure of visiting Chile from March 23-April 5. My host there was Ricardo Jerez, who gave me an amazing time, great hospitality, wonderful history and stories, and made sure I was well taken care of throughout my visit. Ostensibly I went to attend the World Bike Forum, and you can read my Talk here and my ruminations on cycling as they continued after my participation here.
I had a life-long interest in Chile because of the September 11, 1973 coup, fully backed by the CIA and the Nixon-Kissinger White House. At the time I was a high school student in Oakland (at Tech) and a regular listener to KSAN-FM ("the jive 95"), at the time still in the glory period of freeform FM radio. The news department anchored by Dave McQueen and Larry Lee was an amazingly subversive source of information (supplemented regularly by the hilarious work of Wes "Scoop" Nisker) and I remember well hearing about General Pinochet's attack on the national palace in Santiago, and the death of democratically elected socialist president Salvador Allende as it happened on their newscast. By the time I was in college at Sonoma State College (now University) in Cotati/Rohnert Park in 1975 the Chilean solidarity movement was in full bloom, based largely on the dozens of Chilean political exiles that had arrived in the Bay Area since escaping the military dictatorship that was imposed in Chile.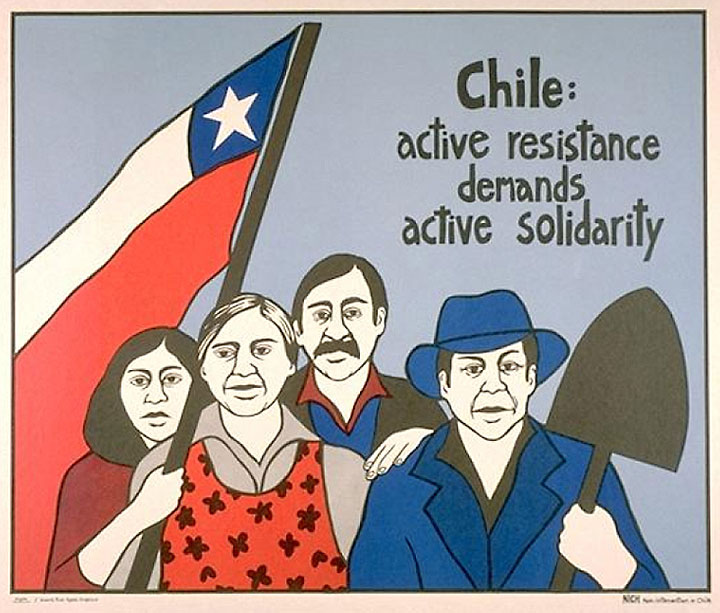 Poster by Lisa Kokin (1978), courtesy of Docs Populi
I learned a lot about Chile, the Allende period, the terror and barbarism of the Pinochet era, and participated in protesting the arrival of the "Torture Ship" Esmeralda when it sailed under the Golden Gate Bridge on a "goodwill" visit to the U.S. And I got a crash course in the "Left" when I found myself working with the Free Chile Center in San Francisco (largely full of supporters of Allende's Popular Unity government) who were in endless conflict with the folks who founded La Peña in Berkeley (who were supporters of the MIR, the Movement of the Revolutionary Left, who had gone underground before the election of Allende and called for "arming the workers" as the antidote to the coming coup). The mid-1970s was a time when the bitter disputes between followers of the Communist Party and the Soviet Union and the growing ranks of those to their left seemed much more vital than they do in retrospect.
Poster courtesy of Docs Populi
This post will feature images from my tourism around Santiago. The next post will be focused on Valparaiso where I had the pleasure of spending a weekend and look forward to returning for a longer visit another time. In general my appetite for Chile was both satisfied and further whetted by this visit. I particularly want to visit regions to the south and north of the capital city and its nearby port (120 km) in Valparaiso.
Next up, Valparaiso, a city on the Pacific, sister city to San Francisco…